YASC Global
By Yardi Blog Staff on May 26, 2021 in Events, Technology
More than 17,000 participants from 64 countries collectively viewed 60,000 classes about Yardi products and initiatives from May 18-20 during the third virtual Yardi Advanced Solutions Conference (YASC) Global event held during the pandemic.
Many of the spotlight sessions offered highlighted ways that Yardi technology has helped clients, their employees and customers adapt and thrive with technology during a time when limited contact has been a priority. The event again utilized the Yardi Aspire platform to deliver customized educational content.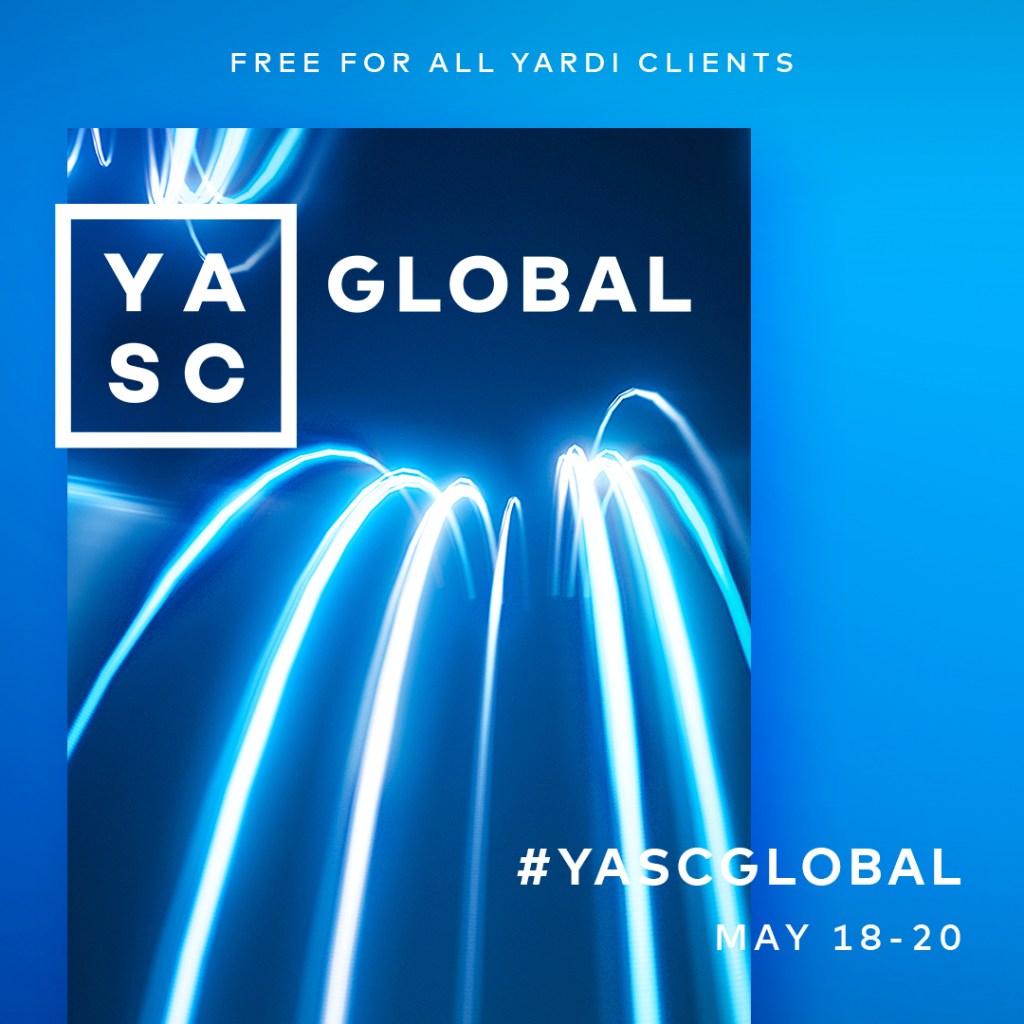 YASC attendees also enjoyed a virtual fundraising concert by guitarist/songwriter Jason Mraz. Each view of the performance generated a donation from Yardi, raising nearly $100,000 for COVID-19 relief initiatives. Meditation and mindfulness sessions were available for attendees to enjoy during short breaks between classes.
Highlights from some of the featured spotlight sessions included:
Marketing and automation solutions for residential
Optimized marketing, automated chatbots and accessible self-guided tours were among the highlights presented in the residential spotlight session. These fully integrated Yardi solutions are among the ways multifamily clients have continued to see success during the pandemic.
"I want to show you what's possible when you have the right digital marketing strategy in place," said Esther Bonardi, vice president of marketing at Yardi. "I bet you have a website. But do you have a comprehensive marketing strategy in place that can help you get your properties on page one of search results and get your customers directly to your website so that you can convert them into paying renters, faster?"
RentCafe Reach helps clients attract qualified prospects with advanced search marketing services. The platform is currently optimizing more than 2,000 industry websites for organic search and driving rent-ready leads to managers. "This is the most cost-effective marketing channel," Bonardi said. "And you can target exactly the traffic you need for the moment or availability you're in."
Additional features like reputation management, search, and a new marketing analytics tool called Marketing IQ were also presented. "Marketing IQ is a one stop shop for all the data you need to make marketing decisions," Bonardi said. "It's really all for the purpose of improving your marketing ROI, which ultimately leads to a stronger NOI."
Once you've got a prospect on the line, engaging immediately to answer their questions is of paramount importance. But what if it's after hours or your leasing office is closed for the weekend? That's where chatbots come in.
"Your prospective residents want and expect answers quickly, whether you're open or not, or they quickly move on. This is especially true for popular new channels like text and chat," said Paul Yount, industry principal for RENTCafé. "Bots and multiple touring options can really complement each other when they work together hand in hand."
Yount demonstrated a full conversation with a chatbot that answered questions about a property's electric vehicle charging stations, pet policy, availability and pricing. He was able to schedule a self-guided tour via text and then showed how further AI automation can continue to answer questions even when the leasing office was closed during the tour.
From a property manager's perspective, the latest multifamily technology from Yardi not only solves for social distancing and accessibility but reduces staff time spent following up on prospect questions or even leading in-person tours.
Proptech trends for the commercial sector
Rob Teel, senior vice president of global solutions at Yardi, shared that for him, the most overwhelming CRE proptech trend in the last 12 months has been increased technical adoption.
"That means paperless and contactless transactions, and online communication. When I think about paperless transactions, one of the best examples of innovation that helps eliminate that last piece of paper in the organization – which we're all trying to do – is our e-signature capability for leases. You can now publish a lease for signature, there's no exchange of FedEx documents and no meeting to get a wet signature. Paperless transactions and getting rid of that last piece of paper is really important," Teel said.
Another pandemic-prompted trend is an increased prioritization of contactless transactions.
"When I think about contactless transactions, I'm thinking about payments, and how do we get away from the old checkbook and writing checks with a pen. The checkbook has died a very slow death. But now, electronic payments are more popular than ever, and in the last 12 months, they've just accelerated tremendously. Bill Pay is a new product that we've launched to help with the payable side of electronic payments, so definitely check that out," Teel noted.
Finally, communicating virtually has become more important than ever before.
"For online communication, what our clients are telling us is that they are really getting a lot out of our Yardi portals – Tenant Portal, Investor Portal, as well as VendorCafe. They allow third parties or external stakeholders to log in and self-service, avoiding exchanging paper or meeting face to face. These are just some of the technology trends we're seeing."
Investment management embraces portal technology
The investment management (IM) sector is another place where the pandemic has prompted increased technical adoption. Chris Barbier, industry principal for IM at Yardi, summarized some of the trends.
"Just as clients have deployed portal technology for tenants as well residents, we are seeing the strong adoption of portal technology for investors as well. Last year we launched Investment Manager, and we have seen great adoption of that over the last year," Barbier said.
"Investment Manager is a way to provide investors with information about how their investments are performing, as well as get access to documents, whether it be reports that have been published or K1s or other tax documents. They have direct online access to all of that. And in addition, they can participate electronically in subscription agreements or any fundraising or new investment deals that clients are putting out there, all through an online experience."
Richard Malpica, vice president/general manager at Yardi, noted that investors are increasingly asking deep questions beyond just the capital transaction.
"It's no longer just 'how is my money doing?' It's 'how are the assets that are generating the cash flows for my return doing?' Whether it's having read about an occupier that is having financial trouble, and wanting to know if they are in any of the assets … or asking whether tenants are in the office or going to return to the office. More and more investors are diving into these types of issues and wanting to know more about the property."
"Clients using Yardi's Investment Manager platform can set themselves apart from the competition and provide such details in an easily accessible way," Malpica said. "Not only can (investors) get their quarterly returns and performance information, but they can self-serve some parsing of the data, and look at returns by asset class. Access to that information is becoming an investor confidence issue, and a way that our investment management clients are distinguishing themselves."
Senior living showcases product enhancements
The senior living spotlight session focused on product enhancements to aid senior living providers, which have been heavily impacted by the pandemic. "We're constantly monitoring industry trends and listening to client feedback in order to ensure that together, both Yardi and our customers can grow and at the same time, the residents you serve receive top-notch care," said Ray Elliott, vice president of senior living at Yardi.
In Elliott's introduction, clients received a high-level overview of Senior Living Suite updates — ranging from product enhancements to an improved implementation process. The remaining team members provided an in-depth, specific view of new features, product upgrades and more.
Ram Shanbhag, development director for senior living, shared the newest features available in Voyager Senior Housing, the RentCafe Suite and Senior IQ. Lisa Conrad, manager of clinical and compliance, covered the latest EHR enhancements, including a brand-new infection surveillance and immunization dashboard. Fil Southerland, director of health care solutions, concluded with a presentation on EHR interfaces, explaining new functionality and introducing Yardi's partnership with Kno2 to streamline the exchange of clinical information.
The session showcased how the latest product enhancements improve the way senior living operators do business. Addressing client attendees, Elliott explained how the tools "help you run your business from the first contact with potential residents, as you nurture leads to tracking community census and billing — and providing excellent care to your residents."
Affordable housing explores efficiency and asset performance
In the affordable housing spotlight, managers Matthew Luna and Keisha Flen explored how a variety of enhanced products designed for affordable housing providers can streamline renter approvals and program compliance, optimize budgets, and improve asset performance and much more.
Highlights included how the Yardi Elevate suite helps affordable housing providers drive asset performance by increasing revenue, decreasing expenses and improving value. "Increasing revenue and reducing expenses sounds easy, but it's really not. Now with the Elevate suite of products, Yardi will help you answer those tough questions," Luna said. Within Elevate:
Asset IQ leverages data in Yardi Voyager to create a more accurate budget, increase revenue and decrease expenses using prescriptive analytics. "Executives can use machine learning tools within forecasts to achieve desired results and offset future negative outcomes," said Luna.
Revenue IQ optimizes returns with pricing based on market conditions, inventory, concessions and occupancy.
Maintenance IQ improves maintenance efficiency by shortening turn times and integrating with procurement.
Flen focused on how RentCafe Affordable Housing streamlines the affordable housing application process with consistent questions, data collection and automated screening.
"Applicants can submit electronic fee payments and submit e-signatures where applicable," Flen said, a useful feature during the pandemic and one that will increase efficiency even when in-person transactions can resume.
Next stop: San Diego
With YASC Global successfully concluded, Yardi looks forward to presenting YASC as an in-person event once again. The next conference will take place Oct. 5 – 7 in San Diego. Yardi clients around the world will receive registration information in June.
"Having delivered a high level of client satisfaction with the virtual YASC platform over the past year, we plan to continue using this format for a variety of events including some instances of YASC," said Kevin Yardi, the company's vice president of global solutions. "Meantime, we look forward to welcoming everybody back to a beautiful setting in San Diego. As we emerge into what we hope is the post-COVID era, it will be great to meet face-to-face and learn from each other and have fun together again."
Watch the YASC events page for more information about YASC San Diego.
This article includes contributions from Yardi marketing staff members Leah Etling, Joel Nelson, Erica Rascon and Natalie Christiansen.