Digital Marketing
By Geneva Ives on Mar 4, 2021 in Marketing
Property marketing — once constrained to classified ads, flyers and yard signs — has largely gone digital over the last two decades. And while most multifamily property management companies market their properties and vacancies online in one way or another, many aren't using digital marketing to its fullest potential yet.
Done well, digital marketing is part of a comprehensive strategy that attracts renters no matter where they search. It creates a cohesive customer experience that helps turn more leads into leases. And it gives you the data you need to keep building on your success.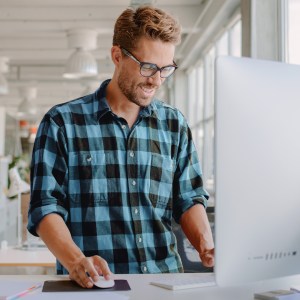 Let's take a closer look at digital marketing for property management, what it entails and how you can benefit, as well as how you can get help when you need it.
What is digital marketing?
Per the American Marketing Association:
Digital marketing refers to any marketing methods conducted through electronic devices. The includes online marketing efforts conducted on the internet. In the process of conducting digital marketing, a business might leverage websites, search engines, social media, video, email and similar channels to reach customers.
Digital marketing can also be referred to as online marketing and search marketing.
What does digital marketing include?
A holistic digital marketing strategy includes multiple channels that complement each other, creating a consistent brand and customer experience everywhere prospects encounter your business.
Digital marketing practices evolve as the way we use the internet changes, but these are some of the most common methods:
Search engine optimization (SEO): SEO is the process of improving ranking with major search engines to increase unpaid online traffic to owned websites.
Search engine marketing (SEM): SEM is the use of paid online advertising to increase website visibility within search engines. It's often used together with SEO to create a stronger search presence.
Pay-per-click (PPC): PPC advertising is a type of SEM where a business only pays for its ads when a person clicks on them. PPC ads can appear on search engines and other websites. PPC can include display ads and remarketing.
Social media marketing: Social media marketing involves using social media platforms to promote a product or service. Influencer marketing is one aspect of social media marketing.
Content marketing: Content marketing involves creating and sharing videos, articles, ebooks, podcasts and other forms of content online to grow your audience.
Email marketing: Sending branded content to prospective and current customers via email is the most common form of email marketing.
Brands use these strategies in conjunction to get in front of the most customers and get the best results. Unlike print marketing, the success of all forms of digital marketing can be measured using data.
"Today's renters are more curious, more impatient and more demanding than ever before. Using a multichannel digital marketing approach to promote your properties ensures that your brand is positively represented everywhere they expect to find you," says Esther Bonardi, vice president of marketing at Yardi. "It also means you have more touchpoints in your marketing funnel, which means more data you can use to focus your campaigns and drive success."
What are the benefits of digital marketing?
Measurable ROI: "How did you hear about us?" only works so well when trying to measure the success of a print ad or billboard. You can never truly know how many renters came in because of traditional marketing. But with digital marketing, you know exactly what lead sources are working. You can see the impressions, engagements and conversions, so you know what worked and what didn't, allowing you to optimize your marketing strategy and budget. While the data can be time consuming to compile and compare, marketing analytics tools like RENTCafé Marketing IQ make it easy.
Improved targeting: With digital marketing, you can more closely target your potential customers (while adhering to fair housing laws). By engaging people in a particular area or industry — or with specific interests — you have a better chance of reaching rent-ready prospects.
Global reach: Unlike advertising in your local paper with a limited geographic distribution area, digital marketing allows you to connect with customers globally. For property marketers, this increases the chances of attracting residents who are relocating from other cities. Even your property marketing website can have a global impact.
Immediate connection: Once becoming aware of your brand, modern customers typically do a little research before taking the next step in the renter journey. This usually involves the internet. For example, the 2020 NMHC/Kingsley Apartment Resident Preferences Report revealed that 72% of renters look at reviews during their search and 45% visit communities' social media sites. In this scenario, apartment management companies who actively manage their SEO, SEM, social media and reputation online have an advantage because they are instantly discoverable in search and appear in their best light.
Easy flexibility: Most digital marketing methods can be quickly adjusted to suit your needs. While a print ad has a predetermined run period and an order of branded swag has a set price and quantity, PPC ads, social media posts and email campaigns can be turned on or off at a moments notice, giving you the flexibility to adapt to changing market conditions. Learn more about PPC targeting.
Expert digital marketing help for multifamily communities
Digital marketing is constantly evolving to keep up with shifts in online consumer behavior. It's not just a skill you learn once or a strategy you can set and forget. "If you don't understand renter behavior, you will never see consistent marketing success," Bonardi says. "The modern property marketer is a data collector, an experimenter, a content creator, an artist and — maybe most importantly — someone who can demonstrate ROI."
If that sounds like a lot to keep track of, or if your marketing department is short staffed, it's smart to look for expert help. Few companies manage SEO internally for example. Whether you're looking to meet a specific goal in the near term or searching for a long-term collaborator to keep your brand at the top, our team of digital marketing consultants is here to help deliver proven results. Our RENTCafé Reach SEO and PPC programs have some of the lowest churn rates in the industry, according to Yext and Google, and our multifamily clients consistently see double-digit traffic and conversion growth. Better still, we will help you build a comprehensive, cost-effective digital marketing plan on one connected platform that will give you complete visibility into spend and ROI. Explore our digital property marketing services.