Leveraging Tech
By Erica Rascón on Dec 14, 2021 in Technology
Technology has the power to transform our work and our lives. During the Ontario Non-Profit Housing Association (ONPHA) conference, Yardi sponsored and moderated the session, Impactful Innovation: Leveraging tech to gain visibility and empower your teams.
Meherzad Bakht, senior account executive at Yardi Canada Ltd. moderated the panel attended by Kelly Black, chief administrative officer, District of Timiskaming Social Services Administration Board (DTSSAB), Clinton Reid, quality assurance and compliance manager, Woodgreen Community Centre and Abdulle Elmi, business lead, Housing Management Enterprise System (HoMES) at Toronto Community Housing Corporation.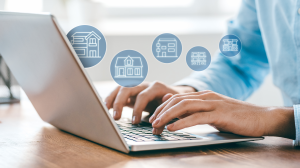 The live virtual event explored solutions that can help organizations improve oversight and visibility into their facilities and operations, elevate resident management and tenant care, and inspire diverse teams and drive efficiencies. Here are some of the highlights from the discussion.
The quest for change
Different factors served as catalysts for change within their organizations. Two consistent threads emerged: front-line staff endured repetitive, time-intensive manual tasks that often resulted in inefficiencies and inconsistencies; and disparate systems resulted in murky reporting and limited data analysis.
The organizations sought for a way to streamline reporting, requiring fewer employees to spend less time identifying a single point of truth. Reid explained, "When we communicate to leadership that we can get the job done, we neglect to convey the amount of time and effort required to pull and complete a report." He continues, "When COVID hit, we realized the number of resources put into reporting was significant."
All three organizations experienced some resistance at the ground level. Staff were leery of learning complex software that didn't completely meet their needs or understand the social housing reporting requirements. The request to document processes also resulted in a sense of unease, though leadership assured their teams the efforts would ultimately support and simplify their work.
Elmi said, "Talk to your staff and lead with what's in it for them. Answer their questions and walk them through the benefits." Walk throughs assisted with change management, they included live demos of the software so that staff could see how their day-to-day processes would improve before implementation took place.
Black echoed, "You must be open and honest and be willing to listen to the concerns and realities of the staff. We went through waste walk exercises, looking at the value adds and why certain processes are still being carried out by some staff."
Optimizing new technology begins with training
In the end, all of the reports on reporting helped fuel executive buy-in. The need to streamline workflows and simplify processes for tenants became clearer.
From there, the technology road map for each organization differed. HoMES began by first addressing pain points for tenants, then created new digital training documents. These served as continuing education for current employees and training guides for new hires. Woodgreen leveraged a virtual learning system and used a phased content approach that allowed staff to learn at their own pace. It also partnered with a non-profit organization, which offered insights on strategic operations and new tools such as Yardi Concierge.
At DTSSAB, staff leveraged online technology to accommodate different learning styles. "Recognize there are different levels of generations in the workplace, and they all learn differently," she said. "You have to know your employees to understand how they need to be supported."
Reaping the benefits of tech investments
With trainings in progress, the organizations began to witness the fruit of their labour.
"At Woodgreen, Yardi Aspire and Maintenance IQ have been most useful and crucial to our organization," explained Reid. "For example, the courses that our staff are watching in Aspire give us insights into what areas of technology we could investigate. Maintenance IQ allows us to stay engaged with our vendors and they appreciate the automation of inspections and work orders."
Elmi and his organization are finalizing implementation. They are already optimistic about the benefits of greater transparency and automatic reporting. "You can't manage or measure what you can't see, social housing technology will help your organization gain visibility."
Black notes, tenants didn't want to come into the office to provide documents which made their online tenant portalan attractive alternative method to submit their information. Their online maintenance platform also permitted staff to forego paper trails and multiple calls to create work orders. She was thrilled to ease a troublesome process, since finance and maintenance staff are located at different offices and couriering documents could extend processes by seven days.
Moving towards a brighter future requires all hands on deck, from front line staff to leadership. Social housing organizations that thoroughly analyze their internal processes will have the foundation needed to wisely implement new technology: consider what is needed for change management, engagement, and training and identify a tech provider that checks all the boxes.
Explore how technology can simplify social housing management.