Tech Transforms
By Lee Ann Stiff on Oct 12, 2017 in People
"Information technology is the core of your business and every business," states Brian Turpin, vice president of information technology for Greenwin, o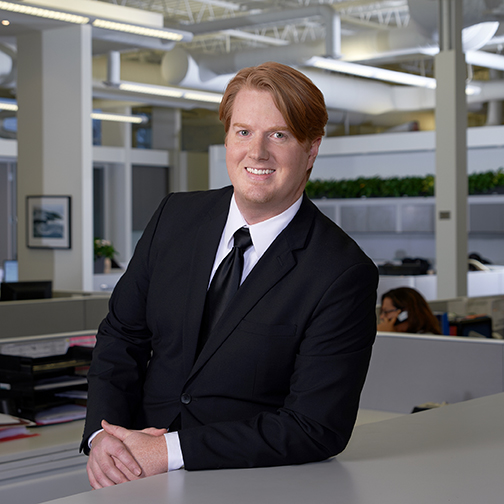 ne of Canada's largest privately owned residential property management companies. Headquartered in Toronto, Greenwin has a combined staff of over 500 employees. The company professionally owns and/or manages more than 1,000,000 square feet of commercial space and 15,000 residential units throughout central Canada.
Greenwin is currently using integrated software solutions for accounting, construction management, budgeting and forecasting, procurement, inventory control, and maintenance management — operating on a single platform. Turpin's role over the past four and a half years has been to work with Yardi, Greenwin's software vendor, to meet the company's evolving needs as it seeks to do more digitally. Part of this rewarding relationship includes beta testing Yardi's latest innovative products. Currently, Greenwin is testing VENDORCafé, the one-stop-shop for vendor management.
Changing the Way People Work
Turpin describes the way he looks at new technology as "digital transformation" and is always asking himself and his team, "what challenge does this product solve for us?" Usually, the answer to that question includes the ability to untether Greenwin's staff with the option to use mobile devices and leave their laptops behind.  Turpin further elaborated on this line of questioning, "How can we do what we're doing every day better, and where can technology take us? Are we at risk for falling behind, and do we need to automate more manual tasks and digitize our paper-based resources to create greater efficiencies?" For help with answering these questions and more, Turpin reaches out to Yardi. "Why not be the first to ask for something that maybe no one else is asking for yet? Yardi will endeavor to make it happen — and that close collaboration is the reason our relationship is so successful."
Among other large companies in the Canadian real estate industry, Greenwin sees itself as winning with its willingness to innovate. With executive buy in and transparency that shows where the company is excelling and where it can improve, Turpin is very happy that Greenwin has shifted its mindset to adopt tech solutions that promise to take the company forward.
Overcoming Growing Pains
For a successful digital transformation at Greenwin — which is arguably the same for any company in any industry — change management is key. You are tasked with convincing people to do things differently, which often creates discomfort. Turpin says that within the company, designated "champions" are the trusted voices across departments advocating for and actively demonstrating the benefits of using technology. Working closely with both human resources and the executive leadership team has made tech adoption at Greenwin easier, according to Turpin. Turpin says an important message to communicate is, "IT is not here to replace people, its purpose is to empower people."
Further on the challenges of tech adoption, in addition to change management across departments within an organization, Turpin says many companies experience a disconnect between their software vendors and what is happening at the "ground level" where the products are being used on a daily basis. Having what Turpin describes as a "flexible" two-way relationship with a software vendor is key to ongoing success.
For property management companies that are lagging on adopting tech, the time to start the conversation is now. Turpin's advice for those lacking IT leadership, "start the conversation yourself, call the software vendor you're interested in working with and learn more about what is out there and what the potential is for transforming your business
Greenwin and Yardi shares a partnership relationship where each looks to the other to further innovate and adopt changing tech to further drive efficiency.
Showing Leadership the Money
When it comes to selling the benefits of technology to a company's leadership and management staff, beyond the demonstrated ease of automating daily tasks, ROI provides the most compelling reason to adopt software. To calculate ROI for tech adoption, Turpin gives this example, "Greenwin reduced printing paper by 44% — that's 800,000 fewer sheets of paper printed from 2015-2016. With Yardi PAYscan, invoice process is entirely automated and includes real-time reports. Paper isn't sitting on desks anymore, getting lost in the shuffle."
Thanks to cloud hosting for its Yardi software platform, Greenwin reduces utility costs and eliminates other expenses including hardware service contracts and onsite support. Turpin says, "We save thousands on power alone including air conditioning as well as onsite support, and that savings has been a real benefit in achieving tech adoption at Greenwin."
Moving Forward
Always thinking ahead, Turpin is currently pushing mobile services and hopes to empower all of Greenwin's staff to get the information they need at any time at their fingertips. Turpin remarked, "My goal is to ensure that from start to finish every process is digitally streamlined and automated and that real-time information is centralized and easily accessible."
Beyond a better management and site staff experience, Turpin is also focused on adding value to the tenant experience, from the moment they step through the door throughout their lease. Unlike many companies that reasonably pass some costs including "convenience fees" on to tenants, Greenwin incurs them since its tech solutions have had such a positive impact on operations, and Turpin says the software quickly pays for itself. Citing an "Uber-type model for doing business," Turpin is always looking to enhance services for Greenwin and its customers. He added, "When it comes to business, I see technology and data as the currency."
Learn more about Yardi's single connected solution for multifamily property management.