Pivotal Shifts
By Geneva Ives on Dec 29, 2020 in News
There's no way to introduce an article about the changes wrought by 2020 that doesn't underplay the significance of the COVID-19 pandemic. It's affected the way we do everything — limiting travel, increasing screen time and turning even the most basic activity into an exercise in risk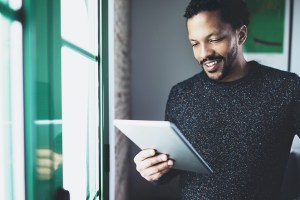 management.
For people in the multifamily industry, apartment rentals went from a typically high-touch experience to virtually contactless, seemingly overnight. And while some of the changes are only temporary, others are likely to last long after the virus abates. "This year is a pivotal moment that will reshape how we do business," asserts Esther Bonardi, vice president of marketing here at Yardi. "The pandemic is changing our future. How can we use this for good?"
Bonardi recently had the chance to talk with three multifamily leaders about their experiences marketing and leasing apartments during the pandemic. Hear from Garin Hamburger, senior director of national marketing at Pinnacle; Ian Mattingly, president of LumaCorp Inc.; and Pei Pei Mirabella, senior vice president of operations at Bozzuto on the emerging trends that will have the biggest impact on multifamily rentals going forward.
Bonardi: What do you think was the biggest change in 2020 that has the most potential to become a permanent shift in the way we do business?
Hamburger: The biggest change that will last through the pandemic and continue to evolve after it are the creation of alternative tour types, specifically virtual and self-guided tours. I really believe we're coming into an age where technology will dramatically shift the customer journey and the leasing agent experience.
Mirabella: The companies faring better during abrupt shutdowns have the tools and technology in place to pivot operations and enhance productivity while working remotely. In addition to using live and pre-recorded virtual touring to connect with sight unseen prospects, Bozzuto's use of video conferencing allows us to connect with our remote teams and corporate office. Embracing technology more quickly has allowed us to adapt, and tech will continue to influence us for the foreseeable future.
Mattingly: I look at this year more as evolution than revolution. The pandemic accelerated things we were already starting to do, like virtual tours and video conferencing. Where we're going to see revolutions, however, are on the construction and development side. There's definitely a preference for individual entries right now. Even after we have a vaccine, it's highly likely that our discomfort with proximity to people outside our immediate circle is going to persist for some time."
Bonardi: How will having multiple tour types reshape the leasing agent experience? Do you think it will reduce face-to-face interactions going forward?
Hamburger: Automation reduces the number of face-to-face interactions, but I don't believe it replaces the need. At Pinnacle, we strongly believe that we still need to have that personal, agent-assisted experience. That said, leasing agents will need to develop a new, technology-related skillset to make the new prospect experience as seamless as possible.
Bonardi: How do you think we need to reconsider the customer experience going forward?
Mirabella: We're reshaping the customer experience to match new comfort levels. Previously, our brand standards included greeting customers by extending our hand. Instead, we've implemented our hand-over-heart gesture to properly acknowledge our customers. We've also accelerated the implementation of our welcome home commitment. When our customers move in, we want them to be comfortable knowing we've focused on all the details. Now, we place a seal on the door indicating the completion of our meticulous cleaning and detailing process.
Hamburger: No matter where you stand on issues such as social distancing, I think presenting people with options in the future is going to be really, really important. Do you have a coffee maker or pre-bottled cold coffee they can grab out of a fridge? Things like that. Having options allows people to be comfortable within their boundaries. Make sure people can interact with your brand, your company, your communities in the way they want to, not the way you want them to.
Bonardi: When you look at reshaping the future, what do you plan to prioritize in the coming months?
Mattingly: I think it's been wonderful to see the industry come together to help solve these challenges in a very open way. From a business standpoint, it makes sense that we keep sharing ideas and best practices. The enemy is the virus and the economic impact, and we can come together as an industry to address that. The other thing that this has taught us is how important it is to be engaged in our communities. Because what's happening at the community level, from a political and governmental standpoint, around eviction moratoriums and rent assistance, all those things are incredibly important to our success and the success of our residents getting through this pandemic. Really growing as part of the community together is something that we will be carrying forward.
Join a RENTCafé Self-Guided Tour webinar or explore sessions in our COVID-19 support series to learn more about solutions that can help your business adapt to a rapidly evolving market.