Multifamily Experts Agree
By Joel Nelson on Feb 23, 2022 in Technology
Demand for rental apartments through the first three quarters of 2021 was 28% higher than the U.S. single-year high in the same time frame in 2018. Asking rents were up 11.4% nationally year-over-year through September, with the occupancy rate of stabilized properties reaching 95.9% in August.
Stats like these inspire observers to use words like "robust," "red-hot" and "overheated" in discussing the state of the multifamily industry. Is this strong market built to last? Or is it too good to be true? What key trends will chart the industry's direction in 2022 and beyond?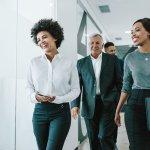 A group of experts offered insight in a recent conversation with Richard Malpica, vice president and Eastern region general manager for Yardi.
Online tech's scope expands
Social distancing mandates fueled expectations for increased online service and flexibilityamong renters and property teams. The desire for a frictionless digital experience extended to all aspects of property management, including marketing and leasing, electronic money orders, vendor payments, invoice processing, self-guided tours and more. Cincinnati-based Towne Properties and BH Management Services of Des Moines, Iowa, whose representatives joined the discussion with Malpica, are among the property management companies that have accelerated their technology adoption for these and other operations.
Joanna Zabriskie, BH's president and CEO, reported that nearly all residents at the company's properties who were previously paying rent by check converted to electronic payments after the onset of COVID-19. Among other forward-thinking initiatives, BH is also rolling out leak detection technology that prevents costly water damage and enables instant maintenance services, she added.
Fraud, staff shortages spur adoption
With fraudulent digital transaction attempts against businesses on the rise, risk mitigation is another principal concern for property managers. The discussion participants predicted that artificial intelligence facial recognition technology will be increasingly incorporated into self-guided tours, online leasing, vendor access, income verification and other operations.
The group noted a trend toward adopting virtual assistants that respond to all prospect and resident communications, including chatbots that can generate high-quality leads. Smart home tech for locks, thermostats, leak detection and other elements of multifamily housing is also moving up as a priority for residents and managers alike.
On another front, the so-called "great resignation" across the economy has impacted the multifamily industry, making it harder for property managers to find and retain qualified staff. Some have responded by centralizing leasing, renewals, collections, maintenance and other operations, automating processes or instituting a combination of centralization and automation.
"Centralizing some of our leasing and maintenance has helped us meet our prospects' and residents' demands while mitigating staffing shortages," said Chad Munitz, vice president at Towne Properties.
"We were able to move to a hybrid work environment. I think flexibility to work from home has become an essential perk in today's tough labor market," added Zabriskie, who noted that 13% of BH's onsite positions have been open for several months. "It's harder than ever to hire and retain valued employees," prompting the BH recruitment team to place more emphasis on positive corporate culture elements such as days off for mental health, bonuses and added benefits.
Boston-based Berkshire Residential Investments also sharpened its focus on company culture issues, instituting monthly town hall meetings to address remote work challenges and other issues, according to Josh Glastein, its chief information and technology officer.
ESG's importance grows
With 15% of emissions coming from real estate, sustainability continues to grow as a priority. Institutional clients are increasingly asking for sustainability to be included in property budgets, and ESG is growing in importance for residents as well, according to the discussion participants. Local and federal requirements to comply with ENERGY STAR® standards and other energy initiatives have spurred an interest in energy software capable of gathering and reporting consumption data to property owners and managers.
The way forward
The participants agreed that, as multifamily property managers and owners adapt to new expectations in the post-pandemic era, carefully chosen and properly utilized technology can make the transition easier.
"There's no negative impact from taking time to make the right technology decisions because it will eventually make things easier and alleviate the strain on leasing teams," said Glastein.
With selective technology adoptions, "we feel we're caught up to the digital expectation of renters," added Sam Foster, CEO for PRG Real Estate of Philadelphia.
See how the Yardi Multifamily Suite provides a single connected solution for all aspects of property management. Join an on-demand webinar for more information.