Changemakers Series
By Natalie Mahn on Aug 10, 2022 in People
Ready to meet the next senior living Changemaker — or in this case — Changemakers? Up today is Jim Coughlin and Wendy Nowokunski, a duo of senior living leaders from Northbridge Companies.
We recently announced the plan to share four final interviews, but as an added bonus, this particular interview features two industry pioneers. And with Northbridge being a Yardi senior living client, we're ecstatic to share a snapshot from their conversation with Senior Housing News (SHN).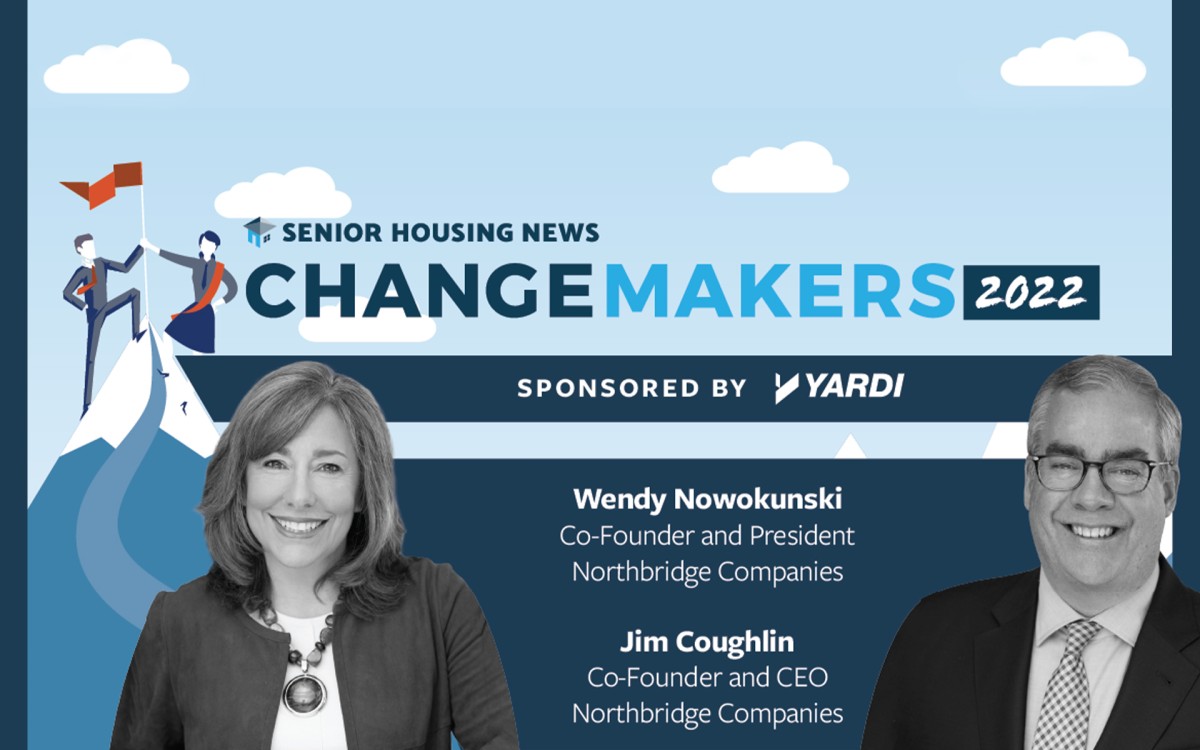 Meet Jim Coughlin and Wendy Nowokunski
CEO Jim Coughlin and President Wendy Nowokunski founded Northbridge Companies with one purpose in mind: ensuring their residents, families and associates live well and love life. And that purpose has held true for over 15 years, as they've built Northbridge into what it is today. Read more about Northbridge Companies.
In their interview with SHN, Coughlin and Nowokunski speak to the lessons learned over the course of their careers, each explaining how they navigate change. Read on for a highlight from their interview.
SHN: Talk about a time when you tried to execute a change and things didn't go according to plan. How did you pivot and what did you learn as a leader?
Coughlin: I tend to be the one who focuses on acquisitions and growth. As we've alluded to in the past, we have a very engaged and vocal leadership team. One of the most comical experiences I had was when I went to our senior leadership and I said, "I've made progress. I think we're going to move forward with this acquisition." The leadership team said, "Absolutely not. We're not doing that deal."
That was a really good sign … despite that we didn't get to move forward with the acquisition. It really showed the empowerment of the team to do this. What I've recognized as we continue to expand our vertically integrated platform is that empowerment is really important.
Some of the challenges Wendy and I have faced in growing the organization are focused on finding the right capital to enrich our business plan. We can deliver the returns, but we've spent a fair amount of time with some capital partners that weren't a fit. Thankfully we didn't move forward, because the rest is history.
Nowokunski: Jim and I were very definitive about who we wanted and what we wanted to do when we first started the company. That required us to have financial partners that were interested in doing well by doing good. Being able to find groups of people who fit that bill was not always easy to do. That was an interesting challenge, but it's proven that our original mission of doing well by doing good is still alive. We have a strong culture.
The other thing that has always been a challenge is the adoption of technology. We as an industry have to do a better job finding the right technology and getting our teams to adopt it. It takes so much longer to accomplish that than in any other industry.
SHN: How can the senior living industry drive more diversity, equity and inclusion?
Coughlin: It's been exciting to watch Wendy get recognition for being a woman in leadership, both locally and nationally. She has been able to advocate for diversity, equity and inclusion well before it was en vogue, and it has been the cornerstone of her entire career.
Eighty-six percent of our workforce is female, so how do we create a platform where they can invest in each other and develop an opportunistic ecosystem? That's worked out extremely well in Northbridge because of Wendy's leadership. Within our organization, we are supportive as leaders of diversity, equity and inclusion, but we also encourage our young leaders to define what DEI means to them.
Recently, Wendy challenged me to push the envelope, and we had a group of very dynamic volunteers step up, create a committee, and work diligently for the better part of six months to develop a platform to foster this initiative at Northbridge. It's our job to break down the barriers that stand in their way, but they're doing a fine job of pushing the company in a direction of which we will all be proud.
Nowokunski: We have always been at the forefront of DEI and how providers can achieve that. Northbridge has been in the top 100 women-led businesses in Massachusetts for the last six years, and that stems a lot from the fact that we have a lot of women in leadership in our organization. We consider ourselves women serving women. Our workforce is 86% women, and we're serving 84% women, and that's the messaging that we put out there. We're very inclusionary, and we're not discriminating against men or anything like that, but it's an interesting opportunity for women.
We have a lot of families and single mothers looking for a stable opportunity, and part of the reason that we created the Compassionate Caregiver Fund is because we discovered throughout COVID that our associates are struggling. We created the fund to empower our associates with the opportunity for scholarships in various episodic situations in their lives.
We're very focused on creating a sense of belonging, and we celebrate and embrace the differences in people, the uniqueness of people, and the backgrounds they come from.
I think that in order for other companies to step up, they need to have a culture. They need to create a culture where DEI is core to their beliefs, and they have to walk their talk. Some companies have a pretty package, but when you open it up, there's nothing inside. If you are committed to DEI, make it real.
Learn more from Northbridge Companies' leaders
We love hearing how our clients are channeling innovation, and these two leaders are no exception. And it's a pleasure to support organizations like Northbridge with our senior living management solutions — from Yardi EHR to RentCafe Senior CRM.
Read more of the Northbridge interview with SHN, featuring Jim Coughlin and Wendy Nowokunski.