Yardi Think Tank
By Yardi Blog Staff on Dec 11, 2015 in News, People
The fifth in Yardi's series of thought leadership Think Tanks, held in association with Property Week, brought together retail centre owners and managers to discuss their experience and opinions on how to remain successful in a competitive retail environment.
London's retail scene is arguably the best in the world, with billions of pounds spent annually in the capital's designer stores, boutiques and big-brand outlets. But as fashions in real estate strategy change, today's retail landlords and property managers must move with the times to keep on attracting consumers. In a series of real estate think tanks, Yardi brought together a panel of retail experts to discuss the burning issues.
Jace Tyrrell, deputy chief executive, New West End Company
Jordan Jeffery, head of retail management, JLL
Robin Dobson, director of retail development, Hammerson
Clare Harris, head of group marketing & communications, Shaftesbury
Chair: Claer Barrett, Financial Times
CB: Let's start by talking about online retail – have retailers and landlords passed 'peak disruption'?
RD: If you look back 10 years, the property industry was scared; now, I think we've come through the eclipse. The opportunity to create the best physical stores is complimentary to the drive to online. ICSC research showed that 90% of transactions still happen in a phys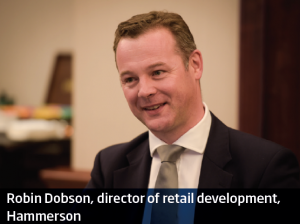 ical location – customers may have seen the product in a store, then ordered it at home or on a screen, or they might have ordered it at home and gone into the store to collect it. John Lewis recently reported that
50% of its in-store sales are coming from 'click and collect'. As landlords, we create the platform for others to create the theatre.
JJ: Everyone has had to adapt to online changes. Today's consumers are much more informed and do a lot more research and checking before they buy.
CH: The perceived threat of online has petered out as retailers and landlords have themselves embraced technology.
CB: True, technology has been transformative in more ways than one. How is 'Big Data' helping retailers and landlords?
RD: 'Beacon technology' is helping us understand customer preferences, and enables us to send them personalised content in real time. In return for signing up to our PLUS app, which has been rolled out across our European portfolio, customers get the opportunity to receive bespoke promotions. It's all about getting inside the mind of the consumer.
JJ: 'Beacon technology' has been transformational in providing consumer insight to shopping centre retailers and owners.
RD: The data collected allows us to look at where and how people shop, and which tenant adjacencies work. If I'm a John Lewis shopper, where else might I shop? It could be the White Company or Space NK. As we develop new shopping centres, such as Victoria Gate in Leeds, this information allows us to understand what tenant adjacencies really work to drive sales and the shopper experience.
CB: Have you noticed any unusual adjacencies?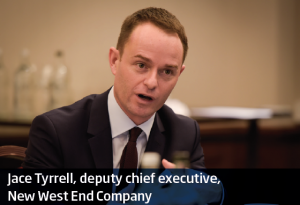 RD: The spread of shopper habits has also changed. You might buy a pair of jeans in Harvey Nichols, but then go and buy a top in Primark or Top Shop. It's the fickle nature of retailing – at one end you have quality, and at the other you have price. As landlords of centres, it's our job to learn from this and create the right and sustainable retailing platform.
JT: Part of the New West End Company's job looking after Oxford Street, Regent Street and Bond Street is to use data we collect to increase dwell times, and pick up where we have gaps. We collect a huge amount of data, as we have 200m visitors a year. We ask shoppers what other retailers they'd like to see in the West End, and Ikea keeps coming up. You wouldn't have thought this five years ago, but there is a cluster of homeware retailers on Tottenham Court Road. And now the vacuum brand Dyson is looking at taking a flagship store opposite Selfridges.
CB: How do you collect and share data from retailers?
JT: We have a New West End Company app for our business-to-business community to share real-time data on sales, footfall and also security announcements.
RD: We've always had tenant fibre networks in our shopping centres to communicate with our occupiers, improve security and deliver on customer services. The relationship between the landlord, retailers and customers has to be seamless. If you get the three components right, you drive sales and drive footfall: everybody wins.
JJ: We manage 120 shopping centres and over 200 retail parks, and clients push for us to make better connections with shoppers and retailers. We're often relying on retailers to provide us with sales data, but nine times out of 10, it's not a requirement of their lease. However, retailers willingly give us this information, because in return, we provide them with useful data which can help them drive sales. Using the applicable technology, we can produce heatmaps which show 'hot' areas in red, and areas that shoppers don't walk down in green. We can then use this to improve particular areas, start a promotion or look at better signage to redirect people around the scheme.
RD: The real 'gold dust' is using this data to understand what makes retail and retailers work, and working out how you can use it to help others.
CB: Do you agree that restaurants are playing an increasing part in defining a successful retailing destination?
CH: We've been talking about experiential retailing at Shaftesbury for 10 years, and it is now very real. Just offering a shopping experience is n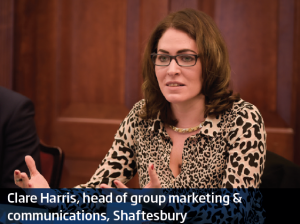 o longer enough: leisure has to be included in the mix. As landlords, we have to tap into the emotional feelings behind that. We're not trying to create shopping destinations, but social spaces.
RD: Gone are the days of sterile food courts. At Hammerson, we now have just over 1m sq ft of leisure space within our shopping centres. At some of these schemes, five to seven years ago, you couldn't lease units to restaurants. Now, they can't get enough! When we redeveloped the Bullring, caterers wouldn't commit before they had touched the finished product. Now, they are signing pre-lets. In certain instances, we are seeing restaurants pay higher rents than retailers. They increasingly want prime units; we never thought we'd see that happen.
JT: Just look at the Crown Estate's strategy: there's much more emphasis on dining now, and this trickles down to the retailers themselves. Burberry has just opened its own restaurant, Thomas's, inside the flagship Burberry store on Regent Street.
RD: At our Silverburn centre in Glasgow, since we opened the cinema extension, retail footfall is up by around 15%. Shopping centres are now more of an evening destination, and leisure is driving this trend.
CH: Shaftesbury have been putting more leisure uses in too. Spend goes up, dwell time goes up, and it's also great for social media – people have endless appetite for taking pictures of food! Our top Tweets are often from restaurants.
CB: The avocado is apparently 'overcado' – what's the next big food trend going to be?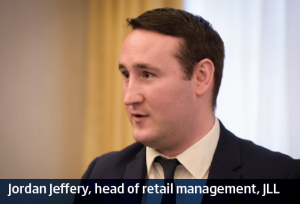 JT: Seafood is really on trend. If you don't believe me, go to Sexy Fish in Berkeley Square.
RD: We are seeing 25 to 30% year-on-year growth in the quantity of caterers wanting to take space in Hammerson centres. New concepts coming through include food markets – we've worked with Spitalfields Market in London and Kirkgate Market in Leeds – and shoppers absolutely love the action of food being cooked in front of them. They can see, smell and choose exactly what they want and are part of the whole cooking experience.
JJ: Online stars taking physical space is an important trend.
CH: Absolutely. We have a cake shop called Crumbs and Doilies and the lady behind it, Cupcake Jemma, is a YouTube star. Even though she'd never had a physical shop before, we regarded her as an established business.
CB: How is the role of social media evolving?
CH: Well, there's this growing trend for selfappreciation… [panel erupts into laughter]. Every day, people are worrying about creating content: content for their Twitter feed, for their Instagram – whether they are teenagers or middle-aged. It's all about providing people with content that they can't find anywhere else. This could be new restaurants, new concepts, or a retailer with new products in store. To be one of the first people to share that image is really important.
RD: Pretty much all of the advertising and marketing for the Bullring is now done through social media. It is where you find the young and fashionable audience. Our own shopping centre websites are connected to the retailers' websites and their Facebook and Twitter feeds.
CB: So Hammerson is also effectively a 'landlord' for all of your tenants' websites?
RD: I would say that we are the connector. We connect the physical and the social agenda through our developments and centres.
CB: Maybe landlords will be known as 'connectors' in the future! But how else has the traditional landlord and tenant relationship been 'disrupted' by the desire to create compelling new destinations?
CH: When Shaftesbury bought Carnaby Street in the 1990s, its 1960s heyday was long gone and it was lacking any retail innovation. But there's real heritage in the areas we own. Carnaby was a youth destination for cutting-edge fashion. We wanted to bring back that relevance today. We always say that we're more than a landlord; in rebranding the area, we had to educate people about what was going on and take them on a journey. But we also had to make sure that the people we were attracting to the areas were the right customers for our retailers. To do that, there needed to be authenticity, but for that to happen, you also need flexibility. Without taking chances on new brands, the area wouldn't have been as interesting. When
20-year leases were the norm, we were one of the first to embrace five- and 10-year leases, which gave us the flexibility to change our tenant mix. One year it's hot, but the next year, it might not be.
We decided that we had to take short-term risks as part of our medium-term strategy. Nine times out of 10, those risks have paid off.
CB: What do you think the next big trend will be for physical retail?
JT: The rise of click and collect has been phenomenal, but I don't think it will be long before one of the big retailers announces that their collection points will open 24 hours a day – especially in the West End, where it would be much easier to drive to a collection point in the middle of the night. And if we fast-forward 10 years, I think there will be a trend for retailers to stay open much later – maybe until 1 or 2 am.