Sharing Disruption
By Joel Nelson on Dec 17, 2018 in Coworking, News
Coworking isn't new, but its recent growth and prominence in the U.S. office market space is.
A new special report from Yardi Matrix, titled "Shared Space: Disrupting the Traditional Office," outlines the dramatic increase in shared spaces over the past year, driven by a growing "gig economy" and employers' desire to deploy more workers remotely, attract talent and gain more flexibility for their space.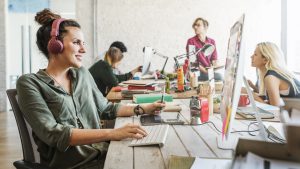 In researching 20 metros, Yardi Matrix found that 43.5 million square feet of office space was being rented as of the fourth quarter of 2018. This represented a 62% increase in shared space over the previous year and 1.7% of the total inventory.
The business model for shared space is evolving to match the practice's growth, with landlords and brokerage firms offering more amenities and flexible lease arrangements.
Coworking has gained footholds in both urban markets (2.2% of stock) and suburban submarkets (1.2%). The practice is "growing as a percentage of office stock in all areas, but it is a more natural fit in urban settings due to the proximity to a greater number of workers, easier commute to urban locations and greater availability of small rental spaces in suburban areas," the report says. "The sector is in a nascent phase, so the pace of growth is likely to pick up in coming years."
Manhattan, N.Y., ranked first in both overall amount of shared space with 13.7 million square feet, with Los Angeles second with 4.7 million square feet. The borough also had the most shared space as a percentage of total stock, 3%, with Portland, Ore., Miami, San Francisco and Austin, Texas, totaling 2.5%, 2.4%, 2.3% and 2.2%, respectively.
Read the full Yardi Matrix special report.