Productive, Remotely
By Joel Nelson on Jan 12, 2022 in News
With the pandemic still affecting much of the economy, remote work – utilized by about 16% of the U.S. workforce in 2019 – has become even more entrenched as a business norm. Some employers are making remote work available permanently while others are adopting a hybrid model.
Gains in employee satisfaction, productivity
Data collected by a team from the Mexico Autonomous Institute of Technology, Stanford University and the University of Chicago Booth School of Business through March 2021 found that nearly six out of 10 workers reported being more productive working from home than they expected to be, compared with 14% who said they got less done. As far back as May 2020, four in 10 Americans who worked from home at least one day a week said they would look for another job if their employers ordered a full-time return to the office.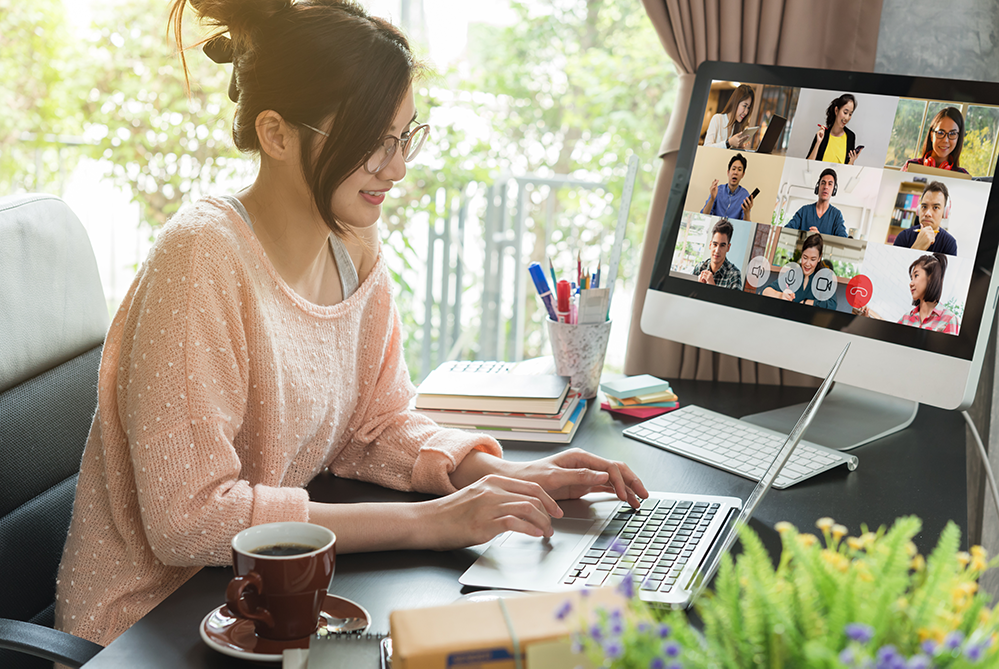 The U.S. Bureau of Labor Statistics weighed in with a report that labor productivity, defined as the value of goods and services produced per hour of work, increased by 1.8% between the second quarter of 2020 and the second quarter of 2021, compared with an average annual increase of 1.4% from 2005 to 2019. (Some of those gains occurred in durable-goods industries such as car and appliance manufacturing that are largely unaffected by the working-from-home trend.)
The shift toward working from home isn't universally embraced. CEOs such as David Solomon of Goldman Sachs and Jamie Dimon of JP Morgan Chase have claimed that the practice is detrimental to creativity and culture. Partisans on either side can bolster their cases with a spectrum of arguments: better sleep; less time lost to commuting; reduced spontaneous communication with colleagues; enhanced employee retention; fewer opportunities for the personal interactions and mentorships that advance careers.
The tech factor
The widespread implementation of remote-working technology, a defining feature of the pandemic, is another factor in the productivity debate. "While many home-office technologies have been around for a while, the technologies become much more useful after widespread adoption," according to researchers from Rutgers University, the University of North Carolina and the University of Wisconsin.
"Had the pandemic hit in 1990, it would not have produced this rise in relative productivity … because the technology available at the time was not sufficient to support remote work," adds Rebecca Stropoli, a writer for the Chicago Booth Review. The pandemic, adds Erik Brynjolfsson of Stanford and MIT's Georgios Petropoulos, "compressed a decade's worth of digital innovation in areas like remote work into less than a year."
A key element of efficient coworking and shared workspace management is Yardi Kube, a single-stack management platform that combines accounts payable, general ledger, merchant services and more in one easy-to-use technology suite.
Maximizing the remote experience
With most observers agreeing that the work-from-home trend is here to stay, Apollo Technical, an IT and engineering recruitment agency, offers tips for making the experience comfortable and productive:
Create a comfortable workspace. The space should be dedicated solely to work, separated from TV and other added screens and stocked with everything needed to keep you focused and on track.
Stay organized. A new organizing system or day planning can help keep you on schedule.
Commit to smaller but intense work intervals. Time how long you can focus intently before getting distracted, then continue this pace throughout the day.
Take a break. Take regular breaks for snacks, fresh air or family time to let your brain refocus and relax.
Schedule a virtual commute. Loneliness can be the hardest part of working from home. Check in with coworkers during your regular commute time to create social interaction.
The Balance Sheet will continue to track the impact of the remote work on productivity, employee satisfaction and innovation. As Chicago Booth's Stropoli notes, "Some research indicates that working from home can boost productivity and that companies offering more flexibility will be best positioned for success. But this giant, forced experiment has only just begun."