Office Party
By Joel Nelson on Nov 5, 2019 in News
The U.S. office market is holding steady amid faltering economic indicators and the prospect of a recession in two years.
The industry's status was the subject of a recent webinar presented by Jeff Adler, vice president of Yardi Matrix, and Jack Kern, director of research and publications. They pointed to favorable U.S. economic conditions that include moderate gross domestic product growth, solid employment growth, low inflation and a tight labor market. On the other side of the ledger are struggling farming and manufacturing sectors and decelerating economies in China and Europe that present potential harbingers of a recession by mid-2021.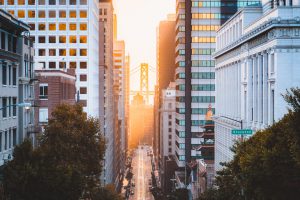 More than half of the office markets tracked by Yardi Matrix experienced moderate rent growth over the past year, with tech hubs like San Francisco, Tampa, Fla., and Austin, Texas, seeing big gains. The absorption of available office properties, including expensive ones, in most markets makes for "quite a positive picture," Adler said. "It's not a bad time to be in the office business if you can work around some of the [larger] economic issues. Conditions are sufficient to maintain good office-using employment growth, occupancy and slow rental growth."
Promising niche markets were also on the webinar's agenda. One of them, medical office buildings, is on the rise due to an aging population and providers' desire to move healthcare delivery from hospitals to lower-cost facilities. Being less cyclical than other sectors and typically fetching higher prices than general office space accounts for much of this space's appeal. "If you're looking for value beyond the major office 'food groups,' this area merits attention," Adler noted, adding that Yardi Matrix tracks 544 million square feet of medical office space.
Another increasingly dynamic niche is R&D offices, consisting of highly specialized lab or research and development space used by biotech start-ups. They're concentrated in places like Boston, Raleigh-Durham, N.C., the San Francisco Bay Area and San Diego, and typically feature higher rents, vacancy and sales prices than general office space.
Also notable is coworking, whose growth is evidenced by a work-at-home population that has grown 115% since 2005, more than 10 times faster than the general workforce. The traditional business model calls for coworking operators to lock in long-term leases with property owners and sign users to short-term leases. It's being supplemented by another approach whereby building owners pay coworking operators to manage the space and receive their income as a pass-through from tenants rather than from fixed-rate leases.
Both tech and coworking are doing well overall. However, Adler cautioned, with these sectors accounting for 40% of current absorption, the office market could be vulnerable to setbacks in either one.
All told, he said, "It's all good" for the office industry at present. "There's no building binge, so supply will not kill this party. It's more a question of demand, which looks pretty solid."
Get all the details on the office industry's status in fall 2019 from Yardi Matrix by downloading the full presentation.