Voyager 8 Announced at YASC 2023
By Leah Etling on Sep 6, 2023 in Events, News
Yardi's Advanced Solutions Conference kicked off Wednesday morning with over 4,000 attendees – making it the largest YASC ever – in attendance at the San Diego Convention Center.
"We have 4,000 of the best minds in real estate in San Diego this week," observed Esther Bonardi, a vice president at Yardi, as a packed room eagerly anticipated remarks from Anant Yardi, the company's founder and CEO; as well as executives Rob Teel, Akshai Rao and Kevin Yardi.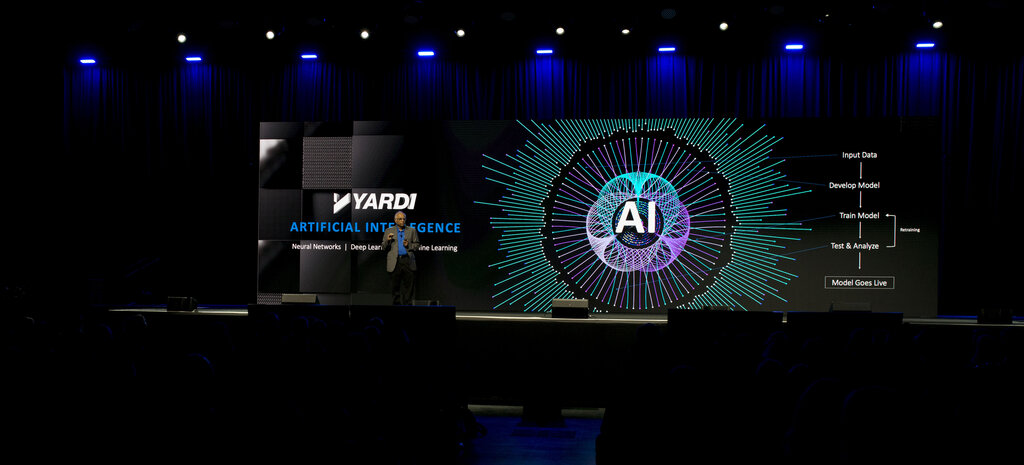 The YASC opening session always offers an overview of real estate technology trends and insight into how they might play out within Yardi's single connected solution for real estate companies. This year brought an especially exciting reveal: Voyager 8 is currently in limited release to clients and will be widely available beginning in January 2024.
"The biggest thing with Voyager 8 to get excited about is the user experience. The user interface is completely different. It's a big leap from Voyager 7S. It's not a leap in terms of the upgrade process, though," said Rob Teel, president of global solutions.
"We are really excited about the upgrade process. This is going to be an opportunity for you to decide which users you want to start using Voyager 8. They can use 7S or 8, so you don't have to choose. You can allow your users to get comfortable with Voyager 8 as you start to roll this out," said Akshai Rao, president of residential.
Clients were able to get detailed demos and highlights of the forthcoming release in spotlight sessions unique to their real estate verticals on Wednesday morning.
In addition to the new user experience and simple upgrade process, Voyager 8 is built for compatibility with artificial intelligence (AI), promising a continual opportunity for real estate companies to use the new technology for efficiency and smoother operations.
AI and real estate
AI's implications for business functions like marketing are evident across industries, but what about specific uses for real estate? That question was at the heart of Anant Yardi's remarks on Wednesday morning.
Noting that Yardi is fully committed to making use of AI in the most constructive and beneficial ways possible, Mr. Yardi said that he sees the incorporation of the technology as a gradual one.
"The future of AI in real estate is not going to be some big bang type of change, that's not going to happen," Mr. Yardi said. He noted that Yardi has already made infrastructure investments that will provide processing bandwidth required for AI systems.
Teel and Rao provided a look at Yardi products where AI is already incorporated and will have a growing role moving forward. They include chatbots, which already provide automated answers to prospect questions from multifamily clients; maintenance requests, which could be assigned prioritization and dispatch by AI; and a virtual Voyager assistant who will answer software questions, thanks to AI.
"We are fully committed to this change and look at this as an opportunity to grow," Mr. Yardi said. "Anytime there's an opportunity to embrace and acknowledge change, I think lurking behind it, you'll see an opportunity for growth."
Spotlight on corporate philanthropy
The general session concluded with a look at Yardi's corporate focus on philanthropy, which has been a longtime priority for the company.
"Our guiding principles over the last 40 years and for the next 40 years are to take care of our clients, employees and communities, and candidly, we don't often talk about what it means to take care of our communities, so I wanted to take this opportunity to spend a few minutes on it," said Kevin Yardi, vice president. "We provide funding to our 40 offices around the world and our 9,000 employees help guide funding to nonprofits that are meaningful to them."
Hundreds of nonprofits have received donations through this program, and you can read profiles of their work on The Balance Sheet.
Additionally, earlier this year, Yardi announced that its Foundation has committed over $10 million in scholarships support to 20 colleges and universities across the United States and Canada to provide college scholarships to students with financial needs. Most recipients will be the first in their families to have access to higher education.
Disaster relief is another significant donation focus. In August, Yardi donated $250,000 to World Central Kitchen and Direct Relief to help fund response efforts to the Maui wildfires. Past significant donations include $1 million to nonprofits assisting with humanitarian aid during the war in Ukraine and $2 million in total to 22 food banks (19 in the United States, three in Canada) to assist with increased demand caused by the COVID-19 pandemic.
Ongoing conference updates
The conference continues through Friday with a stimulating combination of classroom instruction, real-time consultations with Yardi solution experts and interaction with industry peers across the region.
Networking receptions and the Thursday night party make YASC an event everyone looks forward to year after year.
For continually updated social media coverage, find frequent updates on Instagram @yardisystems and using the hashtag #YASC2023.