Watch Now!
By Natalie Mahn on Apr 27, 2023 in Senior Living
Eager to spend less time on manual processes and more time serving senior living residents? In the words of Joanie Williams, principal and chief financial officer at Watercrest Senior Living, "You need a system like Yardi."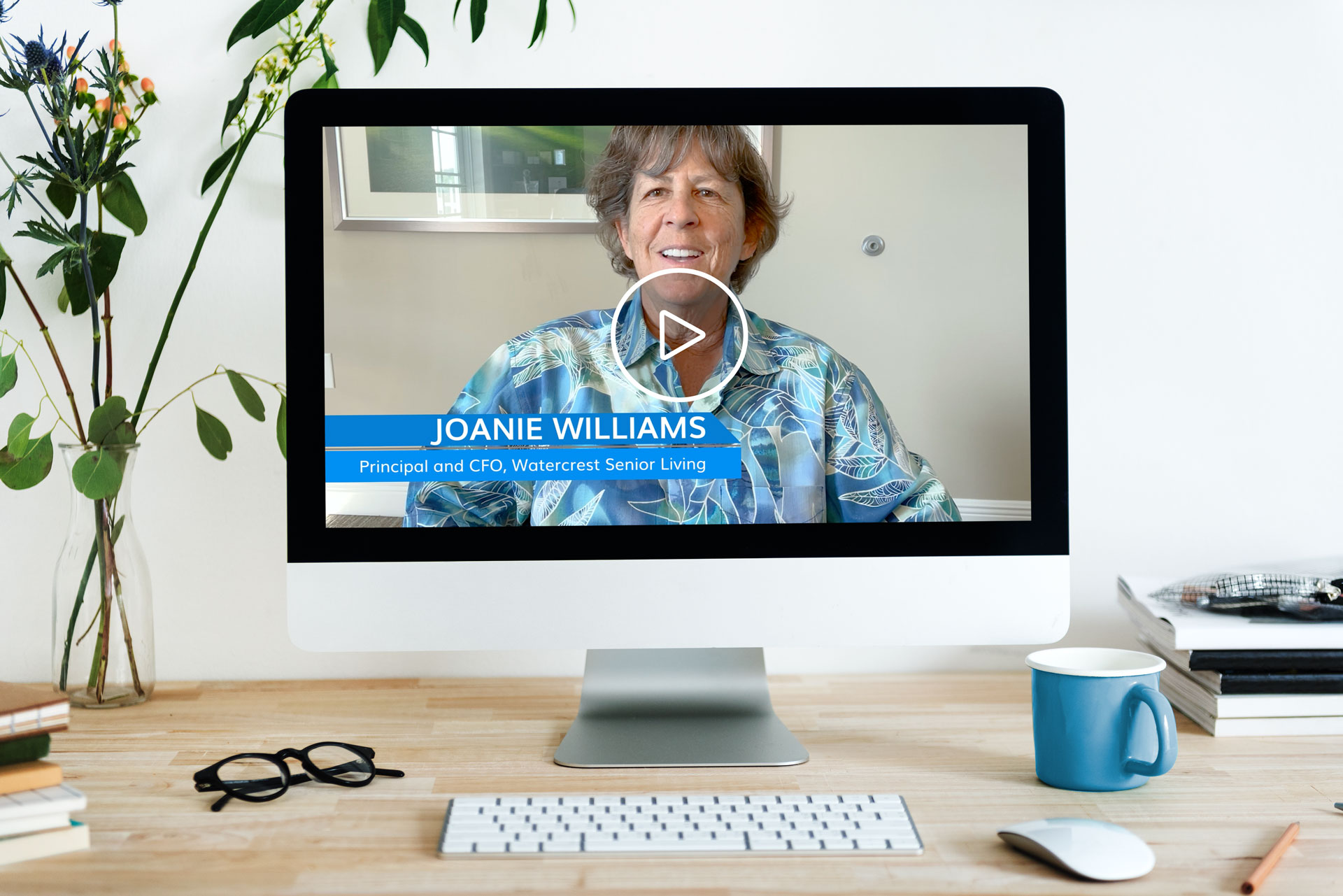 That quote comes from our brand-new testimonial video which you guessed it, features Joanie Williams speaking about Watercrest's successes with the Yardi Senior Living Suite.
It's a quick, informative video — only two minutes — so watch now to see Watercrest's successes for yourself.  
How Watercrest Senior Living thrives with Yardi
With communities across independent living, assisted living and memory care, Watercrest Senior Living puts its focus on enhancing resident lives. That's achieved with help from the Yardi Senior Living Suite, which replaces time-consuming tasks with integrated, automated workflows that allow Watercrest's staff to shift their time toward what matters most — residents.
"There's huge value because everything talks to one another, everything's integrated," shares Joanie in her testimonial.
To tease the video further, Joanie explains how that integration made Yardi stand out when it came time to select a technology partner — describing the choice as a "no-brainer." She shares that when staff aren't tied to manually building reports or inputting data, thanks to a platform that readily updates and centralizes information in one secure place, they can spend more time helping residents.
And at the end of the day, that's what Watercrest is empowered to do. With hours gained back from using Yardi software, time is now devoted to "making a better experience for our residents, and our associates," notes Joanie.
We could tease the video further, but hearing directly from Watercrest is most impactful. Watch the two-minute video for more insights from Joanie.
More on the Yardi Senior Living Suite
The Yardi Senior Living Suite combines resident care, marketing, sales, finance, business intelligence, operations and more on a cloud-hosted, HIPAA and SOX compliant software platform. Mobile, intuitive and efficient, this single connected solution has everything you need to manage your communities and drive growth.
Explore Yardi senior living solutions via our product suite. If you have any questions or would like to schedule any personalized demos, please reach out anytime.
Take two minutes to hear from Watercrest
Ready to hear more from Joanie Williams? Watch the two-minute Watercrest video for her full testimonial.
Don't have two minutes free at the moment? Watch this 30-second teaser!