Avenue5 Moves Ahead
By Lee Ann Stiff on Jun 20, 2020 in News
With the outbreak of COVID-19, the new normal of social distancing has created a big challenge for many businesses — and real estate firms are no exception. Fortunately for many multifamily operators, opportunities to streamline common business processes using online software solutions are helping to surmount challenges, while delivering unexpected benefits. That's what Avenue5 Residential has discovered. The Seattle-based firm, which focuses on third-party multifamily property management, oversees more than 375 properties and 70,000 units in 13 states, with offices in Denver, Orange County, Phoenix, Portland, Salt Lake City, San Diego, Spokane and greater Washington, D.C.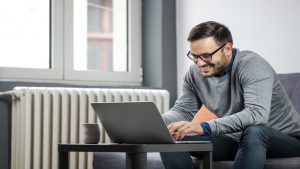 Recognized as one of NMHC's Top 50 Managers, Avenue5 is employing digital solutions from Yardi to protect their associates and customers during the COVID-19 pandemic, all without sacrificing service or missing revenue opportunities. In order to continue serving clients and residents, collecting rents, completing work orders and maintaining site operations while following CDC and regional health recommendations, Avenue5 relies on the Yardi Voyager and RentCafe online platforms.
With COVID-19 concerns requiring the company to close its property leasing offices to foot traffic, Avenue5 further deepened their focus on promoting online options to residents at the onset of the outbreak; it subsequently saw a jump in resident online payment adoption from 50% to 70% as a result. April and May rent collections were strong, and executives are optimistic about collections in the months to come. "We expect to see a long-term benefit as customers acclimate to the ease of paying online, and as our associates reduce the amount of time spent on manual processes," said Pål Ottesen, chief financial officer at Avenue5.
Ottesen also noted that moving rent payments online had reduced numerous risks associated with accepting paper checks.
In order to support residents directly impacted by COVID-19, and protect in-place rents, the company is offering deferrals and payment plans, in addition to referring residents to other sources of local assistance and support. Avenue5 has seen less resident turnover than is typical for April and May, and is leasing more apartments than anticipated given current conditions.
Avenue5 is currently implementing additional social distancing solutions including the Yardi Procure to Pay Suite for paperless invoice processing and online supplier management with VendorShield to automate credentialing and ensure compliance, along with Yardi Bill Pay for electronic payments. Avenue5 has also released online systems training courses for its associates using Yardi Aspire. Associates are leveraging the power of Yardi's online learning tools to strengthen their knowledge and skills and prepare for the ever-evolving multifamily industry landscape.
"COVID-19 has fast-tracked adoption of online solutions, and the industry is seeing an increasing demand for contactless services. We are so pleased that our clients, including Avenue5, are maintaining business continuity with Yardi solutions, and we anticipate that customer preferences for online leasing and services will continue into the future," said Esther Bonardi, vice president of marketing at Yardi.
Want to learn more? See Yardi solutions up close when you join a webinar.