Top Takeaways
By Leah Etling on Mar 25, 2022 in Events, Marketing
The largest Multifamily Social Media Summit ever brought more brilliant suggestions to multifamily marketers on Thursday at the Meritage Resort and Spa in Napa, Calif. REACH by RentCafe is the social media, photo booth and platinum exhibit sponsor of the 10th anniversary event, which concludes today.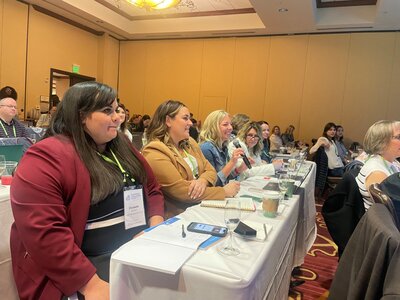 Andrew Davis, acclaimed marketer, best-selling author and filmmaker, opened Day Two of the event with a humorous and engaging talk about how constraints – as small as technology challenges and as large as a worldwide pandemic – ­­can breed creativity for any business.
"I started to realize that this was really an unexpected experiment that we had been gifted," Davis said of the unforgettable global events of the last two years. "It allowed us to ask: What happens when every business in the world is faced with the exact same disruptive forces?"
The solution to extreme disruption, as presented by Davis, is to forget the adage "think outside the box" and instead go INSIDE a box that he calls "The Cube of Creativity." Read on to learn how the Cube works and glean more takeaways from this trend-defining marketing event.
The four sides of the Cube of Creativity
Davis presented two dynamic case studies from non-housing businesses that faced extreme challenges during the pandemic. One was a flower delivery service that had to relocate its distribution channel to Ecuador because of California's non-essential worker shutdown. Another was a sustainable farm that previously relied on in-person events for its livelihood.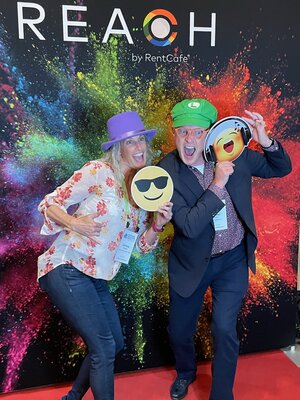 1. Eliminate the unnecessary: Taking on dynamic new initiatives means that some existing work will have to drop off. "Ask yourself, what are we going to drop doing in order to pursue this brand new initiative," Davis said. "Every time we take on something new, we have to kill at least two (existing) projects."
2. Define the outcome: Set a specific goal for your new initiative. "We need to ask ourselves, what single result defines success," said Davis. "It needs to be clear for us and any team members we work with and executives we present to."
Both found ways to pivot, survive, and thrive, and Davis told their stories as structured around the Cube of Creativity. Its four sides are:
3. Limit the options: "This is where you're applying additional limitations to an already constrained project," Davis explained. "I always recommend you add two constraints: a time limit and at least one creative limitation. Take your limitations and turn them into growth fuel for creative ideas."
4. Raise the stakes: "We've got to be clear about what's at stake." Incentives for achievement could be financial, experiential, or personal fulfillment. Disincentive examples include market shifts, future success and client or customer defection.
Google expert delivers dynamic video advice
Dave Hoffman, Senior Client Partner at Google, delivered a compelling talk that challenged the audience to take advantage of the opportunity to change and transform.
He believes that there will be no post-Covid "new normal," a term that's been tossed around a lot lately.
"What's going to happen in the next six to 18 months is a completely different world," said Hoffman. Instead, anticipate a paradigm shift that relies on user-generated content (UGC, covered heavily in day one of the event) and employee-created content.
"If you give your employees that room to breathe and be creative, you have these new and wonderful opportunities that Covid created for us," said Hoffman.
He offered examples from other industries, including fashion, make-up and automotive, that illustrated how multifamily can create compelling video content that gains prospect notice. And he thought back to reading Choose Your Own Adventure books as a kid.
"That's what I think the digital journey is: it's a choose your own adventure story. Our job as marketers is to give them the journey they want to have."
Here are some key tips for how to achieve that with multifamily videos:
Embrace that new trends aren't going away: The pandemic will continue to impact how renters think about moving, working and prioritizing, said Hoffman. According to one survey, 61 percent of renters and homeowners say Covid still has an impact on how they live daily. Conveniences that came about during the pandemic are likely to stick around.
Create a virtual on-property experience for future renters: Show them the property intimately before they ever arrive on-site.Hoffman shared a compelling personal example about a pre-sale video created for his uncle during the pandemic. As a result, he bought a condo in Florida without ever touring it in person."Give them such a great experience on video before they've ever shown up, that all your leasing agent has to do when they show up is not fumble," he advised.
Find ways to use authentic voices to drive engagement: Advocacy for UGC continued with the suggestion that apartment marketers find micro-influencers within their communities to help spread the word about properties' appeal. "Use the search bars to find these partners," Hoffman advised. "On Google, TikTok, YouTube and Insta(gram), there are more enterprising creators than you think that you can find through searching on the platforms. And ask around the complex for influencers and partnerships."
Social media trends to watch
Among a host of great social media trend tips from Greer Kimsey and Lauren Sloat of Streetsense is the growing importance to consumers of companies who place purpose, causes and values first.
"There's mounting evidence out there that building a brand and a content marketing strategy around purpose is good for business," said Sloat. One survey says 66 percent of consumers (and 91 percent of millennials) say they would switch from a product they typically buy to a new product from a purpose-driven company.
Additional key social media trend takeaways included:
TikTok is becoming the app that other platforms to emulate, with snackable, vertical video making an appearance on almost every other social channel
Storefronts look different these days, with the Metaverse and social commerce paving the way for a new way to shop – this may be an area of forthcoming dramatic change
Community, among creators and followers, is more important than ever before as both creators and audiences look to associate with brands who share their personal values.
Gaining consumer trust in an untrusting world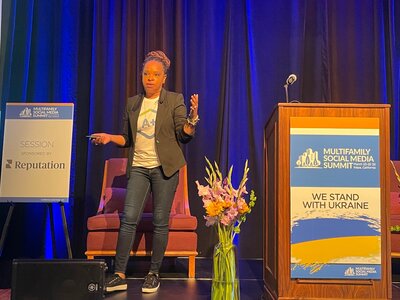 When it comes to ratings and reviews, trust is everything. "Lack of trust is stemming from people believing the stories we told them online, and then being disappointed," said Lia Nichole Smith of ApartmentRatings. Once trust is lost due to a negative experience, 82 percent of consumers will not buy or seek out the brand again.
Smith took a deep dive into the data behind America's online purchasing culture over the last five years and the specific reasons why 78 percent of buyers are currently more likely to trust a review from a group of strangers than a suggestion from friends and family.
"UGC helps facilitate the sense of community that consumers seek," said Smith. "It encourages customers to get excited about your product or service, making them want to make a purchase and share their own experience as a way to be involved in that community."
In fact, 93 percent of consumers trust content created by other people over content created by brands.
Smith also covered current trends in responding to online reviews, noting that 42 percent of consumers expect a response from the business within 24 hours of a negative review being posted. Properties also now need to be more cautious about incentivizing renters to post positive reviews, as the FTC is now taking a stronger regulatory stance on such behavior and any payment or reward for the review must be disclosed.
But at the end of the day, "if you are doing everything right onsite, your online reputation will take care of itself," Smith said.
Humanitarian efforts to aid Ukrainian kids
The #MultifamilySMS is raising money to support UNICEF USA and directly benefit children who have been displaced by the war in Ukraine. More than $10,000 was raised Thursday by attendees and organizers, with donation collection continuing through the end of the conference on Friday.
"In this industry, I've learned it's about people, which is what makes this industry so special. Together, we can be more powerful than if we acted on our own," said Adam Japko, founder of Esteem Media, which produces the event.
Follow #multifamilySMS for closing highlights from the conclusion of the event today.