Space Race 2.0
By Sarah Chan on Jun 2, 2017 in Technology
It seems when the country's most successful entrepreneurs have finished disrupting industries on Earth, they invariably look to do the same in space.
The world is witnessing a new era of space exploration that's being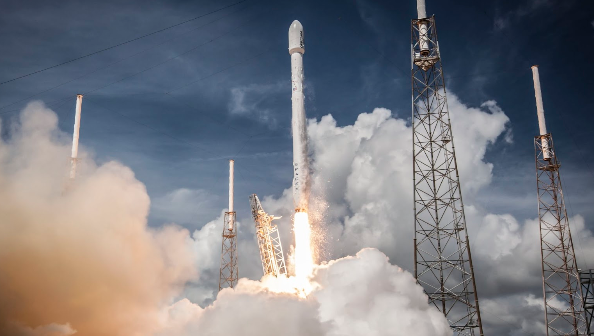 headlined by companies like SpaceX and Blue Origin, owned by tech billionaire CEOs Elon Musk and Jeff Bezos respectively. The companies are a part of a private sector boom that has reestablished the United States as leaders of aerospace technology and exploration.
SpaceX moves forward

Leader of the pack, SpaceX is revolutionizing space travel in astronomical ways. CEO Elon Musk has always maintained that the fundamental breakthrough needed to transform access to space is figuring out how to reuse rockets just like airplanes, in order to lower the cost. Since 2015 SpaceX has been actively working towards that goal, recovering eight of twelve rockets launched.
On March 30th the company took things one step further with the first successful launch and landing of the Falcon 9, a recycled rocket. The Falcon 9 previously had the distinction of being the first rocket to successfully land on a droneship. But even that isn't enough for the company, as they continue to reach for the stars with their next goal to reuse the rocket within 24 hours.
"We're looking for true operational reusability, like an aircraft, an aircraft lands, goes to the gate, passengers come off, passengers go on, you refuel, and then you fly again. What we're looking to do is exactly that..land and relaunch on the same day," says SpaceX President Gwynne Shotwell.
The company's most recent milestone was on April 30th, when SpaceX launched a government spy satellite for the US National Reconnaissance Office. This marked the first time the Department of Defense used SpaceX for a mission, where the market had previously been exclusive to United Launch Alliance. With the arena opening up for new competition, what's in store now is up in the air. According to Musk, an Interplanetary Transit System and transporting people to Mars are just some of what's in the pipeline.
New to the scene: Blue Origin
Although not as recognized as SpaceX, Blue Origin has been making massive progress in the aerospace arena as well.
In 2015, Blue Origin became the first company to send a rocket to space and successfully land it safely back on earth. Early in March, it announced its first paying customer, French satellite
operator and television provider Eutelsat, is preparing for more launches.
Eutelsat will strap one of its satellites onto the New Glenn rocket to be delivered to space five years from now. The 82-meter-tall rocket, designed to lift 45 tons to low Earth orbit, will be competing against other heavy lift boosters such as SpaceX's Falcon Heavy and NASA's Space Launch System to be the first, best, most reliable, and most economical performer.
A separate rocket likely to be of more interest to the general public is the New Shepard. Designed specifically for suborbital tourism, the vehicle has performed beautifully in five different interplanetary trips and proven that rockets can be reused at a low cost. Already the company is working on an upgraded version of the New Shepard that has demonstrated "hours of turnaround time [saved] and gives you a little bit more performance, so you can go a little bit higher," states Blue Origin president Rob Meyerson.
The primary purpose of the New Shepard will be to send paying passengers on an 11 minute trip to space where they will also experience about 4 minutes of weightlessness as the rocket reaches apogee. However, Bezos has also hinted at other innovative uses for the booster.
"I'm thinking that it might be interesting to build a small second stage for this New Shepard booster so we could use it to put smallsats into orbit," Bezos said.  This is likely just the first of many plans Bezos has up his sleeves to
disrupt the industry.
The Privatization of Space
"The future of private space travel is still in its infancy, which means there is a long way to go before anyone stakes a real claim to Star Trek's final frontier…"
Of course, the aforementioned companies are not the only contenders in the latest race to space. They are simply the companies most featured in the press for their aerotek work because of the celebrity of their founders. Private companies like Virgin Galactic, Boeing, Orbital ATK, amongst others have also been at the forefront of making space a more approachable place.
Why does this matter? Companies in the private sector do not have as much funding as their government counterparts to digest the huge costs it takes to launch rockets. To survive, these companies must innovate and find ways to become more cost efficient and this is where reusability is key.
The realization, in 2012, that the private sector is both more capable and cost efficient prompted a shift to deregulation that has attracted amazing talent into the industry. The prospect of becoming the next Apple or Google for space fosters commercialization and faster development. With the enhanced role of private ventures in space, NASA would also be able to leave the more routine (relatively speaking) venture of sending astronauts into low Earth orbit and focus itself on the advanced exploration only it is capable of as of now.
Most important of all is the revival of public interest in space exploration and education seen from these commercial efforts. People are excited again about spaceflight and what the future holds. Certainly, there is a lot to be excited about..