Paperless Made Easy
By Erica Rascón on Mar 16, 2021 in Technology
Did document management get lost in the shuffle as you shifted to a paperless office or remote work environment? Your team may now struggle to track down files and keep versions organized as they send copies back and forth. Fortunately, it's never too late to achieve the level of organization, accessibility and security that you need.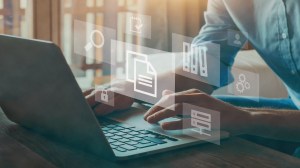 Paperless made easy
Paperless documentation is an industry standard. Yet without the right technology, managing electronic documents can be even more challenging than paper files. Users face a series of challenges related to organization, access, storage, searchability, security and integration.
Yardi Document Management for SharePoint integrates with Voyager property management software and Microsoft 365 to eliminate paperless documentation challenges.
Centralized storage Centralized document storage can take place on local servers and in the Cloud. The latter permits secure access to documents for staff in office, in remote work environments and on the go.
Work together from anywhere Improve collaboration without redundancy or version control issues. When combined with the power of SharePoint, interconnected document management software empowers users to collaborate. With Cloud syncing, each team member stays up-to-date with the latest developments.
Document management also integrates with Microsoft 365 and other Yardi applications to improve accessibility to and security of your documents.
Secure and accessible Managing permissions and end-user access can be a pain point for organizations. Skip the hassle of creating new profiles and credentials within your document management system with Voyager integration. SharePoint permissions will reflect your security settings in Voyager. As a result, users can access files quickly and securely with no VPN required.
Intuitive organization Folder structures and hierarchy make organization simple. You can track version history of documents as well as individual contributions from users over time. Such tracking makes it easy to stay organized, accountable and accurate.
Seek and you shall find Optical character recognition (OCR) and automatic metadata tagging facilitate quick searches to locate precisely what you need. Each of your stored documents receives full text indexing for optimal searchability.
Quick and easy implementation
Change management can be challenging, particularly when software is involved. But the shift to a paperless document management system doesn't have to be cumbersome. Content automatically syncs between Voyager and SharePoint for effortless integration. As new content develops, simply upload it into SharePoint.
Join a webinar to learn more way to find documents faster and simplify IT.