Data-Driven Insights
By Erica Rascón on Apr 1, 2020 in Marketing, Technology
Want to learn how to create digital content that engages professional learners? The first step is to understand the preferences and habits of adult learners. The 2019 BrightTALK Benchmarks report analyzes data on webinars, online courses, videos and other digital modalities to explore how professionals engage with content.
How do professionals engage with content and when?
More than 77% of those surveyed spend 2 or more hours per week on professional growth. Nearly 55% engage with webinars regularly, with 6% watching daily, more than 48% watching weekly, and more than 31% watching webinars monthly.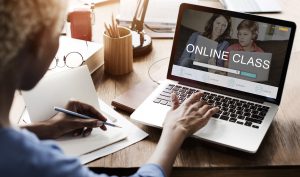 Though 91% of respondents opt for webinars, other educational formats performed well. About 68% got information from short videos, 60% from articles, and 54% online courses. The ability to view content on demand was the highest ranked format feature, followed by the ability to watch a recording later.
Professionals preferred to engage with live content hosted at 8am in Europe and North America. Though mornings were also popular in the APAC region, afternoons performed equally as well. Weekday events performed consistently well worldwide. Viewers in North America favored Tuesday and Thursday slightly more than other weekdays.
Understanding the most favorable times to host live events helps growing organizations successfully schedule content.
Discover how Roscoe Properties uses eLearning to onboard new employees during periods of rapid growth.
What do professionals value in content?
Professionals access digital content for a variety of reasons, but four categories attracted the broadest range of participants.  About 80% of respondents accessed online content to acquire a new body of knowledge or skills followed by 78% who desired to improve their quality of the work. Tips, tricks, and best practices caught the interest of 70% of respondents and industry trends and predictions interested 62% of them.
When presenting information, professionals prefer to learn directly from their peers. About 60% of viewers expressed a preference for expert interviews trailed closely by 59% who sought solution case studies. Not far behind, 55% of respondents valued data insights and original research.
Learn how Everett Housing Authority improved employee education while cutting training costs.
Fill the void: create content that promotes innovation
Presenting experiences, data, and analyses is a proven way to engage with professional learners. A noteworthy 52% of respondents, however, use online learning tools to spark innovation. This is an underserved population.
While any educational digital content may inspire, its main intent is to inform. Professional learners crave opportunities to nurture their creative thinking and problem-solving skills.  Content that serves as a springboard for innovation appeals to more than half of professional learners. Content that articulates a felt but unrealized pain point, challenges conventional wisdom, or proposes original perspectives is in high demand.
Use feedback to create better content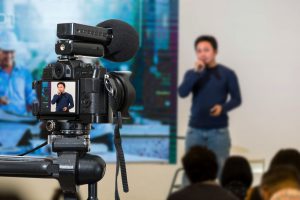 Professionals want to weigh-in on content. They value learning from their peers (as mentioned above) and they also value making contributions to industry discussions. Consider offering votes throughout a webinar to get viewer feedback. BrightTALK survey participants responded to an average of 5.28 votes per webinar.
Also, build in opportunities to answer questions. This most commonly comes in the form of designated time for Q&A during a live webinar. Viewers asked an average of 6.38 questions per webinar.
Q&A is equally desired and successful in online classes, articles, and other formats. Consider offering a comments section with the option for users to receive responses via email. Consistently monitor the comments, with peak monitoring during and after any advertised events or new posts.
Receiving questions will also allow your organization to create more engaging, thorough and thoughtful content in the future. Participants' questions are opportunities to learn where you can dive deeper or expand your content.
Similarly, welcoming feedback hones your content creation. User feedback—on everything from technology use to speaker presentation and content selection—may inform future content decisions.
Finding the right platform for your organization
Professionals respond to a variety of digital content options. By using a single platform that offers multiple content formats, organizations can reach each learner in their preferred format. Organizations are also empowered to switch formats to keep learners engaged during longer courses.