Lucy Billingsley
By Leah Etling on Apr 26, 2012 in People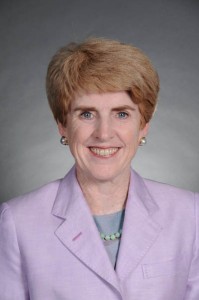 Lucy Billingsley's distinguished career in real estate development ranks her among the nation's leading female industry executives.  In the fourth decade of her career, she maintains great passion for the next project to command her attention.
"My favorite deal is always the next one," she told us during a recent interview. Billingsley Company, the Dallas-based company with land, office space, industrial, retail, single-family, multi-family, mixed-use and master-planned developments that she and her husband Henry founded in 1978, is flourishing.
New phases of 10,000 unit master-planned rental communities The Neighborhoods of Austin Ranch and Cypress Waters are currently underway, and Billingsley is excited about changing the face of the multifamily experience. The company is also expanding its office and industrial holdings.
Billingsley also devotes much of her time and energy to charitable work, and her philanthropy has included The Chiapas Project, Grameen Foundation USA, Women for Women International, National Geographic Society Council of Advisors, World Affairs Council (Dallas), Brain and Creativity Institute at USC, Council of Foreign Relations, The Hockaday School, and The Hunter and Stephanie Hunt Institute for Engineering and Humanity Advisory Board.
In a short conversation, she filled us in on few views of the current marketplace, how she chooses philanthropic causes, and the lessons that her father, famed developer Trammel Crow, imparted to her.
TBS: It's been a challenging climate for real estate sales, investment and development over the last several years, although Texas come through the down economy very strongly. What do you see as the most pivotal focal points for property executives as the financial climate nationally continues to improve?
LB: I think the multifamily world is a world that has made a significant and permanent shift in its role in America today – the shift is because the American dream has moved from one of simply home ownership. The economy and lifestyles are such that people don't feel the need for home ownership as a prime value. I think people's values today are values of jobs, relationships, and experiences, over asset. Multifamily living positions you to be able to enrich those aspects of your life, have the best job you can, in the right place, the ability to change and move as need be, have savings that you can spend on trips and relationships, and living where your friends are living and having that ability to stay close. That is a very different experience than rental living in the past in America.
For the corporate world, we certainly have huge geographic variances in the country right now. We couldn't be more fortunate than to be here in Dallas. We are strengthening in every sector. Clearly office is very, very strong, not strengthening, it is just strong. Industrial has improved a great deal, and retail is trailing those two categories, and its changing by the very dynamic nature of the impact of online (retail) to the world of stores, but it's certainly a stable and growing niche kind of business.
TBS: Your philanthropic donations touch a wide variety of causes and organizations. Can you tell us about your personal philosophy for charitable outreach and how you select the areas that you benefit?
LB: If someone's going to give of themselves, has to be deeply enriching. How do you find what's going to enrich you in your life. For me, it came down to recognizing what was the gift I was given. I was given the gift of a woman born in America with the opportunity to be trusted and the environment societally to be able to reach out and become whatever I could be. That's the gift I want to give others. I've done it via microfinance.
I'm doing it very actively through Women for Women International today. We work in eight war zones and post-conflict zones around the country, helping women reach out and find the power within them to grow, achieve and become. That's one aspect that's important to me, to give the gift I was given.
The other thing that I care about and worry some about is how we help the future leaders of the world get these chances and breakthroughs to become great. At National Geographic, I've had the pleasure of being involved with sponsoring Young Explorers, young people between 18 and 25, who for $2500-$5000 can be given the chance to go do something remarkable study or exploration in the world. I care a lot about the environment, and every aspect of their research. I think with that engagement, maybe we'll have some great leaders and thinkers of tomorrow get their first start.
TBS: As one of the nation's top female real estate executives, what insight would you offer to young women starting their careers in the industry today – are there any value sets or work habits that they must adopt to ensure success?
LB: First off, believe in yourself. We're all our own billboard, and if you let others know you believe in yourself, and you're competent and you can do it, they'll read the signals, and they'll agree with you and they'll give you the chance. Dream big – go for it – it's surprising, I'm now 58, so I get to look at life a little bit and say you know, somehow your dreams come true if you're just persistent and drive and work. Don't compromise your standards. Rules are for other people, that's one of my little mantras.
TBS: Are there any lessons or best practices that you adopted from your father, Trammel Crow, that continue to influence how you do business today?
LB: One of dad's sayings was always – it's all up to you. Count on yourself, don't blame anyone else for anything, and rise to the occasion. He has a quote that I keep by my desk that I'll read to you just because I love it – "There must always, always be a burn in your heart to achieve. In the quiet of your solitude, close your eyes, bow your head, grit your teeth, clench your fists, ache in your heart, vow and dedicate yourself to achieve, achieve."
TBS: Today you have the chance opportunity to work closely with your husband Henry, daughter Lucy and son George at Billingsley Co. What has that experience been like and do you have any advice you might share for making a close family relationships work well in the business arena?
LB: I left our family business (Trammell Crow Company) because I wanted to do it on my own. It's an interesting set of experiences. At least for me, I enter into working with family members out of respect. It's respect of their abilities, and its knowledge that my relationship with them is more important than any deal I'll ever do – I'll stand up for my opinions on everything and want them to do the same, but what I want to do more than anything them to have rich lives of deep engagement, and clenching their fists and bowing in their hearts to achieve, to achieve, so how do I make that happen.