Kevin Yardi
By on May 27, 2016 in People
Kevin Yardi admits that his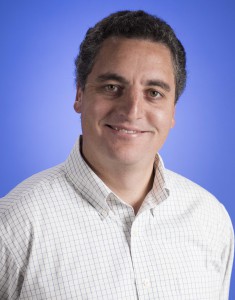 path to employment at Yardi Systems was probably a bit different than most. As the son of Yardi founder Anant Yardi, he spent a good portion of his childhood summer vacations around the then-fledgling company.
"My first stint at Yardi was when I was 6 years old, and that was in the shipping department on Reddick Street in Santa Barbara. I have fond memories of the MLS books we used to print. That was a big part of our business in the late 1980s," says Kevin. His older brother, Jason, is also a Yardi employee.
As Kevin grew up, the company was growing, too. During his high school years, he completed a summer internship in the marketing department. His duties were to call clients and gauge potential interest in a customized website created for their business.
"Sixteen years later we have a successful product in RentCafe and the Yardi Marketing Suite, but I can take zero credit for it," he joked. "What's truly interesting to me is that Anant (Yardi) was thinking about things like client websites so long ago."
Though he had always envisioned joining the family business as part of his future, Kevin did not come straight back to Santa Barbara after graduating from Colby College in Waterville, Maine.  Instead, he forged his own path as a Washington, D.C.-based technology consultant, working first for IBM and then for Deloitte.
"I was a functional consultant, implementing accounting systems for Fortune 500 companies. For ten years, I was on a plane every Monday morning and home again on Thursday night," Kevin says. "It was an experience I wouldn't trade for the world."
In 2013, Kevin decided that the time was right for him to leave the East Coast and join Yardi as a full- time employee. He stayed in the client services realm. As Vice President of Consulting Practices at Yardi, he and his team interface with Yardi's largest commercial clients, working to understand their business needs.
Kevin kindly shared his insight about the real estate technology industry and Yardi's role.
TBS: Why did you choose client services when you decided to join the company?
KY: I felt strongly that coming into client services is the best way to drink from the fire hose. You understand what our clients use our software for, and understand how to implement it, and that was a good experience for me.
I am a firm believer that our new employees should come through CSD, including sales and consultants. I think it is an important thing, regardless of their ultimate job area, to observe and experience an implementation or two.
TBS: What does your time with clients look like?
KY: I am on site a lot with clients, and I get a lot of pleasure in walking the floor and seeing half the screens with Yardi Voyager on them. That illustrates to me how important what we do is for our clients.
A lot of my time is spent working with client executives. I want to understand what their road map looks like, and share what our road map looks like, and see where the two converge. Much of what I do is educating clients about what we are thinking and making sure that what we are thinking is aligned with their business goals.
TBS: What have you learned from Yardi's clients?
KY: Clients are asking Yardi to help drive best practices, and that signifies a shift. Historically, we might have said to our clients: "Tell us what you want and we will get it done." We are a roll up our sleeves, detail-oriented company and that comes from the top. There is a history of asking what the client wants and delivering on that. Now, clients are asking for our insight from the marketplace. We want to listen carefully to what they are saying and share knowledge that is relevant to their experience.
TBS: For a long time, you heard people saying that real estate was behind when it came to technology. Is that still true?
KY:  I would say that we are catching up. Look at the industry's use of big data, and how many start-ups there are in this space. If you look at venture capital funding of real estate software companies, there is astounding investment. We may still be a few years behind, but not much.
TBS: How would you describe Yardi's current goals?
KY: At a high level, we want to Uber-fy the industry. Uber has streamlined the way that you get from point A to point B. We would like to do the same for different areas of real estate and real estate technology. That could affect building operations, or real estate investment, or a number of other places. We have already facilitated millions of people paying rent via app, text or online with RentCafe.
TBS: What is one thing about Yardi that people may not know?
KY: When it comes to client services, we have adopted the "follow the sun" approach. That is something that not a lot of companies can do. With 40 offices around the world, most of our support teams have sister offices in either Cluj, Romania or Pune, India. We get things coming into our support queue all day long, we work on them, and then there is a baton hand-off. When we come back the next morning, these issues are packaged up with a bow on them. That fast resolution is important to our clients.
TBS: Any messages you would like to convey to our clients?
KY: I would like them to know that we are not just a back office accounting system. That might have been true 10 years ago because we are clearly rooted in property management and accounting software. But clients should know that we are really pushing ahead in areas that we historically haven't focused on, like big data, energy consumption, and marketing/CRM.