Behind the Scenes
By Erica Rascón on Jan 18, 2021 in People
Take a look behind-the-scenes of the Yardi Corporate Training group to discover what drives their performance and how they help new employees develop the skills needed to be effective, thoughtful and proactive.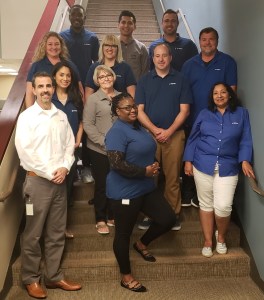 Online training and onboarding
Yardi Corporate Training group has offices in Raleigh, Santa Barbara, Cleveland, Toronto and Saskatoon. A team of 10 provides fellow employees with the knowledge and skills needed to optimally perform their jobs.
"The team objectives are to offer programs that will foster career and personal development either in job-specific training or soft skills," explains Jamie Hall, team lead. "We provide new employee training, training through our Aspire product and employee webinars. Our well-designed programs help employees become more productive and efficient, increase motivation, reduce turnover and help convey our company culture."
Hall has 20 years of experience in education and training. He joined Yardi five years ago, drawn to the company culture.
"I learned more about Yardi and the culture that just made me enjoy my work much more. I think it's important to share the Yardi culture with new employees so that culture continues as we grow," says Hall.
He and the Corporate Training team have worked closely with the Yardi Aspire department to educate about 500 employees each year. That includes new employee training and onboarding. Hall leverages the Aspire product to deliver knowledge and information to new hires across the globe. It's a testimony to the strength of Aspire and the company's confidence in its own product.
Learn how you can automatically distribute role-based learning plans for your organization.
The power of cloud-based eLearning
A challenge for workplace students translates to a challenge for the Corporate Training team. With over 7,000 employees worldwide, the greatest challenge to date has been access.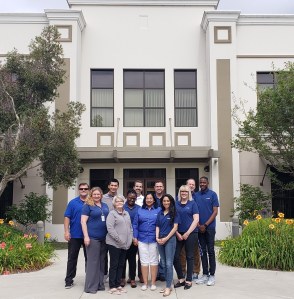 "One of the challenges that students face is how they get workplace learning," says Hall. "The way we address that challenge is to provide several avenues where employees can access information. Each member of the Corporate Training team is available to assist employees."
Employees gain remote access to role-based new employee training as well as courses, webinars, knowledge centers and other resources that can all be found in Aspire. Corporate Training frequently issues new content to promote professional and personal development.
Hall says, "If you have not logged in to Aspire recently, you will be surprised to see how much you can learn. As a company, we are investing in employees with robust training programs, which sends a message that employees matter."
What's it like to work in Corporate Training?
Lacey Petch is a senior training specialist. She enjoys her work on the team because she feels she helps to boosts people's careers.
"The most rewarding part of my role would be to help people feel more confident in their positions by supporting them during training in their first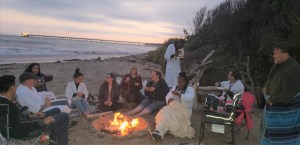 few weeks and the rest of their careers as they need it," says Petch.
That sense of accomplishment comes in handy on tough days. At times, Petch and her teammates balance multiple major team projects. "Finding the balance and structure in the day is a challenge but sticking to a schedule is essential and allowing for flexibility in it creates success," she says.
Marcus Rutherford, senior corporate trainer, identifies another challenge. In addition to managing multiple large team projects, Corporate Training works with individual employees. That means crafting content that caters to different learning styles in a virtual classroom setting. Trainers are lifelong students, broadening their knowledge of education to learn new ways to help students.
Rutherford says, "I read many educational articles to learn about training industry trends and how to present things in different ways to ensure all attendees have a positive training experience."
For both trainers, the company culture keeps them encouraged. "Corporate culture here is welcoming and caring. Yardi is full of kind people who want the best for those around them," Petch explains.
Rutherford adds, "Yes, our culture that is welcoming, helpful and fun! And it's rewarding to help new employees and set the foundation for their success in new job roles."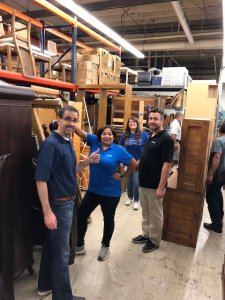 Corporate culture with heart
Yardi employees around the world regularly participate in volunteerism. The company encourages employees to volunteer in their communities.
Petch recalls one of several Corporate Training volunteer events on behalf of the North Carolina Food Bank: "We as a team worked well together and were so motivated to be helping the community. It was an excellent way to spend some time together and see the hard work pay off to complete some food boxes for seniors in the area."
Rutherford participated in a similar event with the Eastern North Carolina Foodbank as well as Santa Barbara's Habitat for Humanity Restore. "Volunteering allows our team to grow closer while serving those in need in our communities," he says.
Interested in becoming a Yardi team member? Explore opportunities in your area.