Talent Recruitment
By Leah Etling on Mar 29, 2022 in Events, News
With multifamily property management – and businesses of all types – currently struggling to find enough staff as well as retain existing employees, a recent session at the Multifamily Social Media Summit focused on how social media can be utilized to find new hires and hold onto existing talent.
Jennifer Staciokas, executive managing director for property management at Western Wealth Communities, and Jen Piccotti, chief learning officer at Swift Bunny, focused on practical takeaways that owners and managers can use immediately.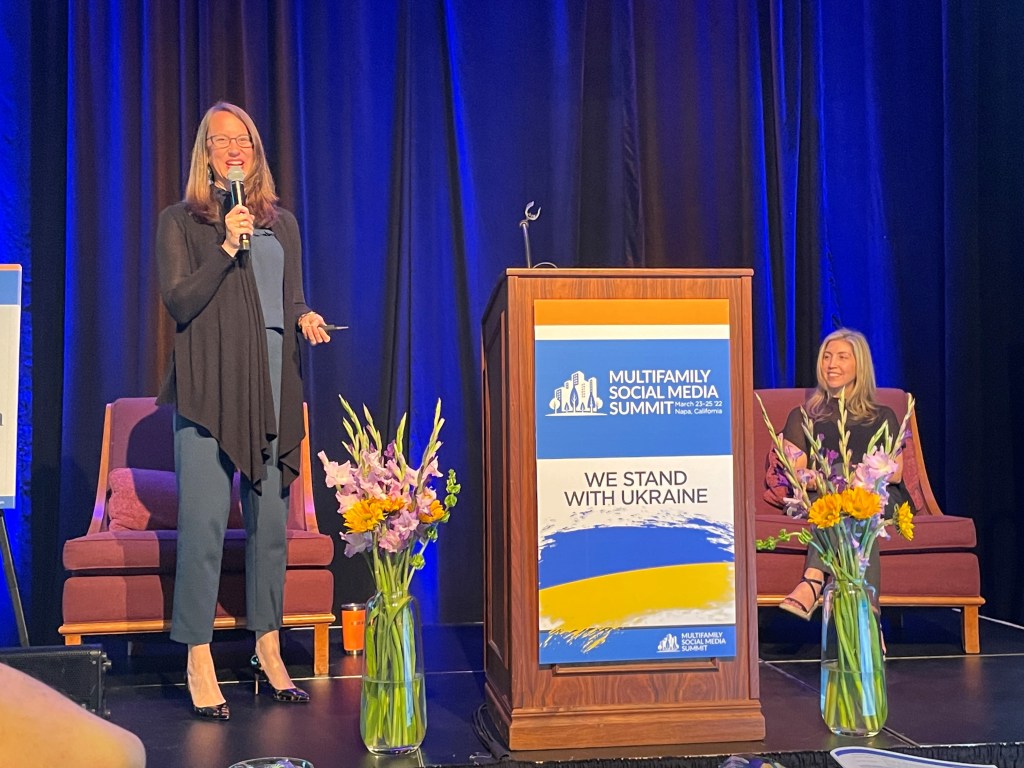 "We have a problem out there right now. We can't find people, and we can't keep good people. That's the number one thing we hear: 'How do I find, hire, and retain employees?'" Piccotti said. Another common issue is that it is tempting to leave current staff in their existing roles due to the inability to find new hires.
"We need every single employee we have and we need them in the positions they're in currently. It can be very tempting to hold them in that position, but that's the worst thing we can do," she said.
Here are five of the social media tips for attracting and retaining talent that the duo offered for companies to consider:
Make it easy for applicants to use social media to apply for open positions.
If you're not already using LinkedIn to accept applications for open roles, you're missing out on a huge pool of talent, Piccotti said. Today's applicants expect to be able to apply for open roles with just a few clicks of their mouse. Up to 86 percent of new hires apply directly to their positions through LinkedIn or other job sites, a huge amount.
From the very first contact, your brand matters.
"Among prospective hires, 82 percent consider the employer's brand before they submit that application," Piccotti said. They're considering factors like whether the executive leadership is respected by employees (often using Glassdoor's rankings for this info), whether employees at the company are dedicated and hard-working, and whether the company has a supportive and positive culture. Caring about the community around you through support of non-profits, employee volunteerism and expression of corporate values is also important.
Show new and current hires they have a chance to grow with you.
This is a pivotal consideration for prospective employees, who want to see that they will have the chance to move up and advance in their careers. They're also interested in future training opportunities to help broaden their skills. Ways to showcase include creating certificates for in-house training courses, celebrating current employee promotions, and talking about chances for lifelong learning at your company. "They want to see that there is opportunity, it's not just going to be a dead end once they get their foot in the door," Piccotti said.
Showcase what employees have to gain from joining your team.
This is the place where company culture can really stand out. What's the employee culture like? Will they have a good time on the job, in addition to working hard? Examples of employee gains included posts from Bozzuto Group, which created SOUL, an employee resource group for members of the Black community. Another example was a creative Instagram job post from RedPeak of Denver, which described its culture as including "no scripts, no stuffy suits, no sales pitch."
Celebrate what's special and unique about your company, daily.
The most repeated acronym at the Multifamily Social Media Summit was UCG – user-generated content – and it also played a large role in the company case study presented by Jennifer Staciokas for Western Wealth Management (a Yardi client). She demonstrated the various ways that social media has played a positive role in hiring and retention of this growing, woman-led owner management firm based in Phoenix.
"We're a people first business. We're not just a property management company. I also say we're a technology company and a staffing agency. We leverage technology to make things easier for our residents and our employees," Staciokas said.
Western Wealth's four person recruiting team hires for 53 properties on a rapid-fire schedule, leaving job openings open for just three to four days at most. "We hire quickly, but correctly," Staciokas said.
Once on board, employees become part of a "hashtag Culture" that includes fun and supportive tags like "#WGYB – We've got your back" and "#TMV – that's my village." Employees have even been known to make their own clothing with the hashtags emblazoned on it.
"We are a village, and we spend more time together at work than we do at home sometimes. It's really important that we like and respect our village," Staciokas explained.
Employees at Western Wealth document their job experiences by posting photos that include posters with slogans like: "We love working at WWC" and "Join Western Wealth Communities and fall in love with your job."
All the content is driven by the employees themselves.
"We would never ask an employee to post. It's all very organic. They have bought into the culture we have built, and they're proud to work there," Staciokas said.
*
Find other posts from the Multifamily Social Media Summit here.