Reopening Multifamily Amenities
By Erica Rascón on Jun 30, 2020 in News
It has been about four months since U.S. multifamily communities restricted access to amenities like gyms and swimming pools. You're likely eager to resume offering the stellar features that helped build your community brand. (Your residents are probably antsy, too!) As shelter-in-place restrictions lift, you may be unsure how to reopen those amenities with ongoing social distancing. It's a valid concern, but we're here to help.
In this post, we'll explore tips and tools for reopening your community amenities and public spaces.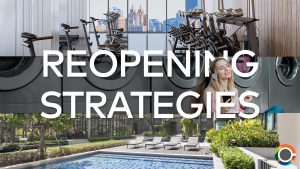 Before reopening your amenities
Start by creating a reopening plan. The National Apartment Association (NAA) released recommended best practices for reopening amenities at multifamily properties. Along with those best practices, consider that a single reopening plan may not work for all properties, even those within a portfolio. It is important to customize a plan for each property so that directives align with the relevant guidelines issued by national and local health officials.
You will also want to review your liability insurance policy and update it with pandemic provisions. Many insurance providers and legal institutions offer helpful customizable templates. Communicate these updates and obtain compliance signatures from property managers, vendors, staff and residents.
Watch this webinar to learn how LumaCorp and Gables Residential navigated the reopening process.
Preparing maintenance staff and vendors for reopening
Your maintenance staff will be working double duty. You may even need to expand your maintenance team. Keep all team members on the same page with the latest cleaning schedules and updates using a mobile maintenance app. Yardi Advanced Maintenance provides the tools that you need to assign tasks, track and supervise your site's schedule. Manage all preventive, routine and emergency maintenance within a single app. This tool will allow staff members to access revised cleaning schedules on the go and signoff on completed tasks without revisiting the office.
Outside vendors will also need additional resources to stay up to date on revised supply and service schedules. Use a mobile vendor management system like VendorCafe to issue updates to existing vendors and onboard new vendors. You can also use the software to pay vendors, which will reduce traffic in the leasing office as well as lower printing, mailing and storage costs.
Watch this video to learn how VendorCafe streamlines vendor communication and payments.
Restoring full functionality to the leasing office
If the community is like a body, then the leasing office is its brain. It's the epicenter of services and sales that helps the community function. Due to its necessary function, the leasing office probably never completely closed, and that's okay. The key now is to resume as much functionality as possible with fewer nonessential interactions.
Use online payments and online maintenance requests to limit foot traffic in the leasing office. The RentCafe Resident app empowers residents to do both with a single login. The app has experienced 89% year-over-year adoption growth due to its simple user interface.
You can also offer services to prospects while practicing social distancing at the leasing office. A survey of 3,000 apartment shoppers reveals that 83% of respondents would take a self-guided tour if available. Their reasons vary: nearly 60% of respondents wanted to observe social distancing. About 63% of renters want to tour model units at their own pace and 43% appreciate more flexible scheduling.
Prospects can easily schedule self-guided tours online through your RentCafe marketing website. The app will automatically create a guest card and convenient customizable follow-ups.
Join a webinar to learn more about the versatility and flexibility of RentCafe.
You've got mail … and lots of packages
Mailrooms have remained open at all properties, yet revisiting mailroom protocols can improve safety for occupants.
Mailrooms are rarely spacious, which makes social distancing difficult for residents and mail personnel. Consider limiting the number of people who can enter the space at any given time. It may also be beneficial to close the mailroom for disinfecting after peak traffic periods.
When it comes to packages, contact-free locker systems minimize package handling by leasing staff. When that option is not available, owners may consider having parcels delivered directly to residents' doors. This minimizes exposure for leasing staff and may also reduce crowding in the mailroom and leasing office.
Fitting into the fitness center
Like the mailroom, the fitness center is a difficult place to observe social distancing and adequate hygiene. Consider removing some equipment to create more space between machines or stations. Limit the number of occupants to adhere to local guidelines, being sure to include any necessary staff members. If you use RENTCafé Concierge, you can moderate traffic by having residents sign up in advance for designated time slots.
Traditionally, fitness centers operate on an honor system that lets residents disinfect surfaces after workouts. Supplying disinfectant wipes for residents may be insufficient for today's needs. Supplement existing cleaning practices with scheduled cleaning by maintenance professionals throughout the day.
Explore this brochure to learn about additional benefits and features of the Yardi Concierge app.
Clubhouse rules
Local guidelines may vary, but general guidance is to limit group gatherings to fewer than 10 people. This may make clubhouse functions less feasible. You may consider opening the clubhouse to small groups by reservation only. Residents can make group reservations with the RentCafe Resident app or online.
If you choose to keep the clubhouse amenities open, remove nonessential and commonly touched items such as games and gaming equipment. Encourage residents to bring their own supplies. Follow an enhanced cleaning schedule to ensure that high-traffic spaces and surfaces are thoroughly disinfected.
No loitering in the laundry room
The laundry room is another essential space that has remained opened to public use. As such, your residents may be familiar with your current social distancing guidelines. Reiterate the importance of disinfecting units and commonly touched surfaces after use. Encourage residents to fold clothes at home rather than lingering in the laundry room. Follow up resident cleaning efforts with regularly scheduled visits by the maintenance team.
Pool
There is no evidence that COVID-19 can survive in chlorinated pools, hot tubs and spas. While those water features may be safe zones, the entertainment spaces around them will require regular care.
Begin by limiting the number of residents permitted to the pool. You can stagger access by address or require online reservations. Limit the duration of time that each group can spend at the pool to promote fair access for everyone.
To observe social distancing, limit the number of chairs and equipment available. Space individual chairs (or small clusters of chairs) at least six feet apart. Remove shared community items such as pool toys and floats. If pool towels are normally provided to residents, consider asking residents to bring their own towels to decrease staff exposure.
Close the pool at intervals to clean and disinfect all shared surfaces and equipment including vending machines, water fountains and seating.
Playgrounds and parks
When it comes to the community playground, NAA recommends following the lead of local government-operated parks. Garden spaces are considered safe for public use permitted that guests honor social distancing protocols.
Communicating with residents
Looking for ways to communicate with residents while maintaining social distancing best practices?  Your residents are on their mobile devices, so you should be too. Share documents, send bulk emails and text messages using your community resident portal. This will also make it easier to issue updates and ensure that all residents have access to the latest information.
Read this quick article to get 5 best practices for communicating with residents.
With the right tools, you can handle many of your communication, marketing, leasing and maintenance needs online. Internet-based tools can help your multifamily property stay nimble in the face of change for years to come.
Learn more about social distancing solutions for property management that can help you keep renters, staff and vendors safe.