Leaders' Vision
By Joel Nelson on Apr 11, 2021 in News
Senior Housing News polled several industry leaders for their thoughts on what's ahead for their organizations and the industry in 2021. Excerpts follow.
Solera's Kaplan: Vaccination tops the list
Adam Kaplan, CEO of Solera Senior Living, ranks successful vaccine planning and implementation as the Denver-area community owner and operator's No. 1 priority.
"I'm excited for a day in which close to 100% of our residents, family members and team members have been vaccinated, and thus the risk of a [COVID] outbreak is reduced to the degree in which almost all of the restrictions are lifted and thus the focus/energy can be re-weighted to other priorities," Kaplan says.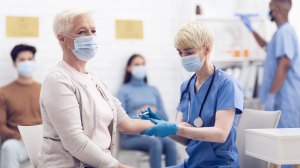 Developing talent and implementing innovative technologies and services round out Kaplan's list of immediate priorities.
Aegis Living's Clark: Boom time for demand
"I think there's this backlog of people that's going to pump up occupancies," says Dwayne Clark, founder and CEO of Bellevue, Wash.-based Aegis Living, a leading provider of assisted living and memory care. "So, you're going to see this dip where demand keeps going up, but product is not available. That's really going to impact demand in the short-term and probably the mid-term," which, looking ahead several years, is "very good news for the industry."
Clark also foresees a new emphasis on nurses and doctors on the front lines of assisted living facilities as part of a "more wellness-oriented" trend that encompasses "everything from the way [care providers] design air filtration systems to foods." In fact, he reports, Aegis Living is "looking at foods that help pump up the immune systems of residents and have hired our own registered dietitian."
Sequoia Living's McVey: Going forward, not back
Current events constitute nothing less than "history … being made in our industry," and Sequoia Living President and CEO Sara McVey intends to harness the tumult of this epochal period in positive ways.
"People keep talking about the new normal and bouncing back, and we've really been saying somewhat the opposite. We want to create the 'new next,' and we have no desire to bounce back, we want to bounce forward," McVey says.
The San Francisco-based residential community operator began its journey forward with a deep-dive strategic planning exercise that produced four top priorities: improving service and cost performance at its current life plan communities; "people power," which means "filling the bench with superheroes and celebrating people" so "the right people [are] in the right place doing the right things at the right time," as McVey says; building the brand and restating Sequoia Living's value propositions, tasks made even more urgent by changes to the company's name and CEO that preceded COVID-19; and the pandemic itself, which lies beyond Sequoia Living's direct control "but we can control our reaction and response to it."
McVey expects that executing on these priorities will create a springboard for progress. When an opportunity for growth arises, for example, "we can do it from a real, legitimate position of strength and leadership."
"I think 'unlearning' is probably the biggest thing that needs to happen," she says. "We can honor the past, we can't keep going back there … we have to be honest with ourselves and say, okay, we have to totally change how we're doing things so we can survive long term." The pandemic "has given us a once-in-a-lifetime opportunity to accelerate and get there faster. That's really our goal for 2021."
See how the Yardi Senior Living Suite provides a dynamic technology platform for all aspects of senior living management.