Multifamily Leaders Talk Trends
By Vianna Mabanag on Sep 28, 2023 in Events
At the 2023 Yardi Advanced Solutions Conference, Director of Sales Nima Farkhak led a panel with leading multifamily figures about trends impacting the industry — and the tech they're using to get ahead.
The conversation revolved around automation, fraud prevention and training. Particularly, how can multifamily organizations receive more employee buy-in when implementing new technology, and leverage that technology to maximize support for their employees?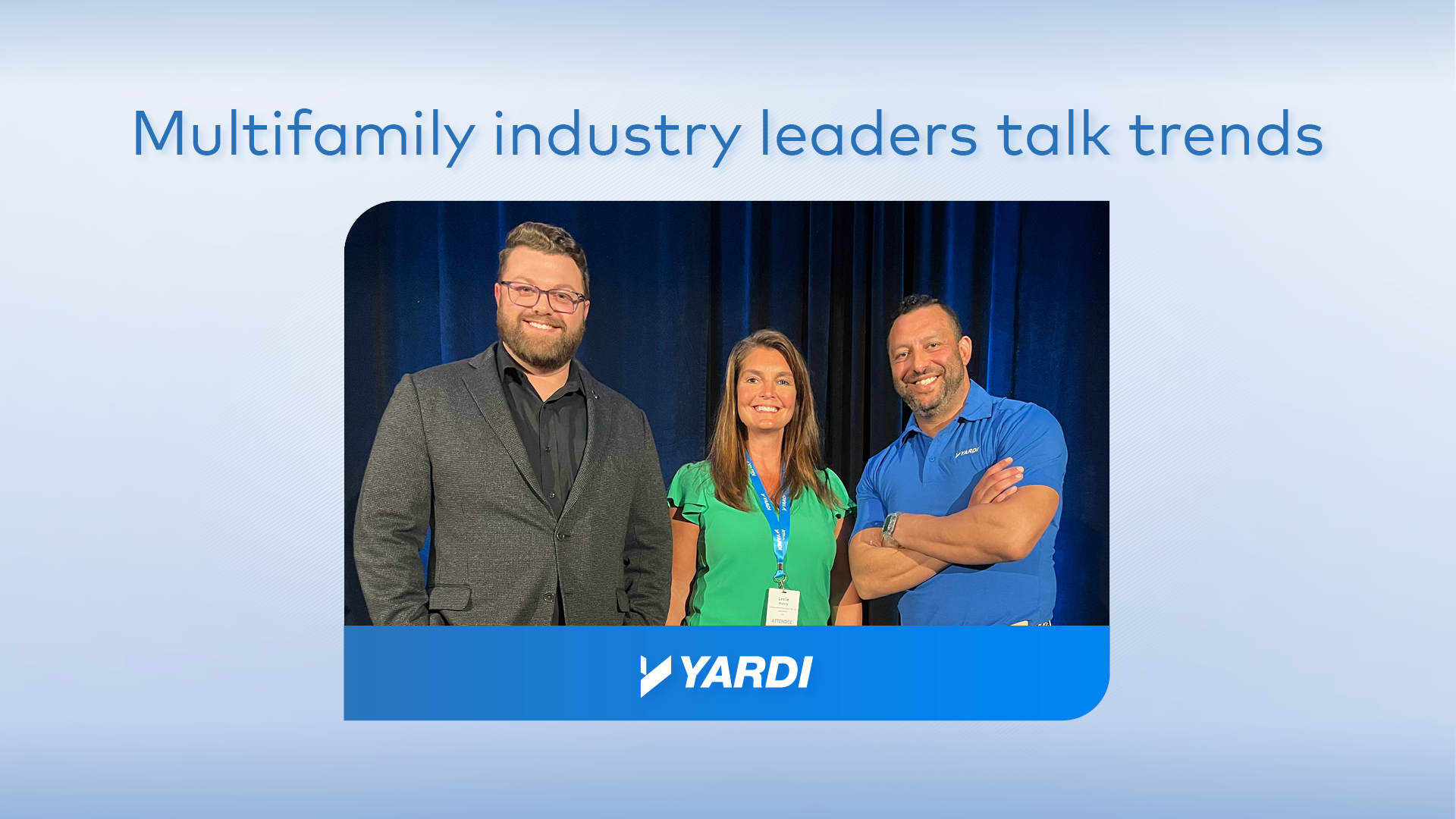 Panelists (pictured, right) included Leslie Henry, SVP of strategic solutions and development at Towne Properties and Josh Draughn, head of marketing at Weidner Apartment Homes. Read on for key takeaways.
Automating early touchpoints significantly reduces site teams' workloads
Most multifamily operators agree that strategic automation is key to efficiency, resulting in streamlined workloads, satisfied employees and happier residents.
"Automation is all about how we can give back valuable time to our associates, and we've found Chat IQ to be extremely helpful with that," said Draughn. "Instant gratification is now expected, so our first automated engagement starts just five minutes after an initial contact. Then Chat IQ transitions the interaction to texting, which results in a faster response time."
Since implementing automation and Chat IQ, Draughn says that Weidner experienced a 15 percent reduction in advertising costs year over year.
Transparent communication is key to achieving employee buy-in
But there are challenges with implementing automation, artificial intelligence and new technology in general — especially when it comes to employee buy-in.
Henry noted that most of Towne's employees have been with the company for a long time and were opposed to change — until they saw its benefits firsthand.
"After we implemented Chat IQ," Henry said, "Our site teams quickly realized how useful it was in gaining back time. They love how it filtered out less promising leads in the beginning. But we also took their feedback if they didn't like the way the bot was responding. We let them customize some aspects of the responses so there was more of a personal human touch."
Draughn agreed. "Getting buy-in at first will always be challenging," he said. "But it's all about how you communicate new changes and listen to their feedback. The human element in multifamily is always going to stay."
Deterring fraud with automation
Multifamily organizations are also relying on technology to vet applicants more than ever.
ID Verify uses facial recognition technology to confirm applicant identities. To do this, applicants take a selfie during the screening process, which is then matched with the official documents they submit.
"Accuracy is one of the biggest benefits of automating the identity and income verification process," Henry said, adding that automated technology has acted as a fraud deterrent, saving Towne thousands of dollars in the process.
"In the beginning, I thought we were losing rentals," Henry said. "But when we looked closer, it was because some IDs were so clearly fraudulent that the system weeded them out instantly. It saved us from dealing with them, them potentially living with us and us incurring bad debt."
Draughn agreed, noting that while there may be steps like taking selfies, genuine prospects will still follow through with the application. This allows leasing teams to avoid guesswork or repetitive communications.
Streamlining online training
As the pandemic shifted training methods from in-person to online, Towne Properties also turned to the learning management system Aspire for online training.
"We're learning about the product faster and it's easier for us to train new employees," Henry said, highlighting the ease brought by Aspire's full integration with Towne's solutions. "It feels good knowing that anyone can learn at their own pace with Aspire."
See it in action
A connected solution can help you drive efficiency at every stage of your workflow, enhancing data connectivity and eliminating gaps. Want to see what this looks like in action? Watch a webinar to see how Yardi helps you streamline workflows, reduce fraud and enhance training.