New Solar Mandate
By Erica Rascón on Apr 9, 2020 in Energy, News
Sacramento is one of the first cities to renegotiate its path towards sustainable power. Since the inception of California's rooftop solar mandate, several municipalities have scrambled to accommodate the push towards clean energy. Sacramento may be the first of many cities to take advantage of a loophole in the mandate.
Community solar
The California Energy Commission approved a proposal from the Sacramento Municipal Utility District (SMUD) that would allow developers to use offsite solar panel installations in some new construction. The community solar option would allow developers to explore more cost-effective options for powering homes off-site.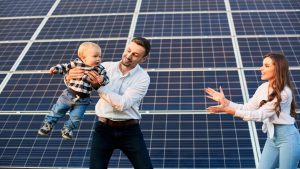 The existing community solar provision applies to shaded apartment buildings and single-family homes. The approved proposal opens the door for developers to choose rooftop solar or SMUD's community solar for any project in the municipality.
Ethan Elkind, director of the climate program at UC Berkeley's Center for Law, Energy and the Environment explains the implications of the new provision.
"There is a really strong precedential value here," he said. "This is a new regulation that just went into effect, and this community solar piece of it hasn't really been tested, and so it's going to set a precedent for years to come for how utilities and real estate developers will respond to this regulation."
New yet weakening regulation?
In essence, the new mandate is already accepting exceptions. Rooftop solar advocates fear the broader implications.  Laurie Litman, member of the climate group 350 Sacramento, expressed her apprehensions: "The concern is that if it's cheaper for developers to not put solar on people's homes, then they're going to opt for that choice," says Litman. "That's going to undermine the solar homes mandate throughout the state because then other areas and other utilities will ask for that waiver as well."
Secondly, transporting power from a distant site to a home results in new infrastructure, waste, power loss, and other less desirable outcomes. Rooftop solar advocates argued that SMUD's original proposal intended to draw power from an existing solar installation 100 miles from Sacramento. The new plan is an improvement—it will draw power from a new installation in Sacramento County, for example– but it still sets a negative precedent for the mandate.
Currently, there are no other municipalities seeking exceptions. Publicly owned utility providers like the Los Angeles Department of Water and Power and the Modesto Irrigation District expressed interest in and approval of SMUD's methodology, but they aren't following suit (yet). It may not be feasible for investor-owned utility providers to do so, either. Elkind theorizes that municipal utilities have more flexibility than their publicly owned counterparts.
Better options for homeowners
Homeowners already manage a slew of responsibilities. The maintenance of rooftop solar and the stress of brown-outs during cloudy periods should not get added to their plates. That's the perspective proposed by SMUD spokesperson Lindsay VanLaningham. SMUD's offsite solar does not require upfront costs to residents, offers more consistent power, and is maintained by professionals rather than homeowners.
Additionally, community solar options can make alternative power more feasible for low-income housing and multifamily housing. The National Resources Defense Council (NRDC) supported the SMUD proposal. NRDC Senior scientist Pierre Delforge explains, "One of the biggest gaps in our portfolio for clean energy at the moment is community solar. We have a lot of central utility scale solar, we have a lot of rooftop solar and we have very little community solar. And we're going to need all of it to achieve our clean energy goals in an affordable manner."
Get the tools that you need to improve utility efficiency at your multifamily property.