Is Air Travel
By Joel Nelson on Apr 27, 2021 in News
The increased distribution of COVID-19 vaccines offers hope that commercial air travel can rebound from a year that saw airline revenues fall by 60% from the previous year. The 1.36 million passengers who passed through U.S. airport security checkpoints on March 12 represented the highest volume since the 1.5 million recorded on March 15, 2020, according to the Transportation Security Administration, although the total was well below the 2-million-per-day average in March 2019.
"The willingness to travel is still there," Arjan Meijer, chief of commercial aviation for Brazilian aircraft maker Embraer S.A., said in January. "There will be a push to go travel again as soon as we can."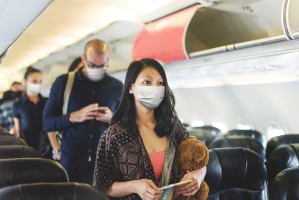 "Although the next 6–12 months contain risks from pandemic uncertainty, historical trends suggest a faster rebound in passenger traffic, which could make the industry's long-term prospects more bullish," notes Ravi Shanker, who covers the North American transportation industry for Morgan Stanley, citing pent-up demand, fewer airline competitors than in past global crises and a more stable fuel-price outlook as key factors.
Safeguards in place
When air travel reaches pre-pandemic levels, what will the industry's "new normal" look like? First things first – is it prudent to even consider returning to that volume?
One expert thinks so. "The airline industry and airports have taken great steps to create the safest environment that they can," Becky Lutte, a professor of aviation at the University of Nebraska, Omaha, said in an article published March 12. "It's really all about passenger compliance – making sure everyone is following the rules and being aware of what's expected from us."
Those rules encompass much of the guidance that the Centers for Disease Control and Prevention has issued over the past year, include wearing a mask on airplanes and airport premises, maintaining social distancing, washing hands often, and following state and local recommendations.
Other conditions travelers are likely to encounter for the foreseeable future include less-than-full aircraft, fewer touchpoints during security and baggage check-ins, closures or limited capacity at restaurants, frequent flyer lounges and other comfort areas, temperature checks, protective gear for staff and flight crews, and heightened aircraft disinfectant measures.
"So, really it's just following protocols and being smart about it. I think the vaccine is going to further enhance people's comfort level of getting out there and traveling again by air," Professor Lutte says.
"The actual scope of human behavior – the preference for travel? Nah, it's not going to change," adds Teal Group aerospace analyst Richard Aboulafia.
See how Yardi Voyager Airports helps airport managers maximize lease and concession revenue by automating property management and concession management.