Apple WWDC 2018
By Anca Gagiuc on Jun 8, 2018 in News, Technology
This year's Apple WWDC keynote, held at the San Jose McEnergy Convention Center in San Jose, was a big surprise for many,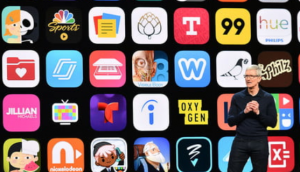 not for what it showcased, but for what it didn't—hardware.
Even though the event is clearly about software, Apple has gotten us used to  announcements of future or refreshes of current products. But this year's session was all about a large variety of enhancements to its iOS, tvOS, watchOS and MacOS platforms, designed to further optimize the overall Apple experience. News on hardware will reportedly be announced in September.
iOS improvements include faster speeds and enhanced responsiveness for the iPhone. This even applies to the older versions, like the 6S, which the company claims will fire up 50 percent faster than previously with its camera will be ready to snap photos 70 percent faster than before. iOS 12 should work just fine on all devices capable of running iOS 11, including the little 5S. This was pleasant news for those hanging on to older phones.
Maybe the nicest touch added to the operating system is Screen Time, which could help curb smartphone overuse. New usage reports will show how you're wasting your time and, should you want to, you can set limits for those apps that eat up too much of your time. Grouped notifications are an attempt to cut distractions, and parents will be able to limit their child's screen time.
For many, this announcement was bizarre as it is unheard of to have a company use one of its biggest annual events to showcase ways to use its products less. But the reality is that Apple doesn't make money from the time people spend on its devices, it just needs as many people as possible to buy those devices. If people are worried that they're addicted to their smartphones, at least the iPhone can help them in some way.
To address another hot topic, privacy, Apple is enhancing the tools that protect users as they surf the web. By default, Safari disables tracking software that advertising companies embed in websites to monitor users' activity on the internet. Often, this tool is embedded in tools to share, like or comment on content on third-party sites. The move is perceived as a swing at Google and Facebook, which have reaped the benefits of such information collection.
Siri is growing up with iOS 12, bulking up on the things it can do—she can now make suggestions based on the things you do habitually. With the new Siri Shortcuts feature, the user can build a custom workflow that incorporates multiple apps, which allows you to complete multiple actions with just a short command—for instance, you can set a 'drive home' sequence that will text your partner, pull up directions, adjust your thermostat at home and play your favorite podcast. This will work with both first- and third-party apps.
Group FaceTime is the biggest upgrade the feature has gotten in years, allowing up to 32 participants in group calls. The video-calling service is also integrated into the iMessage app, and from a group chat, one tap launches the FaceTime with everyone in the group.
Animoji & Memoji target iPhone X users. The face-tracking tech that formerly animated the conventional emojis will power Memoji, a customizable character made to resemble the owner of the device. In addition, both Animoji and Memoji will come with tongue detection, which for many will mean a lot of fun.
watchOS brings old school back with the walkie-talkie feature. "You press to talk, and your friend can hear your voice—just like a walkie-talkie," said Kevin Lynch, Apple's head of Watch software. New activity monitoring features were added, including automatic tracking of a workout even if the user didn't tell the device that they were working out. Moreover, it will include the option to compete with friends by set up of a weeklong exercise competition between two users. Podcasts are also making their way to the device, and Siri can be summoned simply by raising the watch, no need to even say 'Hey Siri.'
Apple TV & tvOS updates signal the company's interest in the satellite and cable industry. Apple's TV 4K model will support Dolby Atmos, which will add to iTunes' expansive library of 4K titles. A partnership with Charter Spectrum will enable users to access live channels and paid content through a dedicated Apple TV channel, thus eliminating the need for a traditional cable box. Add that to the company's recently announced "zero sign-in" capability and it seems clear that Apple is looking for the path to incorporate live local TV content into the Apple TV user experience.
MacOS Mojave is the version that will power Macs starting this fall. The new operating systems will bring Dark Mode, which besides turning the windows black, will come with an inverted look to XCode, too. Productivity-wise, Mojave will come with a few quick actions including organizing the desktop. Stacks will clean up any files sitting around by organizing them in stacks by file type, date, tags and more. Users will also have the option to watermark multiple files or sign a PDF document just by selecting a sidebar menu option. Screen capping videos will be possible through a keyboard shortcut, instead of going through QuickTime.
Home is also coming to Mojave, which will enable users to adjust all their smart home gadgets from a Mac dashboard, or even ask Siri on the desktop to make the changes. Finder will get its fifth view in the form of Gallery, which is particularly useful for browsing photos in Finder. Users will be able to see the file's metadata and even make some quick modifications to them, such as rotating a photo without needing to import it in the Photos app, create a PDF or add a watermark.
CarPlay will support third-party apps, specifically Google Maps and Waze, thanks to the large number of iOS customers using the navigation apps.
During the presentation, Craig Federighi addressed a question that's been circulating for awhile—are Mac and iOS merging? His answer was direct and unequivocal: 'No'.