Commercial Outlook
By Erica Rascón on Apr 6, 2020 in Matrix
Last week, Yardi Matrix hosted three webinars that provided insight on how the COVID-19 pandemic is impacting the self storage, multifamily and commercial real estate markets. Let's look at the insight on the commercial market, which is extensive. This post will cover the office market – a follow-up on industrial and retail can be found here.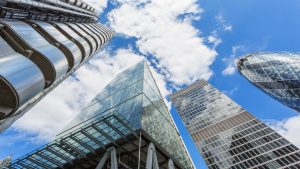 National overview
For most sectors of commercial real estate, the next four to eight weeks will be tough. Due to state public health mandates, up to a quarter of the country's economy has shut down, which will result in double digit GDP drops.
The travel, hospitality, and restaurant industries have been the hardest hit, affecting about 30 million people. The United States Department of Labor reported 6.6 million new jobless claims in March.
While outlook for Q2 and Q3 is not encouraging for all sectors, a few sectors are functioning if not thriving. Agriculture, industrial, distribution, and construction are among the sectors that are stable or growing during the pandemic.
For sectors that are suffering, analysts forecast a dip in economic performance rather than a long-term decline. How much and how broad of a dip is still up for debate. The peak and denouement of the pandemic are uncertain, and business impacts will follow.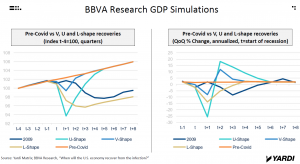 In response, Congress has passed a $2T CARES Act stimulus package to offset economic decline and aggregate demand. The Federal Reserve rolled out several initiatives for small businesses totaling $350 billion. Large business can take advantage of nearly direct access to federal resources for capital.
Efforts to stave off business bankruptcies are accompanied by consumer aid efforts. Though consumer spending is being redirected, it is only moderately reduced. The big question on everyone's mind: can businesses stay open and recall workers when this is all over?
Impacts on the office market
Scale matters. Large, well-capitalized companies will likely pay their rents through the pandemic. Their employees are more likely to be able to work remotely and preserve some degree of normalcy during troubling times. If pain arises, such large companies can fall back on generous bank-backed programs and flexibility.
Coworking, multi-tenant and mixed-use properties will feel greater impact. Yardi Matrix predicts that smaller companies will use stimulus funds to pay workers and cover operations costs, but that may exclude rents. Smaller companies are least likely to pay rent due to the decreased likelihood of repercussions. If government aid is insufficient to stay afloat, small companies may resort to bankruptcy to avoid expenses including lease agreements.
More eyes are turning to medical office spaces. In the past, such businesses have been slow to adapt online technologies due of privacy concerns. As a result, traditional office models avoided disruption. In the onslaught on COVID-19, medical offices are forced to re-evaluate their relationship to technology. Remote health and online care technologies are more expedient, paving the way for smaller medical office spaces in the future as the benefits become more evident.
Find the recording of the Yardi Matrix commercial webinar and the presentation materials online. And check back tomorrow for the conclusion of this blog post.