Self Storage Outlook
By Leah Etling on Apr 1, 2020 in Matrix
The Yardi Matrix research team delivered an insightful presentation on the state of the national self storage market on March 31, with one of the primary themes being the impact that the COVID-19 pandemic may have on the industry.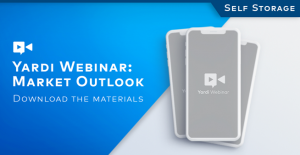 Though the ultimate result of this unprecedented situation will roll out in the coming months across all real estate sectors, early indicators suggest that self storage investments may be equipped to weather the storm, the Matrix team reported.
Miss the presentation? No problem, you can find the recording here.
Jeff Adler, vice president, Yardi Matrix, delivered the hour-long market summary for a record number of Matrix webinar attendees.
"From my perspective, consumer demand for self storage is stable or growing at this point in time," Adler shared. Residential consumers who wanted to move out of storage to save money would have already done so, he commented.
The greater industry risk, Adler noted, is from small retail businesses that may use self storage facilities for inventory storage/warehouses, since brick and mortar retail is extensively affected by nationwide non-essential business shutdowns. The coming weeks and months will reveal just how vulnerable such tenants might be.
A key factor to watch when assessing the health of the market is business bankruptcies, shared Adler. If states and metros can bounce back quickly and rehire workers, impact will be lessened. But prolonged shutdowns could lead to greater distress and increased impact for the self storage market.
From an investment perspective, major REITs have essentially halted their purchases in the self storage market for the time being, shared Jack Kern, director of institutional research for Yardi Matrix.
"Nobody is moving forward (with planned transactions)," said Kern in response to a question asked on the webinar. "This may be an opportunity for smaller owner operators who have been outbid by larger investors to step in to fill that void. Banks are still open for business."
Dig deeper into the data in the latest self storage report from Yardi Matrix.  Or revisit the webinar for additional perspective.