YASC GLOBAL
By Leah Etling on Mar 21, 2022 in Events, Global
Yardi held three days of educational online programming for clients March 8-10. This year's digital Global Yardi Advanced Solutions Conference (YASC) focused on how technology can help meet the needs of today's real estate industry across multiple verticals.
More than 15,000 Yardi clients worldwide attended the three day event, and viewed more than 300 classes covering all aspects of Yardi's technology offerings. More than 100,000 classes were attended over the the three days.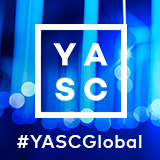 In today's challenging economy, efforts to automate and improve processes wherever possible can help overcome staffing challenges. Yardi executives showcased the company's multiple product suites during overview spotlight sessions, which can be of tremendous help for business efficiency. Read on for some of the highlights.
Meeting the changing needs of commercial clients
Perhaps no real estate sector has experienced more changes during the pandemic than commercial real estate. Many offices have sat dormant for months or more while employees worked from home. The retail and restaurant landscape has been altered greatly. And the industrial and self storage sectors have seen a huge boom in demand.
More than two years since the first U.S. lockdowns, impacts are being observed across CRE, said Yardi senior vice president Rob Teel. "I spend a lot of time with our office clients, executives and users of Voyager and our commercial product suite. It is true that vacancy is starting to creep up. Occupancy numbers are hipping a little bit – though not as much as people thought would happen during the pandemic."
As a result, creative owners and managers are exploring alternative uses for office space. They include coworking, either self-managed or working with a partner, which the Yardi Kube suite is perfectly positioned to help manage. Others are turning to mixed use, which opens the door to utilize the multifamily product lines mentioned above. And of course, marketing available commercial space has become critically important.
Yardi has greatly expanded its offerings for marketing commercial listings, augmenting the CommercialCafe ILS with the acquisition of 42Floors.com in late 2021. Brian Sutherland, Yardi vice president, demonstrated how clients can use CommercialEdge, within the Yardi Elevate suite, to syndicate listings with on Yardi sites and externally as well.
"There is a lot of focus from our clients and traction with this platform," Sutherland said. "We are seeing more than 200,000 qualified leads per year."
Once those leads are generated, they move to the Deal Manager platform, where they can be managed by listing agents and brokers including full qualification, legal redlines and lease generation. For sectors like industrial where development is booming, Construction Manager provides the tools for job cost accounting, budgeting, project oversight and vendor management, all within the Elevate suite.
Many of the solutions within Elevate, such as Facility Manager, have a mobile app that make them easily accessible to team members wherever they may be working. And the tenant portal component of CommercialCafe allows tenants to easily submit service requests and facilities great customer service.
"It eliminates the need for the tenant to call you and find out what's happening with their account," said Tom Dragmen, CSD director for Yardi. "It's designed so that within one click they can do anything they need to do within the portal, whether that's a maintenance request or entering a payment or uploading a document."
Automation and agency marketing for multifamily
"Let's talk automation. We know customers want answers fast, but that can be hard to do, especially with labor shortages the industry is dealing with," said Paul Yount, industry principal for Yardi's multifamily suite.
"The combination of consumers now demanding round the clock service and the difficulty in staffing has caused the market to turn to good technology. We are seeing the creation of centralized leasing offices or property clusters where one office and team is servicing multiple communities," said Yount.
Yardi's single connected solution suite for multifamily can help address these challenges, and new features focus on automated response options and direct-to-consumer marketing that can speed things up.
Examples include RentCafe Chat IQ, an automated chatbot that answers prospect questions in real-time.
"The bot provides human-like responses that are accurate and immediate, creating and qualifying better, more rent-ready leads, getting them into and through the sales funnel quicker with less dead time and less human interaction. We have clients seeing 70% of all their inbound communication being handled by the bot," Yount explained.
Esther Bonardi, vice president of marketing for Yardi, discussed the shift to direct-to-consumer marketing rather than relying on Internet Listing Services for prospect traffic.
"Both search marketing and ILS marketing are still important parts of your digital marketing strategy, but search marketing is now edging out ILS marketing in terms of customer preference and customer behavior," Bonardi said, citing the results of a 2021 survey by RentCafe.com. It found that 42 percent of Gen Z renters went directly to property websites from search engines, rather than viewing an ILS first.
To meet this consumer trend, Yardi has created the REACH by RentCafe digital marketing agency, which provides the most up-to-date strategies and technology for meeting today's renter where they're looking for you.
Senior living enhancements respond to client needs
For senior living providers, the last two years have been especially difficult.
"We recognize that the pandemic has been especially disruptive and difficult for senior living owners and operators," said Ray Elliott, vice president of senior living for Yardi, at the beginning of the senior living spotlight. "We have a deep appreciation for the sustained hard work and dedication of your teams in taking care of the elderly population. Thank you for all that you have done.
Looking forward, we're optimistic and see a bright future for the senior living industry as we regain our footing and move forward with fresh ideas and new opportunity."
The senior living product overview was focused on updates that have been made to the suite in response to industry trends and client feedback "to ensure our customers have the tools to grow and the tools to deliver top notch care to your residents," Elliott said. Those include the RentCafe Senior CRM platform, which makes it easy to track prospective resident activity and has many new ease-of-use enhancements that clients will appreciate.
Many of the enhancements presented are based on client feedback and on-site need. One of the places that has seen tremendous growth is in the eMAR (Electronic Medication Administration Record) product line. More than 400 communities are now pharmacy-interfaced using Yardi's software.
"We can really eliminate the month-end nurse reviews that take hours and hours for your staff to reconcile at the end of each month, if you're doing a paper MAR process," said Fil Southerland, director of health care solutions for Yardi. "All of that is eliminated, saving nurse time." The product also allows for convenient medication inventory management, including bar coding support and narcotic count signoffs.
"This makes it really easy and electronic to manage your medication inventories," said Southerland. "We've also added a digital physical review, so you can have your physician login and sign off on orders with Yardi EHR and eMAR."
YASC to return in-person this fall
Yardi plans to resume its in-person YASC events this fall, with its West Coast YASC set for Aug. 31 – Sept. 2. Internationally, YASC Sydney will take place Sept. 20-21, YASC London Nov. 8-9 and YASC Singapore Nov. 15. Learn more at yardi.com/yasc.