Driving for Net Zero
By Yardi Blog Staff on Sep 22, 2021 in Global
Every single person in Lendlease's 11,000-strong team has their sights set on net zero emissions by 2025. It's a huge undertaking – one which will be impossible without the help of technology and data.
This puts Richard Kuppusamy and Helen Lam – two of Lendlease's digital leaders – in the driver's seat as they help steer their company towards Mission Zero.
Bernie Devine, regional manager for Yardi in Asia Pacific, recently caught up with the pair as part of the latest installment of Yardi's Proptech Insights series.
A big pivot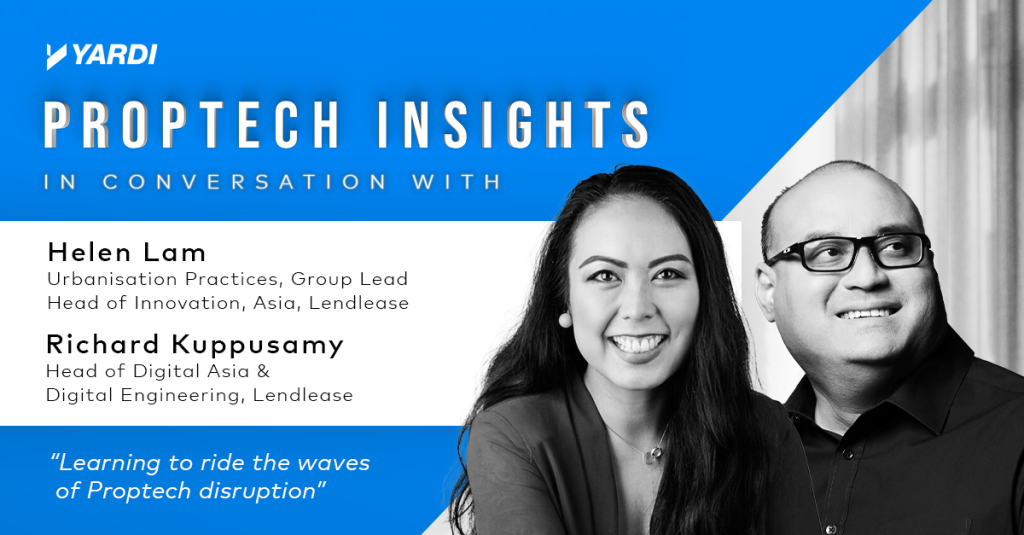 Lendlease must meet its first net zero target in four years – an aggressive but "very deliberate" decision, Kuppusamy told Yardi's audience. "Everyone who is in Lendlease today has to deal with this problem," he emphasized.
And it's a big problem for everyone in the real estate sector, given the global built environment is responsible for almost 40% of the world's emissions.
But Lendlease – which designs, constructs and manages buildings on four continents – is in a rare position of influence across the entire development lifecycle. It is for this reason that Lendlease's technology strategy is watched by the entire industry with interest.
Kuppusamy joined Lendlease in March as Head of Lendlease Digital Asia and is based in Singapore. He oversees leadership, management and performance of Lendlease's digital business unit across the region – and that includes Lendlease's new property lifecycle platform, Podium.
Podium links everything from building plans and construction programs to the results and realities of operation. It is the foundation of autonomous buildings, he noted. Podium supports data-driven decision-making "at every touch point" of the property lifecycle and is the key to economic and environmental sustainability.
With Podium, Lendlease is "pivoting" towards a future as a "software engineering firm," Devine observed. And that means data is now one of Lendlease's greatest assets.
Data rich, insight poor
Globally, the real estate sector remains "data rich and insight poor," Richard observed. "There are a lot of solutions, but they are all very siloed." How do we dismantle these silos and unlock the "proprietary data jails," as Kuppusamy called them, for a greater common good? "It's not just about sharing – but about sharing in a meaningful way."
The industry must move away from technology that solves "spot solutions" or "siloed problems," Helen added. "In real estate there are no silo problems – they are all interrelated."
While many systems capture data, only "actionable insights" deliver value, Kuppusamy said.
Devine agreed. "I always say to our clients: 'We deliver actionable insights, but it's up to you to take action.'"
As Head of Innovation and Development Practices in Asia, Helen Lam is responsible for identifying new ideas to be researched, tested and integrated into the way Lendlease works. One of the projects currently underway is to eliminate diesel – which is "really dirty, noisy and hazardous" – from construction sites. "We don't have the inhouse tech to solve it all ourselves," so Lendlease is partnering with an Asian start-up with an advanced compact and connected lithium-ion battery system. The technology eliminates 80% of onsite emissions, "is much quieter and emits zero fumes," she explained.
Data can also aid "macro decisions" that deliver a better experience for people, alongside those that are best for the planet, Lam added. Lendlease has installed Internet of Things technology in restroom facilities in retail malls across Asia, for instance, to better understand peak loads. From this data, Lendlease has enhanced the customer experience, while also "making better procurement decision around our contract negotiations and reducing operational expenditure."
Self-driving buildings
Devine pointed to the use of digital twins as another tool that can help the real estate sector move towards net zero. In May, Ernst and Young reported that digital twins could save up to 35 percent on project and building costs and reduce city-level carbon emissions by between 50 and 100 percent.
Lendlease has been at the forefront of the digital twin agenda for several years. But Kuppusamy was quick to point out that widespread adoption of true digital twins – rather than "mediocre BIM models" – was well behind other sectors, notably aerospace and mining.
While digital twins are gaining traction in construction, it is operational digital twins that will transform "legacy dumb buildings" into smart buildings, Kuppusamy said. In the future, autonomous or "self-driving buildings" won't have asset managers "looking at alarm panels." Instead, they will be scrutinising "people data" to understand how to deliver a better experience.
The real estate sector is still making decisions based on assumptions, rather than innately with the help of data, said Lam.
"We only know 1% of the data, but we know that really well," Devine added. The other 99% remains an untapped resource. But digital twins will eliminate assumptions and build a rich picture of the organic life of a building, Lam added. "The opportunities are endless."
To capture these opportunities requires a shift in perspective. It's about viewing the building as a device, one which can meet net zero ambitions while creating a great experience for people.
Watch the latest duck dive into proptech with Yardi's Proptech Insights series and sign up for the next episode with Cromwell Group.