The Idaho Foodbank
By Katrina McDowell on Oct 16, 2022 in Giving
Yardi is committed to supporting the community in every city where our offices are housed. Each year, the company distributes philanthropic aid to organizations selected by its employees.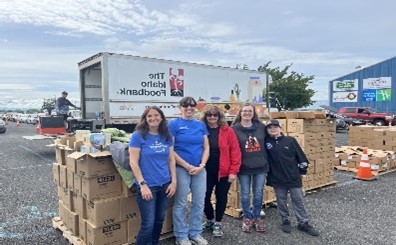 In 2021, Yardi offices supported more than 350 nonprofits worldwide. For the remainder of the year, we will be bringing you the stories of those organizations and insight into how they aid their communities.
In today's spotlight, learn about The Idaho Foodbank founded in 1984 which serves the entire state of Idaho. The Idaho Foodbank's mission is to help feed, educate and advocate for Idaho's hungry through collaborative partnerships to develop efficient solutions that strengthen communities. They distribute food to 465 partners across the state including food pantries, schools, senior centers, and mobile food distributions.
"Through the partner network and our other programs, The Idaho Foodbank distributed enough food for over 22 million meals in our last fiscal year," shares Sydney Reid, Community Engagement Coordinator of The Idaho Foodbank.
"The latest Feeding America Map the Meal Gap report found that nearly 9% of Idahoans experience food insecurity so we served an average of 184,000 people per month." Reid continues, "We know we cannot address food insecurity alone, so we appreciate everyone who supports and collaborates with The Idaho Foodbank to improve the lives of our neighbors in need."
Yardi's contributed funds have made a real impact on general operations. These funds enable The Idaho Foodbank to utilize its greatest needs such as transportation costs and purchasing food. The Idaho Foodbank's goals are to continue to provide nutrition and education for healthy communities under their Hunger to Health Strategy.
"Our goal is to make the healthy choice the easy choice," said Reid. "In our last fiscal year, 85% of the food distributed by The Idaho Foodbank was considered nutritious."
The Idaho Foodbank's backpack program
Food insecurity has a profound effect on the health, education, and quality of life of children. The Idaho Foodbank's Backpack and School Pantry programs are designed to specifically address the needs of Idaho children facing food insecurity. Every Friday during the school year, students who need a healthy lunch, will be provided with kid-friendly healthy foods that fit inside their backpacks.
"They are so happy to have the security of food bags and know they will not go hungry. Their parents are grateful as it helps kids feel cared for, their needs are met, and they do better at school," shares a local school coordinator.
"This program, as well as our program to establish food pantries in schools, has had a positive impact on the lives of thousands of Idaho children by collaborating with schools to address food insecurity," shares Reid.
Volunteer Opportunities
The Idaho Foodbank welcomes volunteers Tuesday-Saturday from 12pm-6pm in its three branches in Meridian, Pocatello, and Lewiston. Volunteers will repack various dry items to create food boxes for low-income seniors. T
hey also offer opportunities at select mobile pantry distributions. For more information, please see their website here.
Find future non-profit profiles at https://www.yardi.com/blog/category/giving.