Santa Paula Pets
By Erica Rascón on Feb 1, 2021 in Giving
Pets can change us for the better. Pets offer companionship, humor and unconditional love. (Except for some cats, or maybe most cats, who love you quite selectively. But if you've ever known and loved a cat, their personalities are part of the charm!)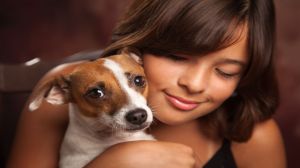 Santa Paula Animal Resource Center (SPARC) is a nonprofit shelter that provides resources, progressive programs, and community education to rehabilitate and rehome abandoned and stray animals. SPARC's efforts unite pets and pet lovers for long-lasting family bond.
Join us as we learn more about SPARC's innovative work from its president and CEO Tara Diller.
What's the big deal about pets?
Pets are, in themselves, a pretty big deal. It's their influence on communal wellbeing, however, that is making news. Decision makers including clinicians and city planners are realizing the benefits of pet care for the wellness of community members and communities.
Homeowners seek neighborhoods with pet parks and services. The boost in desirability correlates to higher home prices and property taxes for local governments. In short, dog parks and other pet services help to sustain relative value in neighborhoods.
Additionally, pets contribute to individual wellbeing: "Studies show that owning a pet improves one's mental and emotional health and pet owners tend to have a greater sense of well-being and motivation knowing that their pet depends on them," says Diller.
SPARC celebrates the human-animal bond and aims to eliminate the barriers that hamper the advancement of companion animal welfare. Their efforts promote a future that considers all pets within the community, not just those who end up at a shelter.
"We recognize the emotional, mental and physical benefits a pet brings," says Diller. "SPARC is working towards keeping pets and people together and being part of a more robust system of support. When the community knows it can rely on and trust its local animal shelter, there is a greater sense of community resulting in healthier people and pets!"
Developing pet support one person at a time
SPARC proactively engages people within the community by providing ongoing, comprehensive support. Diller explains, "We are advancing more as a progressive industry and the philosophy of increasing support for pet owners primarily in underserved communities is just as important as the life-saving and life-changing services we provide."
There is a misconception that people in low-income communities love their pets less, maintain a lesser bond or choose to allow them to go without proper medical care, food or the essentials. The reality is that whatever happens to owners, happens to pets. Financial, medical and other challenges are transferred from owners to their animals. Sometimes, owners are required to make painful decisions.
"The bond people have with their pets shouldn't depend on income, which ZIP code someone lives in or the language they speak," asserts Diller. "While poverty may increase the risk of pet surrender, there is no data to support the notion that impoverished owners do not love their pets or are less committed to providing responsible care than owners who are financially secure."
SPARC programs bridge the gap for low-income families who want to provide a quality home for their families– which includes their pets. The Food FUR All Free Pet Food Pantry, for example, has seen an increase in demand since the beginning of the pandemic.
Donate to provide food and services for at-risk pets in Santa Paula.
Enduring through the pandemic
Sadly, the pandemic has created devastating financial and housing impacts within Santa Paula. More families are facing tough choices. Lack of affordable homes, a shortage in pet-friendly housing, limited financial means to pay pet deposits, and owners' inability to provide medical care are just a few challenges that families face. SPARC is here to help.
"During the pandemic, SPARC has not turned down an animal in need," begins Diller. "In fact, we've begun to rescue more at-risk pets from shelters. Unfortunately, we have realized a reduction of nearly 60% of our revenues and a significant increase in medical expenses. As a small, non-profit shelter, we rely on generous donations to continue our no-kill mission."
Yardi Oxnard is a proud supporter of SPARC. Funds are used to provide essential services for animals including medical equipment that expands access for owned and sheltered pets.
"Medical equipment is extremely difficult for a small shelter like ours to acquire. Thanks to Yardi, we will soon receive a new anesthesia machine, LED treatment light for our exam area, new exam tables, surgical equipment and we're repairing our dental equipment," says Diller.
Additionally, funding propels innovative programming that keeps families together. SPARC has developed a robust resource kit to help Samaritans who have found lost pets. This helps to keep pets out of shelters and return them to their owners. There are also additional services to support foster families which keep shelter populations low.
"Fostering pets is an amazing way to learn more about how a pet will behave in one's home thus making better matches with new owners. Fostering also exposes pets to new environments. Most importantly, fostering keeps them out of a kennel and–hopefully–cozy on a couch. Fostering truly is the future of animal sheltering," says Diller.
Yardi employees are energized for good! Join us in supporting SPARC.
Sparc_Yardi_Systems_15K_Video_Presentation_2020 _V2 from Santa Paula Animal Rescue Center on Vimeo.