My Furniture Bank Canada
By Erica Rascón on Mar 3, 2020 in Giving
S.W. was happy to move her family into a new Ontario apartment. Within a few nights, however, she noticed red sores on her children followed by sickness. "The new building had bed bugs," she sighed. "We all got sick. The landlord fumigated, but we had to throw out all of our furniture. It took me years to collect all that furniture and it was gone in one shot."
Fortunately,  My Furniture Bank had beds available. My Furniture Bank, f
ormerly known as Mississauga Furniture Bank, provides emergency and transitional relief furniture for families. The nonprofit recycles new and gently used home furnishes and distributes them to people in need. Recipients include those transitioning from homelessness, emancipated youth, refugees, impoverished families, seniors, individuals escaping domestic violence, the medically disabled, as well as people who have lost their possessions due to natural disaster and personal tragedy.
"Because of My Furniture Bank, I was lucky to get beds for my family quickly!" S.W. says.
Family, furniture + history
This year marks the 10th anniversary of My Furniture Bank. Kathryn Palangio, executive director, has been with the nonprofit for nine of its ten-year history. She is excited to guide the organization into a future of expanded services for happier, healthier communities.
She says, "I was personally inspired by my Dad who has spent the better part of his life repairing and refurbishing home furniture for those who could not.  He would never let a good piece of furniture be sent to the landfill if it could be revitalized.  Once he had it looking great, he would then find it a home working through the St. Vincent de Paul Society and his church." Palangio continues, "Years ago, when I was looking for a volunteer opportunity, I found myself drawn to this organization. I felt that I had lived their mission my entire life with and through my Dad."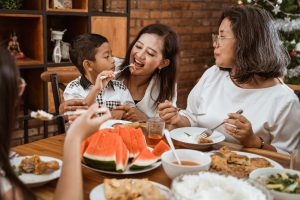 Furniture plays a key role in the overall health of a happy home. Most people acknowledge that a clean bed is key to good sleep. Yet a proper table and chairs, for example, also is important for a family. Families can spend time together, eat a meal, work on homework, and invite friends to share time. Furniture is essential in the western world for creating a feeling of home, safety and belonging."
"Furniture poverty robs a family of timeless, shared experiences," Palangio says. She recalls that when her mother-in-law passed away, her dining room table and chairs held a special place in the family's hearts. So many memories were attached to the furniture. "This table and chairs had the ability to unite a single family, and then continue to expand to multiple families and countless memories."
My Furniture Bank: homemaking supplies for families in need
The furniture bank does not sell furniture. Rather, the organization collaborates to identify families in need through partner agencies. Such agencies are often helping families with other challenges in their lives such as housing, employment, settlement or trauma. Creating a home environment empowers them continue their daily responsibilities with a degree of normalcy.
The program has proven to be effective. Palangio explains, "We rarely need to repeat service to the same clients.  The reality is that almost 100% of the clients we serve need us only to get through a difficult time in their lives. They continue to care for the furniture we share as they strive to build a better future for themselves."
A bright future, one dresser at a time
As My Furniture Banks approaches the future, Palangio has her eyes set on building the bed inventory. It's the trickiest thing for the nonprofit to source and supply for those in need.
Bed Bank is a new sustainable sleep shop that construct high quality, inexpensive mattresses. They will be available to all community members, Palangio reports. "Too many individuals are confronted with the huge cost of a new bed because of unavoidable health concerns. Bed Bank puts a good night's sleep within reach."
To fund the furniture and bed banks, the nonprofit will need the community's help. Yardi has proudly supported My Furniture Bank as it serves the Ontario community. "Yardi grants were used to obtain durable, high quality used furniture from the community so that we can share it with those in need," says Palangio.
Community members can show their support by donating their gently used home furnishings or making a monetary contribution. "Donations keep furniture out of the landfills while providing families with much-needed items.  It's a full circle approach to helping our community!" says Palangio. "Our long-term goal is to see a future where everyone has a properly furnished home, and everyone has a clean bed on which to sleep."
Yardi is Energized for Good. Join us! Learn more about Yardi's corporate social responsibility on the Giving page.