Life's WORC
By Leah Etling on May 27, 2022 in Giving
Yardi is committed to supporting the community in every city where our offices are housed. Each year, the company distributes philanthropic aid to organizations selected by its employees.
In 2021, Yardi offices supported more than 350 nonprofits worldwide. For the remainder of the year, we will be bringing you the stories of those organizations and insight into how they aid their communities.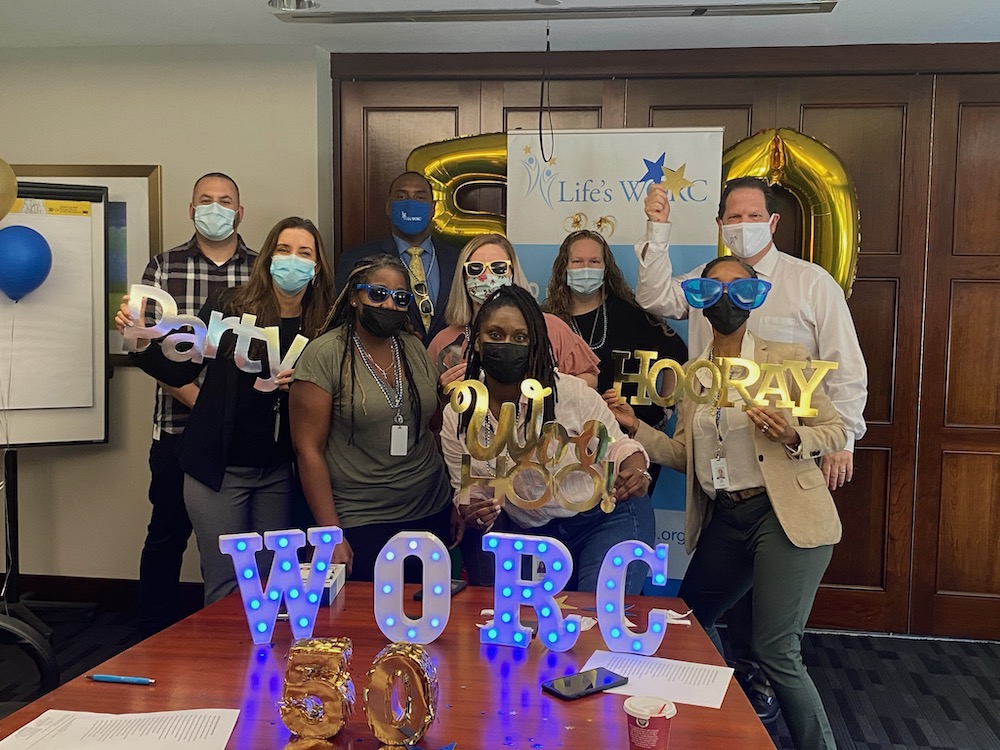 Today, we are featuring Life's WORC, a Garden City, NY nonprofit that supports people with intellectual challenges, developmental disabilities, and autism. The organization is celebrating a milestone anniversary this year: 50 years of providing services that facilitate an independent and productive life experience for their constituents.
"Over fifty years ago, Victoria Schneps Yunis created Life's WORC after Geraldo Rivera exposed the deplorable care and conditions at a place called Willowbrook," said Tina Moreno, director of development for the nonprofit. "Geraldo and Vicki are still dedicated to ensuring that individuals live healthy and productive lives."
The scandalous story of how patients – from children to seniors – were treated at Willowbrook horrified the nation when it was exposed in the early 1970s. "This institution in 1972 was a crime against humanity. Those aren't just words, they accurately represent the reality of Willowbrook," Rivera says in his original report on the atrocious conditions at the state facility.
Life's WORC was created to offer an alternative reality that was safe, healthy, clean, and supportive. Today, six of the original residents of the Life's WORC Rivera home in Little Neck Queens continue to enjoy their home and a healthy lifestyle.
"Vicki, along with Geraldo and now-NYC Mayor Eric Adams, paid a visit to the home to celebrate our 50 years of achievements," said Moreno. "Life's WORC is proud of our achievements over the last 50 years and will continue the important work begun by Vicki Schneps Yunis. We strive to constantly evolve and adapt our programs to better serve the people we support. We look forward to the next 50 years of making a difference in the lives of even more people with special needs and their loved ones."
The organization has also recently been awarded an RFP to provide five additional supportive homes for the state's growing autistic population. "That brings us to 50 homes over 50 years," Moreno said.
"In addition, this year we will be launching a brand-new program and building called WORC FORCE, a multi-purpose community-based center that helps those with disabilities and learning challenges master in demand skills for the workplace and beyond. Our mission is to build confidence and find purpose."
"The funds received from Yardi will be used to assist the individuals we support by enhancing their ability to access these programs," Moreno explained. "We have purchased technology equipment to ensure connectivity for those individuals that were unable to attend in-person programs. We have also created new online classes for our program participants so that they can increase their skills."
Opportunities to volunteer
Life's WORC welcomes volunteers to assist with our special events throughout the year. On September 18, the organization will hold a Walk for WORC FORC and invites Yardi staff to contribute as participants and to assist with the event.
Additionally, Life's WORC participates in Bike to the Beach on September 24. Participants will ride 100, 50 or 25 miles for disabilities and autism. For more information on participation, contact Tina Moreno by email at [email protected]
Learn more about Life's WORC at https://lifesworc.org/, and find future non-profit profiles at https://www.yardi.com/blog/category/giving.