Health and Wellness: Afya
By Erica Rascón on Mar 12, 2020 in Giving
Imagine that you are a skilled physician. You've taken a month off work to volunteer at a clinic in Tanzania. Upon arrival to the clinic, you immediately encounter families in need of medical care: inflections, malaria, injuries and deadly viruses. You expect that the clinic staff will point you towards the supplies that you need to begin working, but there are no supplies. The shelves are empty. Nothing. You have the skills to help but without supplies, you feel powerless.
Danielle Butin encountered one such physician on her trip several years ago. She found the physician crying in a tent, frustrated at the situation and sad for the suffering that she could not alleviate. Butin sat with the physician, one arm draped across the crying woman's shoulders.

Skilled practitioners need supplies to do their best work. The concept for Afya began to brew Butin's mind.
From New York to the Serengeti
At the time, Butin was an executive with a Fortune 500 company. When her work with the health care corporation was complete, she found herself at the threshold of a new frontier. The physician's story proved unshakeable, and Butin began researching ways that she could help.
She knew there was a regulation-driven surplus of medical supplies in hospital basements and storage rooms. It was standard practice for unused medical supplies to end up in landfills. How could so much waste continue when there is such need for supplies all over the world? Butin planned how she could intercept those unused supplies before they made it to the dump. She could then divert the resources to places like Tanzania.
Butin cold called hospitals to learn about their discarded materials. Bewildered hospital staff guided her through storage areas to see possible donations. Butin readily accepted whatever was available, though she had no way of storing the materials or transporting them to their ultimate destinations at the time. At one point, a semi-trailer of supplies sat in front of her home for weeks.
In 2007, Afya (which means "health" or "wellness" in Swahili) took shape. Butin secured storage for donated goods and coordinated logistics. She established relationships with medical centers in New York where she could receive a more consistent source of discarded supplies.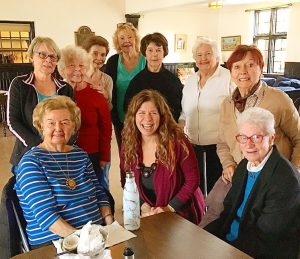 The work continues to grow and change lives around the world.
Saving seniors in Puerto Rico
 Afya currently operates in 83 countries. The nonprofit has diverted $36 million-worth of supplies from the greater New York waste streams into the hands of clinicians and volunteers who use the resources to save lives.
Though no longer in the for-profit sector, Butin has transferred several of her corporate values into her work.
"I've learned to be accountable and hold others accountable. In nonprofits, there tends to be a much looser structure. Accountability is, in many cases, not a clearly defined construct. As the leader for a nonprofit, our accountability is vitally important," says Butin.
She adds, "My previous work also taught me the importance of truth-telling. A vital piece is being honest about experiences, being honest with partners and donors. They appreciate transparency, even when it's not the best news."
Unlike a large, for-profit corporation, the non-profit sector has afforded Butin a considerable amount of agility. Her organization has been able to quickly respond to disasters without weaving through red tape and extensive protocols. That agility enabled Afya to work extensively in Puerto Rico immediately after Hurricane Maria and the first earthquake to hit the island in January 2020.
"After Hurricane Maria in 2017, we did an enormous amount of relief work in Puerto Rico," says Butin. "We partnered with Acción Social. We love them. So when the earth started shaking there this year, we went back to figure out how we can be helpful. We began our work with seniors."
The Afya team arrived to Puerto Rico to find seniors sleeping in the streets and under bushes. Though the earthquake ended, its tremors continued the shake the land and make structures unstable. Homes collapsed. Seniors who lived much of their lives in one neighborhood, often in one house, were afraid to go home.
"It's a travesty for the people who grew up there to be so traumatized at the end of their lives," reflects Butin. "The south of Puerto Rico is full of tented cities. People aren't going home, or they can't."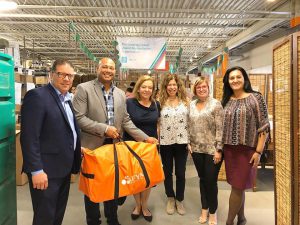 Fortunately, Afya already had a presence in the southside of the island. The organization is planning to expand its training curriculum to focus on seniors and trauma care.
Aid work in Puerto Rico is on-going. Learn how you can help.
The future of Afya
After living and working most of her life in the city, Butin has developed a network in greater New York. It has taken more than a decade to navigate and develop relationships within the medical community. For Butin, growth in the foreseeable future will stay in the New York metropolitan area.
"There's a lot that is regional and oriented to the area. So for now, I'm not looking outside of the city. We plan to grow and expand here," explains Butin. "For hospitals to donate, they must believe in the work. Getting hospitals onboard and partnered is a trusting, long-term, relationship-building arrangement."
Afya and Yardi have also forged a strong relationship. The real estate software provider has proudly supported Afya's past missions. In 2019, Afya mobilized 39,644 pounds of medical material and humanitarian aid to Grand Bahama as part of its Hurricane Dorian relief efforts. Within three weeks of the initial landing of Hurricane Dorian, Afya distributed the vital materials to its trusted partners on the ground, Empact Northwest, Medical Professionals on a Mission, and IsraAID.
"Yardi's financial donation made it possible for us to pack supplies on flights and expedite the arrival of these vitally needed medical supplies," says Butin.
Get involved with Afya
Show your support! There are several ways to get involved, including fund raising and volunteer opportunities. Supporters outside of greater New York can contact the office for creative fundraising ideas.
"Sustainability is at the heart of what we do," concludes Butin. "In addition to filling a need abroad, Afya is having a green impact on our local healthcare environment. Those medical products would be thrown away if we didn't rescue them. Also, thousands of people can have an impact on people around the world that they don't know. We support one another in our times of need. Each component of Afya is sustainable."
Explore more ways that Yardi invests in community wellbeing on our Giving Page.