Technology Tools
By Joel Nelson on Jan 13, 2021 in Technology
Isolation is necessary to keep senior living community members healthy during the pandemic – and a challenge to their well-being in other ways. As HealthTech magazine put it, "Important safety measures to keep high-risk people isolated during the pandemic hold a particular disadvantage for older adults in assisted living."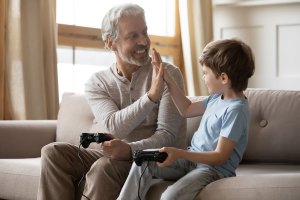 While the absence of sustained interaction can't be completely mitigated as COVID-19 runs its course, a number of collaboration tools give senior living community residents vital mental and physical stimulation plus social engagement with the outside world. "Advances in technology for senior living are more focused on improving quality of life, providing data that enhances housing and developing personal devices that give seniors more control over their environment," according to Craig Fukushima, managing partner for The Fox Group LLC, a health care consulting firm in Upland, Calif.
Many of the technology tools leveraged by older adults are familiar to the non-senior population: smartphones, tablets, videoconferencing, telehealth. HealthTech reports that residents at Connecticut-based Maplewood Senior Living, for example, use iPads for video chats, virtual cocktail hours and birthday parties. A Thrive Senior Living community in Germantown, Md., added Alexa-enabled voice control and smart speaker devices. And Seattle-area operator Merrill Gardens outfitted seven of its communities with devices that support video calls with family and activities such as virtual card games and trivia contests.
Video games are another way to keep seniors active. Fitness trackers can help them count steps, compete in competitions and create workout routines. Other apps offer quizzes, puzzles and other stimulating activities.
The gap between tech-savvy younger generations and their elders is narrower than some people might think. An AARP survey published in January 2020 revealed that 51% of older Americans bought a smartphone, smart television, wearable device or other tech product in the past year. Three-quarters of adults 50 and older regularly use social media. In the two years prior to the AARP survey, smartphone adoption has jumped from 70% to 77% among older adults, with 62% of Americans 70 and older using the devices.
Some community operators offer residents training in tablets, video-enabled devices and other technology through in-house IT teams. And some tech providers offer specialized support for older adults as well.
Many senior living communities are still working to overcome building wiring and other infrastructure shortcomings, along with the ubiquitous challenge of ensuring data security. But using technology to boost the senior resident experience is just getting started. Forty-five percent of respondents to a survey completed in August 2020 by Senior Housing News and health technology firm Philips said they plan to increase their investments in virtual activities and engagement for residents that year and next.
"The technology in senior living spaces can make the difference in enhancing their business outcomes and improving resident care," says Fukushima.
Learn how Merrill Gardens and Thrive Senior Living collaborate with Yardi for business success.