Senior Living
By Lee Ann Stiff on Jun 20, 2018 in Technology
Without the right tools, running a senior living community is extremely challenging. Piles of paperw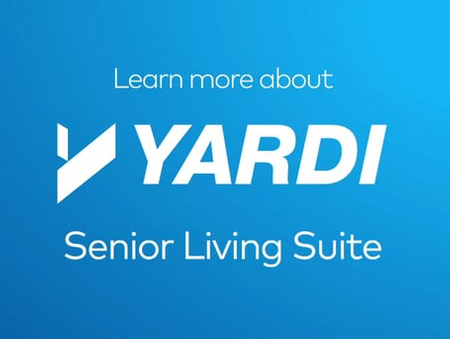 ork can be overwhelming, and manual data entry can cause errors. When care staff get bogged down with administrative tasks, they have less time to spend with residents. In your back office, the accounting team spends time chasing down billing and cutting paper checks. These inefficiencies add up to become costly for your organization. But, here's some great news: the Yardi Senior Living Suite is a single software platform that lets you connect, control, track and improve all aspects of your business.
Watch a video about senior living software
Here are three key ways the Yardi Senior Living Suite can transform your senior living operations:
Centralize data to work more efficiently
Lower your total cost of ownership, reduce paper and improve your bottom line by managing resident care, finance, operations and marketing with a single connected solution that begins with Yardi Voyager Senior Housing, a property management and accounting platform designed specifically for senior living. Having all of your operational and resident information centralized in one secure, cloud-hosted database with mobility enables complete oversight across your business, instant data access and more responsive care services.
Optimize care and improve oversight
Gain real-time executive healthcare oversight, keep resident health records free of errors, limit your liability and improve resident satisfaction with Yardi EHR, a full-service electronic health record solution specifically designed for the needs of senior living providers. Get advanced clinical reporting with detailed analytics and instant access to financial data. Customize your care billing options and provide flexible, individual rate plans. Allow caregivers to spend more time with residents and eliminate errors with simplified record keeping that includes easy information sharing at the point of care and a mobile app to record patient notes during visits. And, ensure safe and effective medication management and reduce risk with intuitive and streamlined eMAR that adheres to state regulations.
Increase occupancy with mobile tools and online services
Ensure a seamless process from prospect to resident with Yardi Senior CRM. Track every step of a prospect in real time from initial contact through signing a lease and enjoying being a resident. As part of the Yardi Senior Living Suite platform, Yardi Senior CRM allows information collected by sales to flow directly into Yardi EHR. For enhanced service that increases satisfaction, keep residents and families connected through RENTCafé Senior Living's convenient resident portals, where they can make online payments, manage health information, communicate with care staff and submit service requests.
Still wondering what a single connected solution for senior living management can do for your business? Learn more about how senior living thrives on Yardi with the Yardi Senior Living Suite so you can improve your bottom line and enhance resident care.