Introducing CRM IQ
By Vianna Mabanag on Aug 25, 2022 in Technology
RentCafe CRM IQ is the latest innovation from Yardi in customer relationship management solutions for multifamily. It puts your customer at the center of the relationship to seamlessly manage prospects, applicants and residents for the entire leasing and resident journey. CRM IQ also provides a platform for centralized leasing offices and enhances the capabilities of other centralized property operations.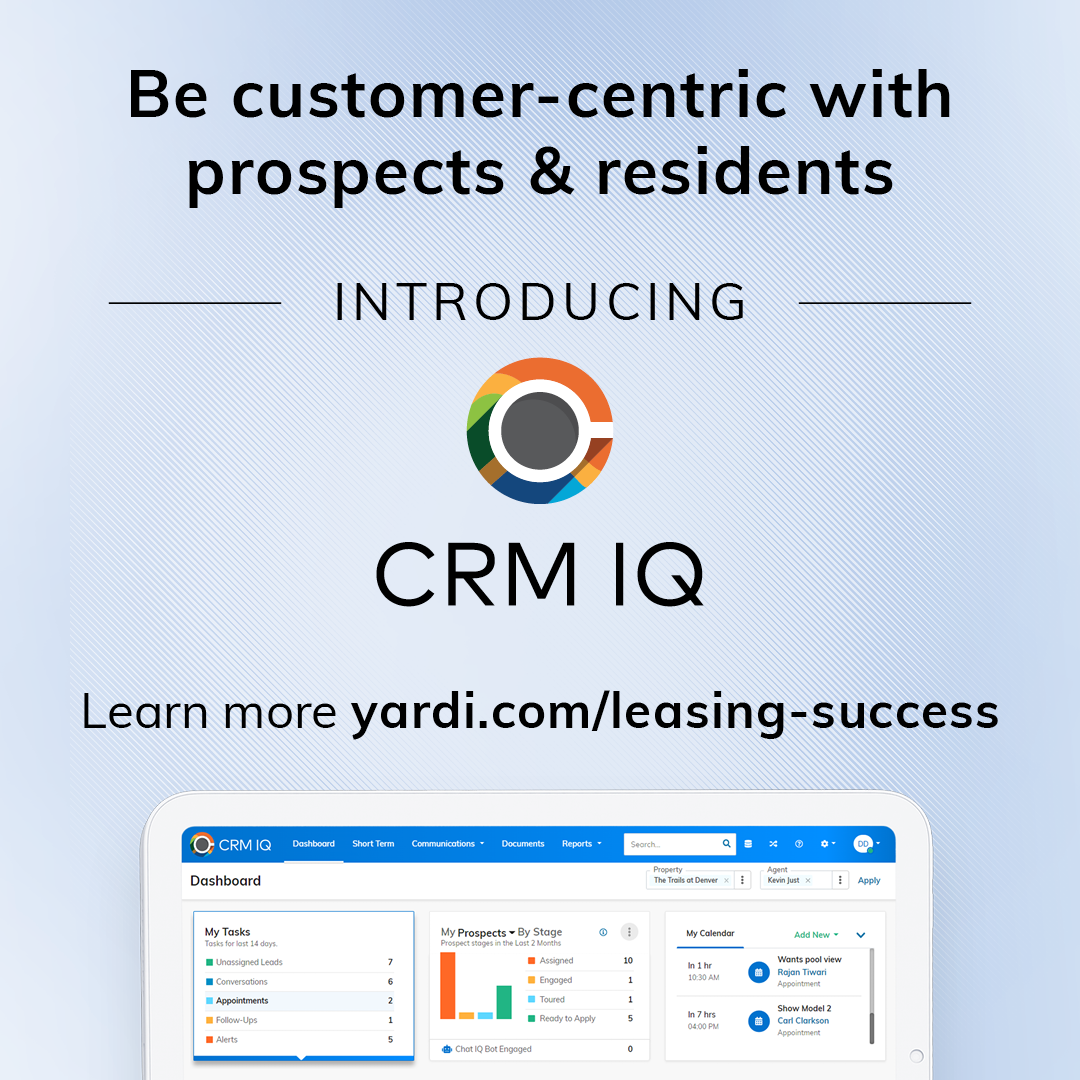 Built into Yardi Voyager and the RentCafe product suite, CRM IQ has enhanced features that benefit site teams, owners, managers and their customers. Keep reading to explore what customer-centric innovation from Yardi can do for your business.
What makes CRM IQ unique?
Your customer is more than a renter, and your CRM system should reflect that. CRM IQ doesn't stop prioritizing your prospects once they convert. Instead, CRM IQ manages your customer interactions through every stage of the leasing and resident journey.
With robust features designed to support the full customer lifecycle, CRM IQ is built to guide your prospects into applicants, and your applicants into satisfied residents, ready to renew.
The result is a better customer experience made possible by customer-centric software.
What's new with CRM IQ?
With features that automate communication and improve visibility across prospects and residents, CRM IQ is a one-of-a-kind solution in the multifamily industry. Here are more details that make it even more unique:
Enable centralized leasing office (CLO) processes with customer-centric views and site clustering. CRM IQ has intuitive features that aggregates properties within a central view and shares activities across regional attributes. Save staff hours by helping prioritize the most valuable tasks and utilize remote and clustered staffing offices.
Prioritize higher-quality leads and automate lead nurturing with event-based AI. More leads don't always mean more conversions — this is why CRM IQ prioritizes prospects at every stage of their journey. Event-based nurturing follows up with early-stage prospects and refines lead qualification, while site staff focuses on higher-quality prospects, or inquiries that require human assistance. Agents can strategically monitor their prospect's engagement, touring and application status, keeping lead management more organized and efficient.
Get complete transparency when integrated with RentCafe Chat IQ. What happens when you combine CRM IQ with an automated attendant powered by natural language AI? More quality leads, more customer engagement and more visibility with prospects and residents. Chat IQ keeps customers engaged via chat, text, email and voice 24/7, 365 days a year. As CRM IQ keeps one record of all customer-level interactions, Chat IQ keeps one thread of easy-access communication. Chat IQ also provides frictionless hand-offs to live agents. This results in agents not having to answer repetitive questions (think: availability, deposit amount, pet policies or late fee inquiries).
Deliver one customer experience across the entire customer journey. Continue to take care of your customers even after lease signing and move-in. CRM IQ doesn't just take care of prospects, it takes care of your residents too. Teams can manage lease renewals, maintenance requests, amenity reservations, move-outs and other resident services. Users can also instantly access a summary of any resident data across a portfolio. This makes it easier to execute on a retention strategy and create potential opportunities across your other managed assets.
Gain more customer-oriented features. Get access to an advocacy feature that promotes more opportunities for resident referrals and testimonials. CRM IQ makes it more convenient to convert prospects into a strong community of satisfied residents.
Curious to learn more about where leasing success happens with CRM IQ? Explore connected solutions designed to help you convert quality prospects and deliver the highest quality resident experiences.