Embracing Tech
By Erica Rascón on Sep 24, 2015 in Technology
Renters of all ages have rising expectations for technology features in their rentals. While splurging on gadgets would certainly catch your prospects' attention, that approach isn't the most budget-friendly. You'll want features that offer the biggest bang for your buck! We've evaluated a few tech toys that combine resident appeal, utility, and longevity.
USB Compatible Outlets
These little guys allow residents to charge phones, tablets, and other mobile devices without displacing lamps and small appliances. Installing USB compatible outlets can offer significant savings for older properties, which often lack the quantity of outlets available in newer properties. Residents will need fewer extension cords and power strips, which reduces the risk of hazardous overloads and costly fires. USB outlets are affordably priced and can be installed in less than ten minutes. With so many USB-reliant devices, they are unlikely to become outdated soon, making them a terrific investment.
Home Automation
Home automation wins over the hearts of many: tech gurus love controlling their homes from their tablets; those who love to save savor the $180 savings per year thanks to a remotely programmable thermostat; tenants who enjoy convenience appreciate starting the coffee maker from bed or turning off the iron once they've left the house; renters who are concerned with safety rely on Bluetooth-controlled locks that regulate access to their home using customizable codes. Most renters can find something to appreciate about home automation, which gives your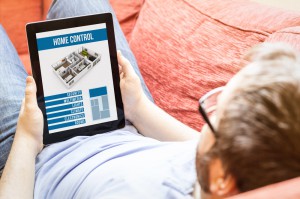 property a competitive edge over properties without it.
The downside is that home automation technology can be costly to install and maintain. Depending on the features, home automation systems can cost upwards of $1,000 per unit. More advanced systems also require additional labor and time costs; there is very little research to depict the ROI in multifamily installations just yet.
Maintenance may also be an issue. Software updates can be hard to control from a property management standpoint, making outdated components a hassle for your onsite tech staff. Don't have an onsite tech staff? That's an additional expense since your maintenance team is likely scrambling to stay ahead of traditional maintenance requests. Overall, the long-term benefits of home automation for multifamily have yet to be decided, so proceed with caution.
Security Monitoring
If there was one automation feature that's worth the investment, it would be live security monitoring. Today's systems allow residents to monitor multiple rooms of their home from a mobile device. This improves residents' comfort level when they're away. During their lunch breaks, renters can check-in on their pets. During vacations, residents can monitor their unit and make sure the house sitter waters the plants. The best part? It's a priceless tool for parents, who may also want to monitor a babysitter's behavior or check-in on older children who are left alone.
From a management standpoint, home security monitoring is the gift that keeps on giving. A study by the University of North Carolina at Charlotte's Department of Criminal Justice and Criminology revealed that most burglars target properties that are not protected by an alarm system; the majority of convicted burglars admit that they intentionally avoid homes with security systems in favor of easier hits. When it becomes known that your property is equipped with security cameras inside and out, you can exponentially lower your community's crime rate.
In-unit videos can also assist in resident complaints and police reporting. If a resident can't find a personal item and accuses your maintenance staff as a default, you're closer to unlocking the truth with video surveillance. Calls to the leasing office and police can also be deterred when residents review and assess the situation themselves.
While security features aren't cheap—about $400 per unit for an 8-channel system—the value provided to tenants and enhanced safety make them worthwhile.
Online Resident Services
Online resident services can be a direct route to better business. Access to online resident services through a portal like Yardi RentCafe can demonstrably improve occupancy and retention. Prospects expect to receive detailed information about available units before they step foot onto the property; a growing number of renters expect to submit documents and sign leases online. If you're not offering those services, you're losing access to renters who want 24-hour convenience.
Without online resident services, you're likely not using your onsite staff to the best of its abilities, either. Instead of interacting the guests and giving tours, they're bogged down with paperwork and data entry.
Online resident services are a requirement for young renters. Residents appreciate the convenience of electronic bill pay because no one under 30 years old owns checks anymore. Online maintenance requests offer added convenience. Having residents walk to the office to issue a maintenance request is, again, a potential waste of your onsite staff's time and an inconvenience to your residents.
One tool that allows you to improve occupancy, increase retention, free up staff time and improve residents' experience is definitely worth the investment. Add online resident services to your list of tech must-haves.