Kaiserman Company
By Leah Etling on Feb 7, 2017 in People
Arriving at the Rittenhouse Claridge in Center City Philadelphia on a cold winter's night in January, the first thing you might notice is a charming string of white holiday lights over the lobby door. Stepping out of the cab into sub-freezing temperatures with wind chill, ducking inside the warm and welcoming lobby felt like stepping into the apartment of a dear friend.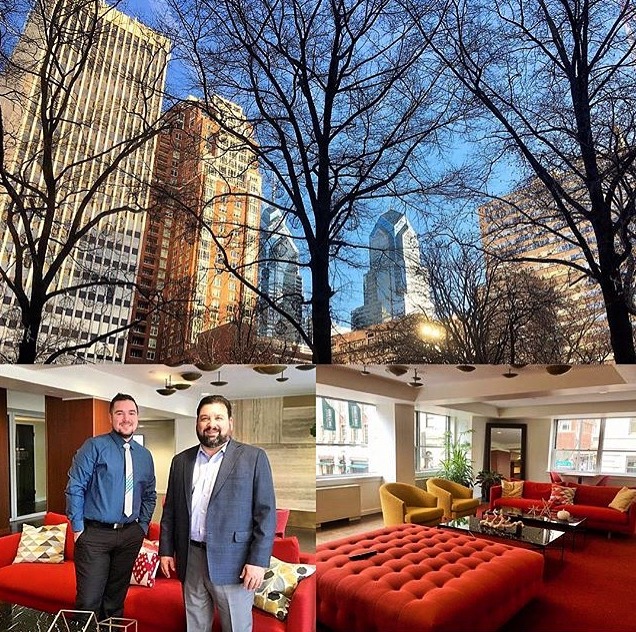 We were visiting Philadelphia to see first-hand how Yardi client the Kaiserman Company uses Yardi's Procure to Pay platform to optimize its procurement process, streamlining ordering and delivery and making invoice approvals easier than ever before.
Procure to Pay has helped Kaiserman save $60,000 annually, reduce paper use by 50 percent, and redirect staff time to other important tasks. The company uses the Yardi Voyager platform for its multifamily and commercial portfolios, and after implementing two years ago, has found the cloud-hosted solution to be invaluable.
"We love it. I have been in the industry for awhile, used many different platforms, and Yardi is by far my favorite. Our leasing teams, our management teams and even our corporate office have access to Yardi. It just makes doing everyday tasks simpler," said property manager Eric Schulz.
The Rittenhouse Claridge
One of just two apartment buildings located right on Philadelphia's iconic Rittenhouse Square, the Rittenhouse Claridge was built in the 1950s by its current owner/operators, the Kaiserman Company. Over the last several years, an effort to restore the property to its midcentury roots has been underway, with charming results.
On the building's second floor, a sprawling common area with comfortable seating, fireplaces, reading nooks, game tables, a kitchen and private meeting spaces overlooks the Square. In one corner is the spacious gym, where a line of treadmills looks directly over the park.
The vibe of the Claridge is charming but hip. A pet friendly property, residents pass constantly through the lobby with their dogs all day long, headed out for a jaunt around the square. In muddy and rainy weather, they can stop at the dog spa on the second floor for a quick bath on their way in.
Remodeled apartment units feature similar design touches to those found in the second floor living space. And the views of Philadelphia, whether from the rooftop sundeck (open seasonally) or the windows of any apartment unit, can't be beat.
Watch the Video
Better Business Practices
Kaiserman Company sought out Procure to Pay as an add-on to its Yardi platform because they wanted to change the way purchasing was handled.
"We were looking to streamline our purchasing system from the old paper system that we had, to something modern and mobile," explained controller Len Balestrieri. "Before P2P, all our ordering was done centrally, not at the property site. We had two people who submitted requisitions and handled pricing and product selection. It was a clumsy process."
Easy Online Shopping
Changing the requisition system entailed asking property managers and maintenance supervisors at each Kaiserman building to submit their own orders through Yardi Marketplace, a one-stop shopping destination for any type of property management supply imaginable.
"The ordering through the Yardi procurement system allows everyone to be on the same page. So when I make an order or my maintenance supervisor makes an order, it's all in the same system and all goes to the same place. It's just like shopping on Amazon.com, and everyone knows how to do that," said Schulz.
Within a few weeks, the old-fashioned triplicate carbon requisition forms that Kaiserman had been using were gone for good. And for a company with a green mission, that was a huge win.
"At the Kaiserman Company our logo is blue but our mission is always green," Schulz explained. "Anytime we look to build any new assets or do renovations, we always look for the most carbon friendly option. Procure to Pay is allowing us to meet our paper reduction goals."
So far, Procure to Pay has allowed Kaiserman to cut back their paper use by 50 percent. That's a huge cost savings, and a lot of trees.
Enabling Mobile Approvals
Moving to Procure to Pay not only changed the way orders were handled at Kaiserman, but it also sped up supply deliveries, and enabled mobile electronic approvals through Yardi PAYscan.
This has allowed work to get done more quickly and invoices to be paid faster.
"Mobility is the future of our industry, and Yardi is definitely setting us up to support that," said Schulz. Both he and Balestrieri enjoy the convenience of being able to approve purchase requests on the go, whether they are onsite at another property, working from home, or attending an industry event.
"There are a lot of times that I am not in the office to approve invoices, and I am the final approver – if I am not there to approve it, that invoice it just sits there until I sign," Balestrieri said.
"I've been in the real estate business for 24 years and seen the changing technology. It has made my life simpler and my work easier," Balestrieri said.