Helping the Hungry
By Leah Etling on Apr 25, 2017 in Giving, People
According to the Greater Cleveland Food Bank, one in five Cleveland kids goes hungry on a regular basis.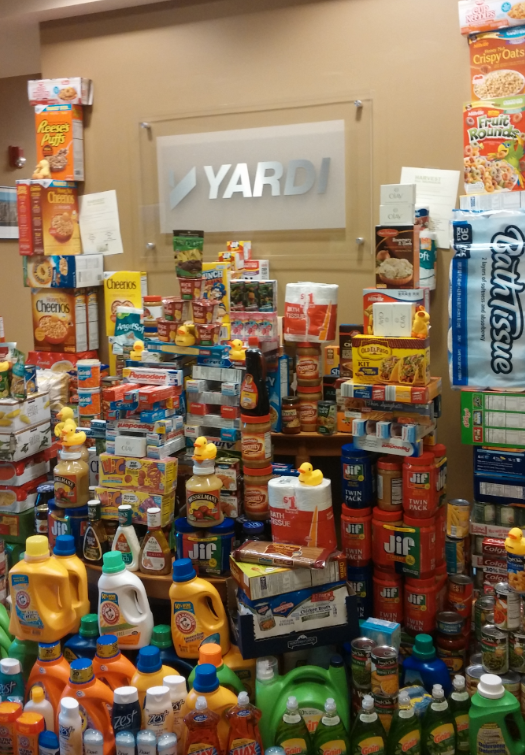 Yardi's Cleveland office recently teamed up in a friendly competition to do something to help.
"Since 2013, we have held a non-perishable food drive and competition each year to contribute to the Food Bank's Harvest for Hunger campaign," said Karen Parker, a technical account manager on the Cleveland CSD team.
"Each year we have topped our previous effort and raised more than the previous. We started in 2013 with 48 employees and collected 375 pounds of donations. This year we have 70 employees and managed to collect 1,735 pounds."
The theme of the effort is the "Fight Hunger Games," a concept Parker came up with when the popular book trilogy Hunger Games, now also two films, was wildly popular a few years back.
"The office is divided into Districts.  Each District is represented by a Tribute.   And the Fight Hunger Games begin," Parker explained.
"Each District brings in supplies and food donations.  These are counted and become part of the final score. The Tributes participate in a round of games.  The scores are totaled and winners announced."
It's a fun and friendly competition but can get competitive, said Parker, leading to some spirited games of "Rock, Paper, Scissors." Other games included Guess Who and Corn Hole.
There's also a potluck food component that everyone in the office can enjoy.
"A soup kitchen is created with staff members bringing in various types of soups, dips, salads and desserts.  A donation of two cans of food will get you all the soup you can eat.  And believe me, it was really yummy," Parker said.
The Greater Cleveland Food Bank explains that the donations are badly needed, especially at a time of year when the need for food bank support might not be on everyone's minds.
According to the Food Bank, "Harvest for Hunger – one of the largest annual, community-wide food and funds drives in the nation – provides critical resources to local hunger relief organizations in 21 counties in Northeast and North Central Ohio."
"Last year, businesses, supermarkets, schools and individuals across the region came together and contributed enough resources to provide more than 20 million nutritious meals."
Next year, Yardi's Cleveland office hopes to raise the bar even further. They want to raise a literal ton of food – around 2,000 pounds – in 2018.
"I think we can do it," said Karen Parker. "Knowing that one in five Cleveland kids is going hungry and that we can make a difference makes this a very worthwhile cause."
Learn more about the Greater Cleveland Food Bank.