Community Matters
By Erica Rascón on Nov 4, 2019 in Giving, People
Yardi Vancouver cherishes its sense of community. Employees participate in philanthropic outreach that benefits members of the local neighborhood, from the smallest pets to neighbours in their hours of need. Each year, Yardi Vancouver selects recipients for grants and group volunteer opportunities. Employees nominate non-profits that are effective, passionate, and engaging.
This year, the four grant recipients include: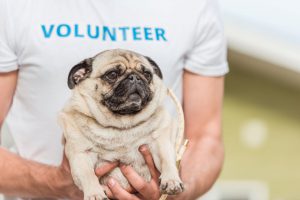 British Columbia and Alberta Guide Dogs
Want to know why Yardi Vancouver supported BC & Alberta Guide Dogs? Meeting Spoof may give you an idea. The playful and determined black lab puppy is working towards becoming a guide dog, autism support dog, or PTSD service dog. He demonstrates the discipline and compassion needed to fulfil his role in Guide Dog's mission: to change the lives of the blind or visually impaired, individuals with autism, and military and RCMP Veterans.
In addition to navigation support, Guide Dogs offer emotional support. With their assistance, people feel more comfortable and confident venturing out into their communities, making new friends, and living their lives to the fullest.
"Important lesson: People with service dogs are just trying to get about their day. If you really want to greet the dog, greet the person first. Otherwise, you might just wind up getting patted on the head when the person wonders what their dog is up to," smiles Edward Glen, General Manager, Yardi Vancouver.
Aprons for Gloves
Few would see the immediate connection between teenagers, boxing, food services and health care. But for Aprons for Gloves, it all works together. Aprons for Gloves Boxing Association is a non-profit organization focused on providing community outreach through the sport of boxing. Many participants are at-risk women, teens, and youth. They receive free mentorship, training, meals, social and health service.
Yardi Vancouver visited a local gym where teens learned how to box. Yardi team members learned about the organization and were encouraged to try out some basic skills. At any time during their visit, teens are welcome to access the nonprofit's support services, from food to a community nurse.
"Teens of all means are welcome to drop in whenever they can," says Glen.
The British Columbia Society for the Prevention of Cruelty to Animals
Animals are often the last considered when it comes to the affects of natural disasters, poverty, abuse, and neglect.  The BC SPCA supports animals during touch times, whether they're small, large, domesticated, farmed or wild.
Yardi team members visited a local adoption centre to learn more about the organization and its services. (Of course, they were thrilled to meet some of the current adoptees.)
Boys and Girls Clubs of South Coast British Columbia
To succeed, most youth need structure, guidance, and consistency. When any of those elements is unavailable, Boys and Girls Clubs of South Coast BC is here to help.
Support services range from childcare, meals, a computer lab for homework, and athletic activities. The Boys and Girls Club is also a safe space where youth can socialize and enjoy being a kid.
Yardi Gives
Each of the above non-profits received a grant to support their cause. Join us in showing your support for the nonprofits by clicking their links above, making a donation, or getting involved.
Yardi is Energized for Good! Learn more about our corporate social responsibility by visiting the Giving page.