YASC 2022
By Leah Etling on Aug 31, 2022 in Events, News
The Yardi Advanced Solutions Conference (YASC) returned in person for the first time in three years. The sold-out event welcomes 3,000 Yardi clients in San Diego, Calif. for three days of learning, networking, exposure to exciting new technologies, and fun.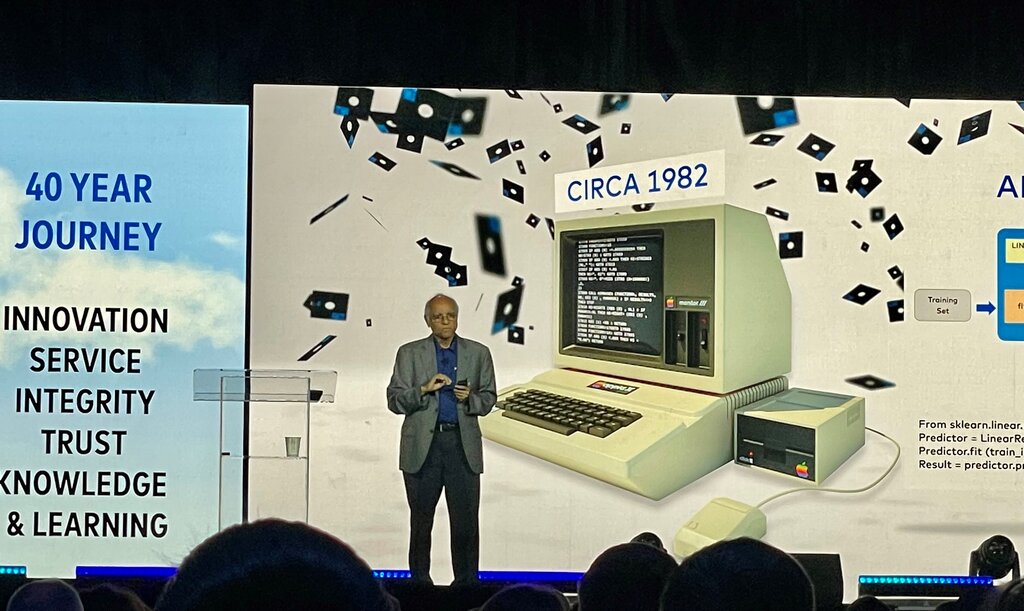 Yardi president and founder Anant Yardi addressed attendees at the San Diego Convention Center, the first time YASC has utilized such a large venue for its general session gatherings. The host hotel for the event is the Manchester Grand Hyatt, where classes and Knowledge Center, a technology resource lab, are taking place.
"It is just so exciting to have this conference in person once again after almost a three-year hiatus. Thank you for making the time to be here and to enjoy the atmosphere, the educational sessions and to network with each other," Mr. Yardi said.
Marking the company's 40th anniversary, Mr. Yardi shared his perspective on the changes that the pandemic will bring to real estate holistically. The last two and a half years have been transformative for the industry.
"For me, change is not a setback. It's an opportunity to figure out how to respond to a theme such as the pandemic and the things that we see occurring around us," Mr. Yardi said.
Anticipating a coworking boom
Those pandemic-prompted changes include the vast numbers of knowledge workers no longer working in offices full time, and residential shifts that have taken place as the result of increased workplace flexibility.
Mr. Yardi cited a recent CoreNet study that found that 29 percent of knowledge workers are not required to be in the office unless requested by a manager, and close to 60 percent are required to be there less than four days a week.
This shift has been buoyed by employers finding that employees are just as productive at home as they are at the office – 83 percent of CoreNet corporate respondents stated this was the case.
This change in where people are working portends a significant shift for the commercial office space market.
"Corporate real estate agencies or employers are beginning to shed office space. They're reducing their footprints," he said, citing national average office vacancy rates that are averaging 16 percent, but are 20 percent in some major markets.
Mr. Yardi expects that the shift in space utilization will create a boom for coworking spaces and services.
He forecast that coworking space – places where traveling or fully remote employees can use temporarily to have meetings, use the Internet, answer emails or accomplish tasks – will become prolific in the next few years.
"Today there are 6,000 coworking locations (nationally). And the expectation is that in three to five years, it will be close to 30 times that number, and every large building will end up with a coworking location," Mr. Yardi said. "My suspicion is that in course of time, coworking will get to a point where sites such as Expedia will allow you to book your hotel, your airline and your coworking conference space."
Marking 40 years of real estate technology
After sharing some of the highlights for other real estate sectors – including rising rents in the multifamily space, an increased focus on built-to-rent single family developments, and a need for more affordable housing nationwide – Mr. Yardi reflected on the journey Yardi has taken as a company over the last four decades.
Sharing a photo of the Apple II, an 8-bit home computer on which he wrote the first basic program that became the start line for Yardi's software, Mr. Yardi contrasted the laborious process of manually programming the original code with today's AI algorithms, which enable the production of code via machine learning.
"The reason I wanted to show this to you is that innovation is one thing, but when the markets change, technology changes," Mr. Yardi said. "We all have to learn new things."
Yardi continues to innovate technology solutions across all of its real estate verticals, and clients have the opportunity to view demos of the newest platforms and attend classes on product updates at YASC throughout the rest of the week.
"When we think about the challenge and the opportunity, the reason that Yardi has grown is because we have principles and guidelines, which have been innovation and service, commitment to service, knowledge and learning, and a relationship of integrity and trust with our clients," Mr. Yardi said. "If you are true to those guidelines and principles, you can grow. It doesn't matter if it's a company or it is individual growth."
"It really has been just an incredible journey, and an adventure. And for that I thank all of you, our clients and our employees."
*
Follow along with the event using hashtag #YASC2022 on your favorite social media channels.