Warm Social Distance
By Erica Rascón on Jul 1, 2020 in News
Virtual and self-guided tours have helped numerous property managers fill a lease up during social distancing. When it comes to welcoming new residents, though, creativity and agile software make it possible to maintain space without seeming distant.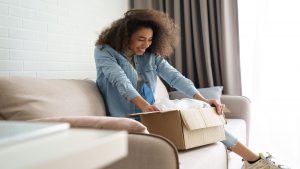 Personalization is essential
Personalization is a key element in helping new residents feel welcomed. These days, many of the best practices for personalizing welcome packages still apply. They simply require a bit of creativity to implement while keeping space, health, and customer satisfaction at the forefront of welcoming efforts.
Leasing agents can assist welcoming committee members with helpful tips about the new residents. When your marketing and leasing platform integrates with your property management software, the notes that you put in prospects' files easily transfer to resident files! Note pet ownership and areas of interest such as container gardening and DIY crafts. Your notes can inform the types of gifts included in each new resident's welcome package. Remember: thoughtfulness makes a greater impression than price!
Even when you can't greet new residents face-to-face, the thoughtfulness and personalization of your welcome package can speak for you.
Local treats delivered
Since COVID-19 precautions required businesses to limit on-premises operations, delivery features have become a necessity. Many locally-owned small businesses that did not invest in delivery services have implemented them in recent months.
The shift to delivery works in your favor. Include gift cards and discount vouchers in your welcome basket. Gifts from locally-owned shops and restaurants have an even stronger appeal. Every transaction is vital to small businesses. Your patronage demonstrates your efforts to support entrepreneurs in the community while giving residents a preview of the hyper-local treasures in the neighborhood.
Use your online concierge platform as a delivery system for your welcome packages. Notify residents when the package is ready and allow them to pick it up without interfacing with leasing office staff. It's a great way to build familiarity with concierge services and conveniences.
Balcony parties: the new pool party
Until the pools open to the public, balconies will have to do! Fortunately, balcony parties can be a huge success. Yardi client Northview Apartment REIT of Toronto has successfully hosted similar balcony parties throughout March, April, and May. At each event, residents were able to safely stay at home while socializing with their new and existing neighbors.
How does it work? Use a resident communication platform to inform residents of the date and time for your party. It may even be helpful to create a theme since a common thread creates a sense of unity and cohesion throughout the community. Encourage residents to decorate, grill out, and get to know their neighbors. Request images of the event for social media marketing in exchange for raffle prizes and other incentives!
Marketing, leasing, concierge and resident communication live under one roof in Yardi RENTCafé. Join a webinar to learn more.