Welcoming Residents
By Erica Rascón on Apr 1, 2020 in Marketing
The cost of advertising to prospects and turning units chips away at your profits. As a result, resident retention is always within your favor. Per a National Apartment Association and National Multifamily Housing Council report, the US needs 4.6 million new apartment homes by 2030 to meet market demand. If development addresses this demand, owners of existing properties will find a lot of new competition in the neighborhood. Efficient retention tactics can help property managers decrease turnover, minimize vacancy, and thrive in a competitive market.
But what makes quality renters stay put? It's not new granite in the kitchen or even a 24/7 concierge. Establishing a sense of community is one of the leading factors in resident retention. SatisFacts reports that "a sense of community" is the second leading cause for resident lease renewals. (The first is value for the cost, which your revenue management tool can determine.)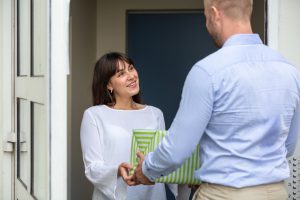 Fostering a sense of community can start as early as the welcome package. This simple gift solidifies a renter's place in the community. The four focus points below will help you craft a welcome package that promotes long-term retention.
Add a personalized touch to each package
Personalized content conveys that you care about new residents as individuals rather than sales figures. By personalizing at least one item in each package, you take the relationship from transactional to personal, which bodes well for retention.
In smaller properties, it may be easy to personalize welcome package content. The sales member that ushered the prospect through the pipeline can contribute information about their experience that may inform package materials.
Let's say there was a renter who selected the corner unit because its windows would support his love of house plants. By including a planter in the welcome package, for example, the renter will have a daily reminder of why he loved his unit and how attentive the staff is to his needs.
Larger properties may struggle with such personalization. Creating a few package options can personalize renters' experiences without requiring much hands-on time. For example, a property might have packages customized for families, pet-owners, or roommates in stock to distribute as needed.
Market your spaces to promote re-occurring, value-add features of the property
The NAA Adding Value in the Age of Amenities Wars report highlights that five of the top ten most valuable amenities foster a sense of community amongst residents. Let your welcome package include details on how to access, reserve, and make the most of communal spaces.
Some common areas, such as community coworking offices, creative spaces and fitness centers, add value by promoting connection between people of similar interests. Other spaces, such as rooftop lounges, clubhouses and pools, create a refuge where residents can retreat and bond together.
But aren't clubhouses a thing of the past? Not quite. Clubhouses never lost their value. Property managers that fail to put the clubhouse to good use are missing out on their value!
When you use your communal spaces to promote engagement amongst residents, you can build community loyalty and reduce turnover. Be sure that your welcome package includes information on your common areas as well as any new features or upcoming events that you host there.
Promote ways for residents to stay connected
Include a reminder on how to access the resident portal and all the features that are offered there, such as online rent payments, maintenance requests, the community calendar and forum. New renters will appreciate the added conveniences of online services. Connection to resident features will encourage them to stay connected to the heartbeat of the community.
On that note, don't slack on your community events calendar! Keep it full of events that residents can use to build camaraderie. Events matter more than you think. When SatisFacts polled property managers on features that they felt were most effective in resident retention, community events ranked 23rd. Residents' surveys, however, revealed that community events were among the top five best retention features. Community-building events and activities significantly impact a resident's decision to renew a lease.
Offer a fuller sampling of what your community has to offer
In your welcome package, consider limited passes on fee-based amenities. Such a preview is like a test drive for a car. Sometimes, residents won't know how much they want an amenity until they've gained access to it.