The Connected Home
By Anca Gagiuc on Jan 31, 2014 in News
We've started getting a closer look at what everyone calls the "Connected Home". The most popular connected home device is currently the security system, according to Forrester. There are also electronic door locks – electronic keys with expiration date (that can be used with maintenance technicians) that send an a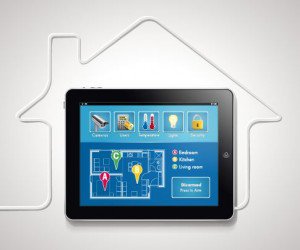 lert when someone is attempting to enter – garage door openers, weather stations for vacation homes, and cameras like Dropcam for baby or pet monitoring.
We already have the fridge that sends text messages when the milk is running low and we have the smart egg tray that tells your smartphone how many eggs you've got at home and when they're going bad. We also have the Hue lightbulbs made by Philips that are controllable through the iPhone – set custom lighting, turn light on or off remotely and set lights to slowly brighten in the morning. Through a smartphone the Withings scale and the Bose music system are perfectly controllable as well.
At the recent CES show in Las Vegas, companies displayed their latest smart appliances, and looked around for suitable collaborators. These partners will together create a real George and Jane Jetson home.
Google aimed high and acquired Nest Labs for $3.2 billion. With this move the giant ensured a premium position in the yet young ecosystem which, in a not too far future, will become a core industry that will affect all aspects of life.
Nest Labs is a popular name only in select groups and markets – in the U.S., Canada and the UK – where their products are merchandized. In 2011 they released the internet-connected thermostat that learns to cool or heat homes in accordance with its inhabitants. Two years later they came up with the smoke and carbon-monoxide detector that is equipped with voice technology and the ability to communicate with the previously introduced thermostat. Post-acquisition they would rather focus their efforts on developing new products and improving the existing ones; the product delivery to countries around the globe will fall under Google's responsibility.
The car industry has started to roll on the same path; in fact, researchers say that in a few years it will be the car segment that will occupy most of the space at CES. Mercedes Benz chose Nest Labs to support their vehicles, more precisely, drivers will have the possibility to adjust the temperature at home right through their car dashboard. The app will be available this spring with the launch of Mercedes' Digital DriveStyle smartphone companion app.
Gartner Inc., the research firm, predicts that more than 26 billion objects will be connected to the internet by 2020, and this number doesn't include personal computers, smartphones and tablets. An almost 30 percent increase from 2009's 900 million internet connected devices.
The Connected Home concept is not something consumers are asking for, but when it is offered to them, their reaction is a positive one, somewhere along the lines of "Oh, I can get that? Excellent!"