SRI Keeps Spirits High
By Nik Edlinger on Jun 29, 2020 in News
It's been months since the coronavirus arrived and upended normal as we knew it. But slowly and surely, things are stabilizing, business are reopening and people are going back to their routines.
In senior living, however, safety measures remain for the protection of residents and staff. It may be many more months until anything resembling "normal" returns for older adults in communities. But that doesn't mean they can't have fun and live their lives in the meantime!
For the previous two posts on positive senior living news, I covered different Yardi clients across the country. This time, we're focusing on one in particular: SRI Management. They recently highlighted creative activities at their communities in their own blog post and invited us to share them with you.
Here are a few stories from their residents and staff. Enjoy!
Music video goes viral
With ample social distancing, handmade signs and a great sense of humor, residents from the Cove at Marsh Landing showed how much they've already overcome throughout their lives, affirming their strength and resolve to beat this pandemic too. All to the tune of Stayin' Alive by the Bee Gees. Check out the news article for the video.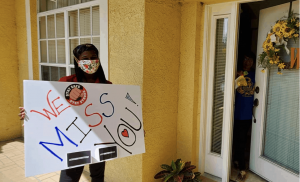 Delivering care outside the community
With visitor restrictions still in place, spouses of residents haven't been able to see their loved ones as much as they'd like, and many are battling loneliness without the support of an engaged community. So the workers at the Superior Residences at Brandon came up with the idea to go visit the residents' spouses themselves and give out gift bags. They called it "Operation Spread the Love."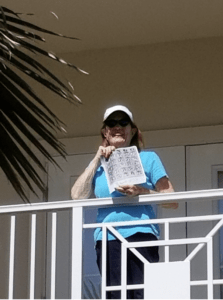 Mother's Day drive-through parade
For Mother's Day, residents at The Arbors of Gulf Breeze were treated to a parade on wheels, courtesy of family members and the community. Residents watched seated on the sidewalk and from their own windows as the cars rolled by, decked out in signs, balloons and streamers. The local news station was even there to take photos!
Bingo with a view
We've seen hallway bingo become popular at senior living communities recently, but Seagrass Village of Fleming Island has gone one step further with their games. They're taking advantage of the nicer weather and Florida sunshine to host "Balcony Bingo." Residents participate from their own balconies as a staff member calls the numbers from the ground floor, megaphone in hand.
Be sure to visit SRI Management's blog to see the rest of the stories. These may be difficult times, but it's encouraging to see residents and staff staying active and upbeat.