New Ebook!
By Natalie Mahn on Oct 12, 2022 in Senior Living
The senior living industry is continuously changing. Providers must adapt to unique challenges — pandemic included — to keep their communities moving forward. That includes finding new ways for residents, family members and staff to easily stay in touch from anywhere.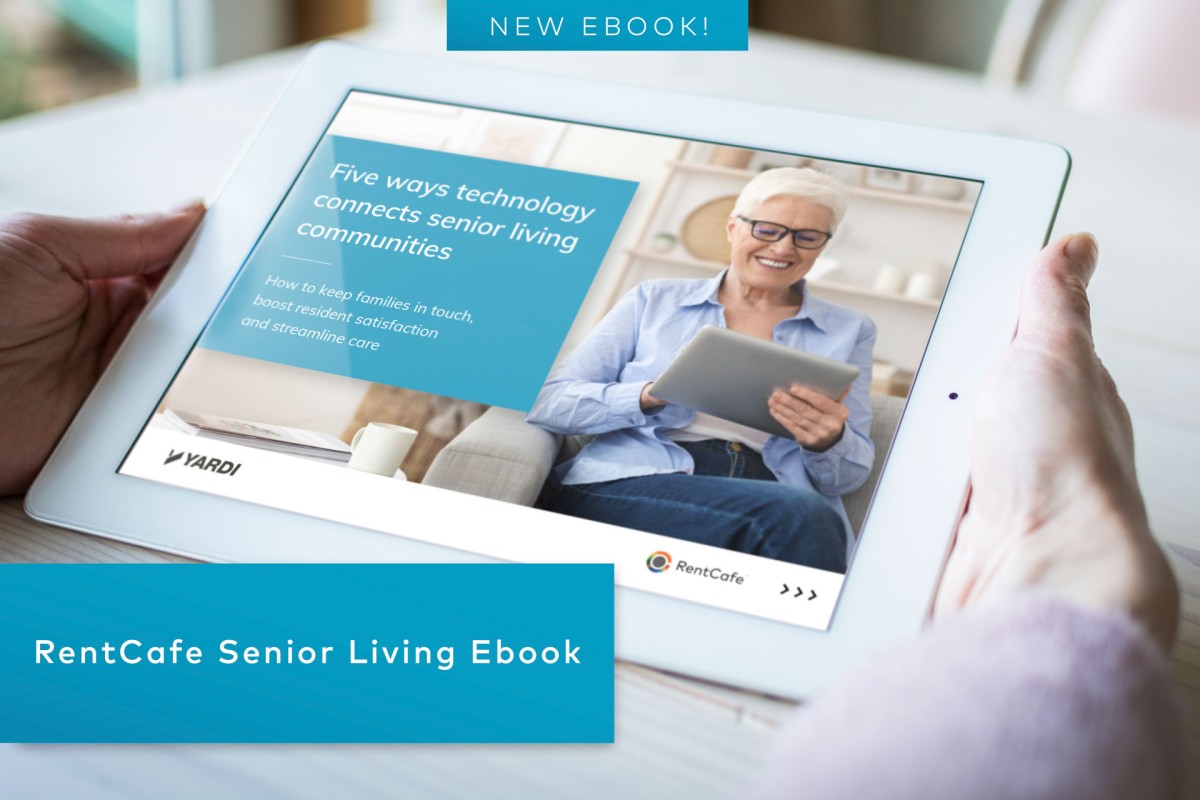 Which methods are most effective? What has the power to keep your communities connected?
The answer starts with technology.To delve deeper, we put together a fresh, comprehensive ebook here at Yardi. It details five ways technology connects senior living communities and explores why our secure online portal, RentCafe Senior Living, is a differentiator. The inspiration was to give providers a detailed yet concise look at how technology bridges gaps in communication, enhances resident satisfaction and more.
Check out the sneak peek below then read the ebook in full. We hope you enjoy!
The importance of technology
Did you know four out of five adults age 50+ rely on technology to stay in touch with others, according to the AARP? And 44% of seniors view technology more positively as a way to stay connected than they did before the pandemic? It's undeniable that technology has become an important — if not essential — tool for communication among older adults. That includes those residing in senior living communities and by extension, their families and the staff members they interact with.
But when providers look to implement a tech solution for their communities, not just any solution will do. They need a platform that is easy to navigate, secure and integrated with other facets of their business — from financials to resident health records and more.
That's where leading solutions like RentCafe Senior Living come in. As Yardi's secure online portal for senior living communities, RentCafe Senior Living enhances communication among residents, families and staff alike. If you'd like to see how this solution truly makes the difference, you'll find that explanation in the ebook.
Five ways tech connects senior living communities
Want a preview of the five ways technology enhances communication among residents, family members and staff? Read the ebook to see how a single connected solution like RentCafe Senior Living …
Enables paperless workflows
Streamlines health updates
Enhances your reputation
Expedites maintenance requests
Boosts activity participation
Read the ebook today
It's always exciting sharing a new piece of content from our senior living team. We hope you love this ebook, Five Ways Technology Connects Senior Living Communities, as much as we loved creating it.
If the content sparks questions on RentCafe Senior Living, visit the link on page 12 to get in touch with team Yardi.